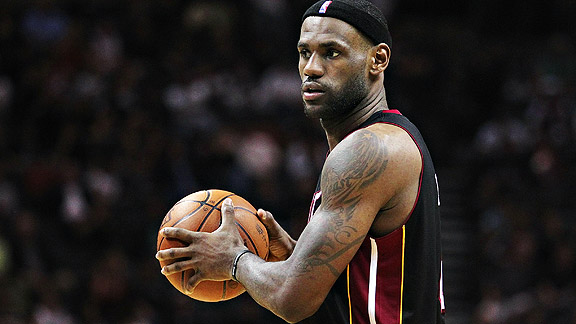 Ronald Martinez/Getty Images Sport
LeBron James' regular seasons are lousy predictors for his playoff fortunes.
It's not a great time to be LeBron James.
The Heat have lost four straight games, and three of those losses featured both a second-half collapse and a missed shot by LeBron in the Heat's final possession. Unless something fairly incredible happens over the last 18 games of the season, LeBron lost his last, best chance at a third straight MVP award when a rebound went by him and toward Luol Deng. He isn't just losing; he's losing at the wrong times, to the wrong teams, in the most embarrassing ways possible, and that's before you get to the whole crying issue.
This offseason, LeBron gave up the adoration of a city and became one of the most hated athletes in America, all in the name of playing with more talented teammates. Now the Heat will have to win every one of their remaining regular-season games to finish with a better record than the 2009-10 Cavaliers did, and the Heat have already missed their chance to win as many games as the 2008-09 Cavaliers.
There are plenty of athletes who will tell you that they would rather be respected than loved, but right now the Heat are neither respected nor loved.
It's tempting to think that the Heat's pattern of blowing close games against elite teams is a harbinger of what will happen to them in the playoffs. However, that line of thinking isn't entirely consistent with recent history.
LeBron is an easy punching bag right now; this time last season, he was on top of the world. He was cruising to yet another near-unanimous MVP selection. Meanwhile, the Cavs were again on their way to claiming the best record in the league, were 2-0 against the Lakers and had made two major trades that were supposed to help them against the Orlando Magic. Meanwhile, the Boston Celtics had sleepwalked through a 50-win season and went into the playoffs having lost seven of their final 10 games.
None of that mattered when the Celtics locked in on defense. LeBron completely unraveled, and the Celtics won six straight games against the Cavaliers and the Magic on their way to the Finals. The year before that, the Cavaliers had toyed with the rest of the league en route to winning 66 games. It was a team that did not blow leads or come up short in close games, a team that did not lose a home game LeBron played in to an Eastern Conference opponent all season. It took all of one heartbreaking loss against the Magic in the conference semifinals to erase that.
2010-11 is the second time that LeBron has truly been disappointing in the regular season. The first time was in 2006-07. After LeBron averaged a career-high 31.4 points and finishing second in MVP voting in 2005-06, he had a truly listless and bizarre 2006-07 season. His points, assists, rebounds, field goal percentage, 3-point percentage, and free throw percentage all went down. Instead of driving hard to the basket, he spent most games floating on the perimeter, dribbling the air out of the ball and firing up long jump shots.
Here's what Bill Simmons wrote about LeBron after the 2007 All-Star Game:
Here's what I know. I had four conversations with connected NBA people over the weekend that centered around the same themes: LeBron isn't playing nearly as hard as he did last season; it looks like his only goal right now is to get his coach fired; he's regressing as a basketball player (especially his passing skills and his shot selection); he made a huge mistake firing his agent and turning his career over to his buddies back home (all of whom are in over their heads); he was a much bigger problem during the Olympics than anyone realized; he doesn't seem to be enjoying himself anymore; he has an overrated sense of his own worth and his own impact in the sports world (as witnessed by the ESPN interview last week when he answered the "What are your goals?" question with two words: "Global icon"); he's been protected by magazine fluff pieces and buddy-buddy TV interviews for far too long; he doesn't have the same relentless drive to keep dominating everyone like Wade and Kobe have ...
Does any of that sound familiar to you? Keep in mind that Simmons' concerns were completely legitimate. There was definitely something "off" about LeBron for at least the first two-thirds of that season.
So what happened in the playoffs that season?
In the conference finals, LeBron's Cavs beat the Pistons, a team that was more balanced, more experienced, more talented from top to bottom, and had played harder throughout the season. Detroit had gone 3-1 against the Cavaliers in the regular season, had knocked them out of the playoffs the year before, and won the first two games of the series by three points. LeBron then won three straight games against the Pistons in crunch time, including an instant-classic performance in Game 5.
LeBron's last two regular seasons suggested that a perfect story was about to be written. The most talented player since Jordan puts it all together, leads his hometown team to its first championship, and promises he'll be a Cavalier for life at the championship parade. That story didn't stop Dwight Howard from dominating the Cavaliers' frontline, Rashard Lewis from making two backbreaking 3s, or the Celtics completely dismantling LeBron and the Cavaliers.
This regular season suggests that the Heat will become a cautionary tale. LeBron tries to take a shortcut to greatness, only to be struck down because his team was too top-heavy and couldn't figure out how to get it done when the pressure was on.
That could well happen. But the Heat still own one of the best point margins in the league, have shown that they can compete with the best teams in the league and have the most talented big man LeBron has ever played with -- and a Finals MVP to boot.
The important thing to remember is this: When the second season starts and the best team in the league gets ready to face off in a seven-game series, narratives don't really matter anymore. LeBron's regular-season failures won't condemn him to postseason failure any more than his previous regular-season success saved him from it.
LeBron is down now, and a lot of people are basking in the schadenfreude, but this story is far from over. In some ways it hasn't really begun. After all, LeBron didn't come to Miami in order to retain his title of King of the Regular Season.