MIAMI -- At the rate of nearly $30 million to be paid over five seasons, the Miami Heat got exactly this amount of production Wednesday night from premier shooting specialist Mike Miller:
Three shot attempts. One made basket. Zero-for-two from 3-point range. Four fouls. Two points. Seventeen minutes, 52 seconds of playing time.
One thing quickly came to mind after reading that stat line following the Heat's 96-85 home loss to the Oklahoma City Thunder. Well, actually two things.
First, where do I sign up for a job like that? Second, Mike Miller better get a lot more effective at his job really fast, or the Heat might be out of work rather quickly in the postseason. Coach Erik Spoelstra tried to point to plenty of other areas where Wednesday's game got away from his team.
Yes, the younger, more explosive and athletic Thunder outworked the slower, less physical and out-of-sync Heat in the paint and held a 51-40 edge in rebounding.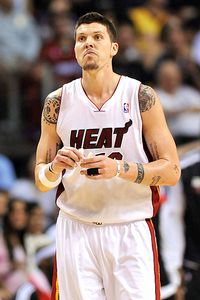 Steve Mitchell/US PRESSWIRE
Mike Miller: A non-factor from beyond the arc on Wednesday.
And yes, Oklahoma City cashed in on that relentless hustle and toughness down low to edge the Heat 42-40 in points in the paint and 24-10 in second-chance points.
But the one area that stood out most when breaking down the Heat's vulnerabilities was the major disparity between the teams in 3-point shooting. The Thunder shot 45 percent and made nine of their 20 attempts from beyond the arc. The Heat, meanwhile, countered with a 17.6 percent clip, missing 14 of their 17 shots from long distance.
No, this is not exclusively a Mike Miller problem. But this was the classic example of one of those nights during the regular season when he was supposed to be the solution. It's one thing to miss shots. Those things happen. There will be plenty of rough nights like that over the course of an NBA season.
But it's a completely different problem when your hired 3-point specialists aren't even looking to take those shots on a routine basis. Miller was a non-factor Wednesday. James Jones and Eddie House, the Heat's other two resident shooting specialists, remain outside the rotation.
As a result, when Miller isn't doing his primary job -- and when Jones and House don't get the opportunity to do theirs -- it leaves Dwyane Wade, LeBron James and, in times of desperation, even Chris Bosh trying to carry their own heavy load in addition to doing other folks' jobs, too.
That's when you get the kind of shooting performance the Heat delivered on Wednesday. Wade, James and Bosh combined for 61 points and 25 rebounds. But when they didn't get the lift they needed from their shooters, they tried to do that job themselves as well.
Result: Wade, James and Bosh were a combined 1-of-10 from 3-point range.
"I wouldn't say we think of it like that," Bosh said politely when asked after the game if the struggles among Miami's shooters pushed the Heat's catalysts to force shots from long range. "We don't have to overcompensate, but we have to knock wide-open shots down. We don't want to live and die by the 3. If we miss some 3s, we don't want to disregarded it in the game. We still want to be in position to win. That is a plus if they do make them. But we just have to keep encouraging them. They will get more opportunities down the line and they have to knock them down when it's time."
That time is now. With 14 games remaining before the playoffs, Miami's long-range shooting is more sporadic now than it's been at any point this season. The Heat have shot below 34 percent from 3-point range in 11 of their past 17 games. That percentage has been in the teens five times.
By contrast, Miami has had three games during that stretch when it shot better than 42 percent from distance. This has been the most inconsistent feature of the Heat's game, a function that was supposed to be solidified by Miller, House and Jones, with an occasional boost from everyone else.
But Miami gets in trouble when it relies on Wade and James to take the bulk of 3-point shots. Miller had left the locker room before I had a chance to ask him about his confidence and rhythm. Mike Bibby and Mario Chalmers have been decent the past few games from deep.
But Miller is the one who is supposed to put this team over the hump in the long-distance shooting department. Asked after the game for his evaluation of the Heat's primary shooters, Spoelstra deflected the question a bit and used it to talk about the other aspects of their contributions.
"They bring a lot of other things to the table," Spoelstra said. "Those shooters, I want them to shoot when they're wide open and take those shots confidently and aggressively. You have to be a threat out there. But we're not simply judging them whether the ball goes in or not. Are they doing other things, rebounding, rotating on defense, facilitating, allowing us to run offense on other end? There are a lot of other factors."
And the lack of contribution from the roster's designated shooters was one of the main factors why LeBron, Wade and Bosh started chucking up from beyond the arc.
"We couldn't make shots," James said. "We didn't give ourselves enough opportunities to make shots to make the game closer than it was."
The irony for Miami was that Daequan Cook, a shooter the Heat essentially gave away to clear salary-cap space for last summer's free agency haul, hit the 3-pointer in the fourth quarter that put the Thunder ahead by 10 and essentially sealed the game.
Cook is shooting 48 percent from 3-point range during OKC's five-game winning streak. Dorell Wright, who left in free agency last season and signed with Golden State, ranks second in the league in made 3-pointers with 158 this season for the Warriors.
Had either Cook or Wright had anywhere near this level of consistent production while with the Heat, there's a chance at least one of them would still be in Miami right now.
Still, their success from afar has to be a difficult reality to digest right now -- especially on nights like Wednesday, when the investment the Heat made in their shooters just isn't paying dividends.
Wade, LeBron and Bosh are paid a lot of money to do a lot of things for this team.
But hoisting up 3-pointers at the rate they did against the Thunder wasn't supposed to be part of their job description.
Miami hired other help for that. But right now, those long-distance specialists are consistently shooting the Heat in the foot.