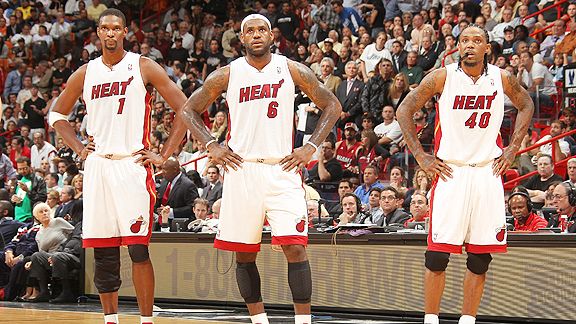 Nathaniel S. Butler/NBAE/Getty Images
In a perfect world, James, Bosh and Haslem would be the Heat's frontcourt when the Heat need extra toughness inside.
MIAMI -- Late in the first quarter of Wednesday's game against the Oklahoma City Thunder, the Heat are down six points and have possession of the ball.
Juwan Howard parks on the left block against Thunder center Nazr Mohammed, receives an entry pass from Mike Miller, and faces up to shoot a jumper. Mohammed pokes the ball out during Howard's slow rise to shoot. Then Howard quickly retrieves the possession again out on the perimeter. From there, the 37-year-old attempts to take Mohammed off the dribble in isolation, but ends up just dribbling in place a few times before promptly firing up the same shot he flubbed seconds earlier. The ball clanks of the rim and the Thunder go the other way.
Heat coach Erik Spoelstra did not call a play for Howard. The shot clock was not winding down to zero. The Heat had plenty of weapons playing at the time including LeBron James, Mike Miller and Mike Bibby.
Nonetheless, Howard, the 16-year veteran, hijacked the Heat's offense.
It was at this moment -- and many others -- when the Heat must desperately missed Udonis Haslem, the Heat's would-be backup power forward.
The Heat were bludgeoned underneath against the Thunder. Flaunting its new front line, Oklahoma City pulled down 35.4 percent of their own misses on Wednesday night, which is the highest offensive rebound rate the Heat have surrendered in any game this season. Heat big men not named Chris Bosh played a combined 54 minutes on Wednesday night and managed to collect all of five defensive rebounds.
On the sidelines, Haslem, wearing a grey suit, could only look on from the end of the Heat bench. He has missed the Heat's last 55 games due to a torn ligament in his left foot. Before succumbing to the injury, the 30-year-old power forward was the Heat's top rebounder, posting a 17.9 percent rebound rate, which ranks seventh in the NBA among regular power forwards. Despite averaging only 26.5 minutes, the former Gator pulled down 8.2 rebounds per game, which ties Chris Bosh for the Heat's highest rebounding mark this season.
The Heat possess a long line of big men on the roster, but most of them are rebounding-deficient, especially on the defensive end. Howard has never once been an above average rebounder in his career and he's certainly not at his elderly stage. The 7-foot-3 Zydrunas Ilgauskas owns a lower defensive rebound rate than Mike Miller. The 6-foot-11 Erick Dampier has a lower defensive rebound rate than Dwyane Wade. Center Joel Anthony's defensive rebound rate is lower than six-foot-nothing Chris Paul's.
On Wednesday, it seemed as though Anthony played one of his most productive games as of late. The offensively-challenged big man scored six points, exhibited strong pick-and-roll coverage and tallied two blocks in 22 minutes of action. When asked to speak about Anthony's performance after the game, Heat coach Erik Spoelstra said a few complimentary words about Anthony's energy and activity.
But then Spoelstra took a hard U-turn.
"Those second chance opportunities really collapse your spirit," Spoelstra said. "When you have a 22 second defensive possession, force them in a contested shot, and it ends up being a layup -- a 90-percent shot right at the rim -- we have to finish. We have to finish these possessions with sacrifice block outs."
Spoelstra rarely calls out Anthony, whom often seems like the coach's pet. So when he does, we take notice.
The possession Spoelstra cited occurred in the fourth quarter after Mike Bibby nailed a 3-pointer from the right corner to cut the Thunder lead down to nine points with 7:26 remaining in the game. The Heat desperately needed a stop and it looked like they were going to get one. With the shot clock winding down below five seconds, Russell Westbrook hurried a pull-up mid-range jumper in the lane. Anthony left his man, Mohammed, to attempt to block Westbrook's shot. Mohammed snuck in behind Anthony to tip in Westbrook's shot that bounced off the front iron. Meanwhile, Spoelstra stomped away on the sidelines in frustration.
Anthony didn't block out and the Heat never recovered.
No, Haslem isn't a shot-blocker quite like Anthony, but he's a more active presence underneath. Although Haslem plays conservatively beneath the basket, he grabs twice as many rebounds and makes those sacrifice block-outs to limit second chance opportunities. On Wednesday, the Thunder tallied 24 second-chance points.
Of course, we'll never know if Haslem would have sealed off Mohammed before he could make his 90-percent shot. But we do know that Anthony often doesn't make that play, electing instead to wildly swat at opponent shots. Anthony posts a defensive rebound rate fit for the average shooting guard because he often leaves himself out of position to box out his defender. Whether he's retreating from an aggressive pick-and-roll coverage out on the perimeter or he's leaping away from the basket to block a shot, Anthony is rarely where he needs to be. According to 82games.com, the Heat have a 69.3 percent defensive rebound rate with Anthony on the floor. When he's off the court, that rate soars to 74.4 percent.
Haslem may not be a center, but he usually replaced one when he was healthy. His inside presence allows the Heat to go "small" with him at the four and Bosh at the five. In fact, three of the four most frequent lineups with Haslem on the floor feature Bosh at center. And it's incredibly effective. The score with those "small" lineups? Heat 203, Opponents 166.
The Heat don't just suffer on the boards without Haslem. Offensively, the Heat's floor spacing becomes congested around the rim with the Heat's big men. On Wednesday night, the Thunder bigs routinely cheated off of Howard, Dampier, Anthony and Jamaal Magloire in the paint without consequence. For a team that depends on open lanes for Wade and LeBron to penetrate, the offensive deficiencies of the Heat big men become exponentially troublesome. It's no longer a game of five-on-five.
Armed with a silky jumper, Haslem can hit shots inside and out. His presence can help stabilize the Heat's offense and unclog the paint for his attack-minded teammates.
This is all to say that Haslem offers a specific skill set the Heat woefully lack: a hard-nosed rebounder who commands the attention of opposing defenses. No one else on the Heat roster fills that essential role. On Wednesday against the Thunder, Haslem's absence was profoundly felt by the Heat's thin frontline.
Luckily for the Heat, Haslem's return may happen sooner rather than later. At Tuesday's practice, he participated in shooting drills with a limit of 50 shots and the team still targets a late March or early April return. In other words, he may be only a couple weeks away.
Judging by the Heat's soft performance against the Thunder, his return can't come soon enough.