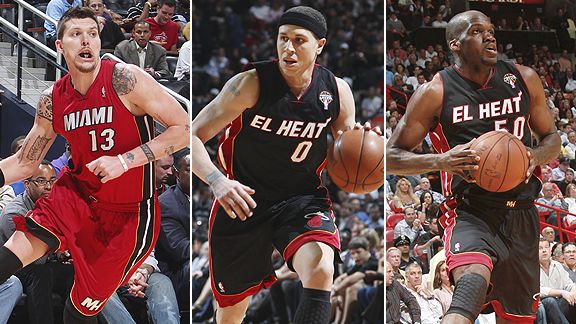 Andrew D. Bernstein/NBAE/Getty Images
The Big Three may hog the headlines, but Mike Miller, Mike Bibby, Joel Anthony, among others need to make a name for themselves.
Of all the strange things about the first 70 games of the Heat experiment, this may be the strangest: outside of James, Wade, and Bosh, can you name one Heat player that has consistently been in the rotation all season long? The Heat are the only team in the NBA in the top five in both offensive and defensive efficiency, and they have three players capable of taking over a game at any time with little help from their teammates. (Insert your own caveats about Bosh, who seems to have re-found his game recently.) They also have a harem of other players who are fully capable of being keys to victory or complete non-factors on a given night. Depending on which role players are making the biggest impact, the Heat are capable of taking on a completely different identity on any given night. Believers will call this versatility; skeptics will call it a lack of identity. We won't know which it is until the playoffs are over.
Everyone agrees that it takes a different set of skills to succeed around Wade, James, and Bosh than it does to succeed on a "normal" team, but nobody can quite agree what those skills are. Is it the ability to knock down open shots and the discipline to only take open shots? Is it a willingness to do the dirty work? Is it the confidence to step up and make plays when the defense is completely focused on shutting down the Heat's trio of All-Stars? Here's a quick look at what the Heat's various role players bring to the table, and what they represent about the team's identity outside of its three best players:
Mike Miller
On paper, Mike Miller is a perfect compliment to the Heat's superstars. He can play the two or the three, which means that he can back up Wade and James, and James can theoretically slide to the four when Bosh comes out, allowing the Heat to keep pressure on teams while resting their stars. He has historically been a knock-down three-point shooter and a surprisingly good finisher at the basket. He is capable of making plays off the dribble when the defense closes out too hard on him. He is willing to do the dirty work, setting screens, running around double-stacks, and fighting for rebounds. Miller was supposed to be the player that allowed the Heat to be complete without needing significant production from a true point guard or center.
In practice, Miller has spent most of his time standing in corners waving frantically for the ball, passing up semi-open shots in favor of driving with no real plan, getting beat on defense, and being completely invisible. Miller is the clearest representation of how, despite a good record and a great point margin, the Heat simply haven't seemed like a finished product this season.
Joel Anthony
The second of three players to receive a significant mid-level contract from the Heat this off-season, Anthony represents the opposite of what Miller does. Miller's offensive versatility was supposed to allow the Heat to reach unprecedented offensive heights -- Anthony's blue-collar play was supposed to keep them grounded defensively. Anthony is almost ludicrously glamor-free. He exists only to block shots, make quality defensive rotations, and shut down opposing forwards, and Spoelstra's decision to start the season with Joel at center sent the rest of the NBA a clear message: no matter how much people wanted to see James and Wade flying out on the break and putting up 120 points a night, the Heat were going to make having a strong defense a priority. While Anthony's lack of offensive skills have kept him on the bench some nights, his defense has been a huge boost to the Heat, and his offense has gone from "hilariously incompetent" to "competently non-existent."
Erick Dampier
Dampier represents the idea that the Heat do not need to dominate the paint; they only need to give it its due diligence. Dampier's only jobs are to protect the rim, guard opposing centers, rebound, and dunk when left alone at the rim. He does them fairly well.
Mario Chalmers
The most high risk/high reward role player on the roster. Chalmers is the only role player who acts like he has permission to take the ball into the paint off the dribble, can hit open threes, cause havoc defensively, and isn't afraid to make plays on his own. He's also the Heat player most likely to make a silly turnover or commit a needless foul.
Mike Bibby
A mercenary point guard. Gave up 6.9 million dollars for the chance to get the ring that eluded him in 2002. Deadly when left open beyond the arc, good decision-maker with the ball, can make quality passes, but does not put much pressure on opponents on either end of the floor.
Eddie House
A sort of bizarre mirror version of Bibby. Excels at making open threes. Will take contested threes without a moment's hesitation. Was on the winning side of a playoff collapse that involved the Lakers. Wears one headband. Not afraid of big shots, trash talk, or other human beings. Represents that the Heat do not care what you think.
James Jones
Excels at making catch-and-shoot threes, not turning the ball over, and playing solid positional defense. Literally only does those things. Has made one layup in the last three seasons. Represents how valuable one-dimensional players can be alongside shot creators.
Juwan Howard
Provides some toughness, occasional mid-range shots, professionalism. Hopes that the Heat will get the championship that the Fab Five did not get. Serves as a reminder that the Haslem injury has been a problem for the Heat.
Zydrunas Ilgauskas
Provides reliable shooting and passing from the high post, and is a security blanket for LeBron. Can block shots and get rebounds without jumping. Bibby and Ilgauskas are the only non big-3 players with a positive offensive +/-. Ilgauskas makes the Heat far more dynamic and functional offensively, but his glacial movement hampers their ability to "swarm" defensively.
Jamaal Magloire
Proof that size, toughness, and a willingness to be patient is all it takes to be an effective part of Miami's center rotation.
Udonis Haslem
The only player on the roster that won a ring with Wade. Capable of banging inside and hitting mid-range jumpers. One of two Heat role players making significant NBA money and capable of creating offense. Represents that the hope that the Heat will be complete when the playoffs begin, and the fear that they may have been too thin to realistically compete for a title.
Dexter Pittman
Wears a suit. Represents that the 2010-11 Miami Heat do not have time for a youth movement.