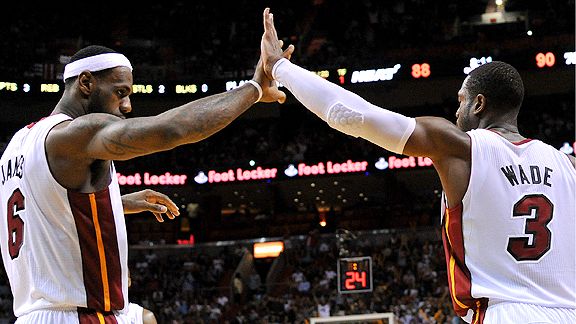 Steve Mitchell/US Presswire
James and Wade are starting to click offensively, but do the Heat have enough depth behind them?
MIAMI -- Below the cluttered surface of fast breaks, dunks and general highlights in a spirited game between potential playoff opponents on Friday night, there were two thunderously clear truths about the Miami Heat.
One would be considered good -- and potentially great -- news for the team, the fruition of a season-long struggle and the threshold of the "next level" they've been going on and on about for months now. The other would be the naked continuance of some bad news, a poorly kept secret that the team has tried to cover with denials and misdirections.
The first -- the dramatic development of Dwyane Wade and LeBron James learning to play together -- is one reason why the Heat can still realistically win the title this season. The second -- the Heat's startling lack of depth -- could be the biggest reason they won't get close.
After the Heat defeated the Philadelphia 76ers 111-99 Friday night -- Miami's fourth win in a row -- Sixers coach Doug Collins called what Wade and James are developing a "trick bag." In reality, it isn't tricky at all. It is just a smart, simple and long overdue way to give opposing teams big-time problems.
Wade is controlling the ball late in games and James not only is letting him do it but is playing into the plan by setting screens to free his teammate up. Just a plain pick-and-roll -- but it can be brutal to handle if it is executed just right and everyone buys into it.
Heat coach Erik Spoelstra and Wade have been gently trying to sell this to James for some time now, but it was understandably foreign to the two-time Most Valuable Player. He was used to getting the screens in crunch time and playing isolation, not setting the screens and waiting for a pass if it came his way.
Getting James to make changes to his game has always been a process, even when he was much younger and not so set in his ways. For example, it took two seasons of drilling under former Cavaliers coach Mike Brown for James to fully commit to playing defense, and he quickly became one of the better defenders in the league.
It is possible that failing in so many close games with the ball solely in his hands this season -- for which he felt compelled to apologize to his teammates -- may have convinced him to try something new. The early returns are helping.
"I think he's starting to see that this can open up his overall game, and he's going to want to do it more," Wade said last week, almost as a plea for James to continue to set those screens and let him control the ball.
It started in the Heat's win over the Los Angeles Lakers, which began a run that is now seven wins in eight games. On that night, the Heat won a close game when Wade was at the controls for the stretch run, with James as wingman. James set a screen on Kobe Bryant that freed Wade for a huge basket and sent Bryant, stunned he'd run into James while guarding Wade, to the floor.
On Friday, Wade had 39 points, 18 in the fourth quarter as he used James and the threat of James to eviscerate the Sixers' defense. James had 32 points, the second time in the past three games he and Wade have both crossed the 30-point barrier.
Eight different times the Heat ran a newer set against the Sixers, just fully installed in the last couple of weeks; either Spoelstra has kept these sets under wraps for some reason, or it took months to build up the confidence to develop and utilize them.
With James playing power forward and the other three players drawing attention away from the action, getting James and Wade in space to play a classic two-man game was unstoppable versus the Sixers.
In another set the Heat have been rolling out, James will stand in the corner as Wade comes off a separate screen and forces James' man to make a decision to stay home or help on one of the greatest drivers in the history of the game.
On many of these possessions, Chris Bosh plays center, which is workable against most teams like the Sixers. Like James, Bosh doesn't always like playing at the "bigger" position, but when he does it for stretches, the Heat take on the edge that they mysteriously missed at times this season. While James and Wade were putting up huge numbers and forcing the Sixers to make Sophie's Choice on defense, Bosh had 20 points and 10 rebounds.
"When you put LeBron at [power forward], that's his best position," Collins said. "That's where he is a monster because you can't guard him. When they go small, and that's what you're going to see in the playoffs, as much as Chris Bosh probably doesn't want to play center … they're tough."
Again, it may seem that this would have been covered in training camp. But stars with egos and habits don't always come around as fast as it is drawn in the playbook. With time expiring to figure it out, the Heat finally are.
"LeBron is doing a good job of mixing up his game some," Wade said. "Handling the ball, being a screener, getting the ball in different positions."
Assume that there haven't been too many times in James' life when he's been praised for being a screener, but right now that is what the Heat need badly, and what he's been providing.
And now for the flip side, the reason they need it so badly.
In the win over Philadelphia, the Heat's three stars combined for 91 points and 31 rebounds as all three had double-doubles in the same game for the first time this season. That isn't going to happen often. Yet the game was still in question until there were 45 seconds left, even though the Heat were playing at home.
"We have a lot of depth," Spoelstra said before the game, just as he has said since November.
This is either a lie, a leap of blind faith or more likely an attempt by Spoelstra to pump up his reserves by showing unwavering support because options are limited. The Heat bench was outscored by the Sixers 41-13, but it is hardly about one game.
Miami starts two players, Erick Dampier and Mike Bibby, who were bought out by other teams and then signed in the midst of the season. That historically isn't a sign of tremendous faith in your roster.
Mike Miller is having the worst shooting season of his career -- he went 1-of-6 in his latest effort -- and continues to regularly bang his head as he throws his body around for loose balls, as he did several times Friday. Eddie House and James Jones have both been inconsistent in their playing time and timely shooting.
Udonis Haslem hasn't been able to run since November and is slowly leaking hints he won't beat the odds and come back from a severe foot injury, one that is season-ending in just about every case. By even flirting with a return, Haslem is defying the odds.
When the Heat have needed their bench this season, much of the time it has let them down.
"I just want people to understand not to get caught up in me coming back," Haslem told the South Florida Sun-Sentinel.
"One, we have enough. Two, I'm going to work out as hard as I can and I'm going to work to get back as soon as I can. But if the doctors say they don't feel like I should be out there, then I can't go out there. I don't want people to hang their hats on me being the savior."
No, the saviors will have to be James, Wade and Bosh -- and especially James and Wade. And it won't be just on talent, it will be that they continue to adapt and improve.
Right now they are, and that's giving the Heat a real chance after all.