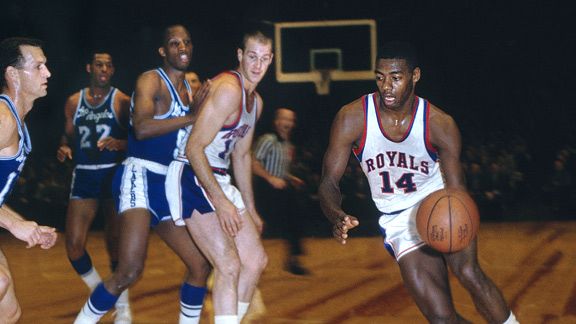 Focus on Sport/Getty Images
On Sunday, LeBron James, Dwyane Wade and Chris Bosh joined Oscar Roberston in the annals of basketball history.
MIAMI -- On Sunday night, the Big Three delivered one of the biggest single-game trio performances of all time.
LeBron James: 33 points and 10 rebounds. Dwyane Wade: 30 points, 11 rebounds. Chris Bosh: 31 points and 12 rebounds.
The last time three teammates tallied 30 or more points and 10 or more rebounds in a non-overtime game?
Elias Sports Bureau informs us that it hasn't happened in more than 50 years.
In fact, the last trio to do it was Oscar Robertson, Wayne Embry and Jack Twyman for the Cincinnati Royals in a loss to the Philadelphia Warriors on Feb. 2, 1961. That's the only other occurrence in NBA history.
However, you have to go back only a little over a decade to find the last time a trio put up 30-and-10 in a single game. In Nov. 1997, in a loss to the Phoenix Suns, the Portland Trail Blazers saw Arvydas Sabonis, Isaiah "J.R." Rider and Brian Grant accomplish the feat, but it took them four overtimes to pull it off. In fact, Grant tallied 61 minutes in that game. You can get lost in that box score.
But that's not all.
This performance from the Big Three comes on the heels of another historic compilation. On Friday, each member of the Big Three recorded 20 or more points and 10 or more rebounds in a win against the Philadelphia 76ers.
So here's another stat brought to you by ESPN Stats & Information: It's the first time since 1975 that a team's trio recorded 20-and-10 performances in consecutive games. Sidney Wicks, Lloyd Neal and John Johnson did it for the Portland Trail Blazers in March 1975.
And then there's this factoid: It's the first time in Heat franchise history that three players scored 30 points in the same game.
Yawn.