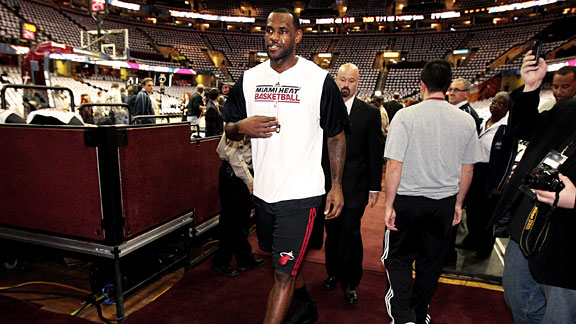 Nathaniel S. Butler/NBAE/Getty Images
When LeBron James walked out of Cleveland, he traded one basketball experiment for another.
The writing was on the wall.
The Cleveland Cavaliers had just lost a six-game playoff series to the Boston Celtics, and LeBron James was officially about to hit the open market. On the court, the Cavaliers had given him few compelling reasons to stay. The Cavs came into the 2010 playoffs with four young rotation players -- Mo Williams, Delonte West, Anderson Varejao and J.J. Hickson. Those were the players who would have to show that the Cavs were capable of growing if LeBron chose to stay.
None of them showed much.
Williams shot 41 percent from the field and 21 percent from beyond the arc against the Celtics. The season before, he shot 22-for-62 in the Cavaliers' four losses to the Orlando Magic. West, who was a perfect utility player in 2008-09, was derailed by off-the-court issues in 2009-10 and didn't make much of an impact against the Celtics. Varejao's impact is never really fully reflected in statistics, but he averaged only 6.2 points on 46 percent shooting against the Celtics. Hickson, the team's great young hope, barely saw the floor against the Celtics and got torched defensively when he played.
Were there reasons for LeBron to stay? Absolutely. Unlike the Magic series, when the Cavaliers lost despite superhuman performances from James, LeBron was culpable for the Cavs' collapse against the Celtics -- his performance in Game 5 is destined to live in infamy, and he shot the ball very poorly in his last game as a Cavalier. That should not be forgotten.
But LeBron had great chemistry with his teammates in Cleveland. The fans adored him and made the Q perhaps the toughest building in the league for visiting teams. And there is the hometown factor. It wouldn't have been easy for LeBron to win a title in Cleveland, but it could have been done, and it would have been an amazing moment for him and the city.
However, if we assume that free agency is about the future, not the past, and that LeBron's decision was made primarily for basketball reasons -- his Cavaliers teammates gave him few reasons to stay.
It's a shame, because then-GM Danny Ferry and owner Dan Gilbert did all they could to keep LeBron in Cleveland. They managed to turn Damon Jones and Joe Smith into Mo Williams, and they later got Joe Smith back after a buyout. They traded Sasha Pavlovic and Ben Wallace for Shaquille O'Neal. They traded Zydrunas Ilgauskas for Antawn Jamison and later bought out Ilgauskas. They traded Larry Hughes for West and the aforementioned Wallace.
Former coach Mike Brown forced the team to buy in on defense. Gilbert spent lavishly to give the team top-notch facilities and amenities. The team was stocked with capable role players perfectly suited to play with LeBron, and that's why it won 77 percent of its regular-season games in the final two seasons of the LeBron era.
Unfortunately for the Cavs, they were never able to give LeBron a true running mate. They had only two lottery picks post-LeBron, and they used one on Luke Jackson and (effectively) traded the other for Jiri Welsch. Their biggest free-agent signing of the LeBron era was Larry Hughes. Finding a player who can be a true core piece isn't easy -- it usually requires a very high draft pick or a lot of luck, and the Cavs weren't able to pull it off.
As good as the Cavs were in the past two seasons, they were built around LeBron and with duct tape. It was very good duct tape and the perfect kind of duct tape to put around LeBron, but the Cavs didn't have the firepower that the other top teams in the league did. The Lakers have Pau Gasol, Lamar Odom and Andrew Bynum around Kobe Bryant. The Celtics have Rajon Rondo, Ray Allen, Paul Pierce and Kevin Garnett. Tim Duncan has Tony Parker and Manu Ginobili. When the Cavaliers met the Magic in the 2009 playoffs, it often appeared as though the second-, third-, fourth-, fifth-, sixth- and seventh-best player in the series all played for Orlando.
Free agency was LeBron's chance to put himself on a team that could surround him with the kind of talent the league's other elite players got to play with. All of a sudden, LeBron had a world of possibilities open to him. He could have gone to New York with Amare Stoudemire to create the perfect pick-and-roll and the perfect storm of media coverage, defense be damned. He could have gone to Los Angeles with Blake Griffin and ensured a decade of impossible highlights.
In the end, though, it really came down to three choices: Cleveland, Chicago and Miami.
Cleveland would have needed to get someone like Chris Bosh to come for LeBron to stay, and the Cavs and Raptors did have a sign-and-trade deal in place. Bosh reportedly wasn't interested in going, and nobody really knows how hard LeBron tried to change his mind. Miami's appeal was obvious -- Dwyane Wade, enough cap space to sign another major free-agent and Pat Riley.
But what about Chicago? Everyone could see that Derrick Rose had superstar talent, although nobody really expected him to make the leap he's made this season. Joakim Noah is essentially a more effective version of Varejao, the best big man LeBron ever played with in Cleveland. Carlos Boozer is no Bosh, but he's certainly a very nice consolation prize. Luol Deng likely would have had to have been moved, but that wasn't an impossible hurdle. And with players like Noah at his disposal, everybody should have known that a defensive savant like Tom Thibodeau would make the Bulls into one of the league's best defenses.
We all know how things ended up going down. LeBron chose the Heat and traded one basketball experiment for another. In Cleveland, he had no other superstars to rely on. In Miami, he can rely only on the other superstars. If Mike Miller, Udonis Haslem or Mario Chalmers had been healthy all season, things might have been different, but this Heat team is the Big Three, good defense and whatever it can get out of a few spare parts.
If LeBron had gone to the Bulls, they may have looked like a traditional elite team -- a pair of All-Stars, a fringe star or two and a handful of extremely valuable role players. Or they may have been a disaster of chemistry. Nobody really knows, and both fans of the Bulls and fans of the Heat are happy with their teams as they are.
What we do know is that these Heat do not look like a traditional elite team. Can it work? Was it worth leaving Cleveland? When the game is on the line and the Heat execute a fake LeBron/Bosh pick-and-roll to a Wade-dribble hand-off to seal the win, it looks as though it might have been. When the team is struggling to focus on defense, Bosh is settling for jumpers and Miller is throwing skip passes to nobody, that's a different story.
LeBron has the talent to be a nearly perfect basketball player. As it is now, he is very, very good and very flawed. Everyone thought the Heat had the talent to be a nearly perfect basketball team. As it is now, they are very, very good and very flawed.
LeBron's free-agency decision did not create a juggernaut that tore through the league. It created another basketball experiment.
The last basketball experiment LeBron was a part of ended up failing. Time will tell whether this one will succeed.