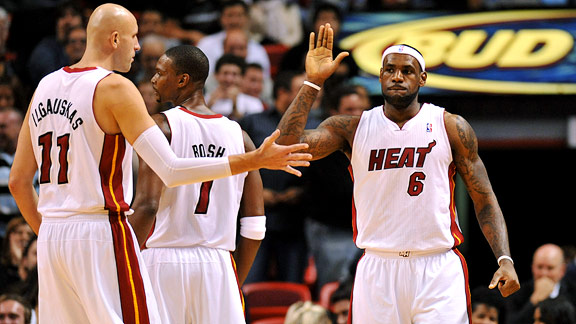 Steve Mitchell/US Presswire
LeBron James has seen his assist numbers dip this season but not when Big Z plays.
Sometimes you stumble upon knowledge by accident. Last night, while tweeting about LeBron James' MVP credentials, Heat Index's Michael Wallace asked, rhetorically I'd imagine, how many assists and triple-doubles LeBron has sacrificed by playing with Joel Anthony this season.
So it got me thinking: does LeBron really tally fewer assists when he plays with Joel Anthony, he of the fly-swatter hands?
Using a little toy called NBA StatsCube, I can actually look up this sort of thing. And the results are pretty fascinating.
What we're interested in is LeBron's assist rate, not just with Anthony, but with all the Heat centers so we can establish some benchmarks. And by assist rate, I mean LeBron's assists per 48 minutes so that we can control for playing time with each center.
LeBron James' stats by center
Source: NBA StatsCube
Here, we find that LeBron's assist numbers do, in fact, plummet when he plays alongside Anthony. Overall, LeBron records 8.6 assists per 48 minutes on the court but with Anthony on the court, that figure drops to 6.8 assists per 48 minutes. So, to answer the original question, yes, James' assist numbers have suffered by playing with Anthony.
But that's not the fascinating part.
Look at LeBron's assist rate with Zydrunas Ilgauskas: 11.3 assists per 48 minutes. That's off the charts. James nearly doubles his assist rate when his long-time counterpart Ilgauskas takes the floor compared to the other centers. Moreover, we see that LeBron's field goal attempts take a huge hit when he pairs up with Big Z, dropping to 19.7 field goal attempts per 48 minutes compared to his 26.1 rate with Anthony. As a result, LeBron's scoring falls to 27.3 points. Said a different way, when LeBron is paired with Anthony, Dampier or Magloire, the two-time MVP compensates for their scoring deficiencies by taking on a bigger role offensively.
Spoelstra likes to say that Iglauskas gives the Heat "a different look" at center, by which he really means a center that's not completely inept on offense. But Ilgauskas' specific skill-set caters well to LeBron's strengths. When Ilgauskas takes the floor, LeBron almost instinctively gravitates to the top of the key waiting for Ilgauskas to set a high ball-screen. What follows that pick is predictable, yet equally difficult to stop. Either LeBron drives through a crease or Ilgauskas pops out for a midrange jumper which he hits about 50 percent of the time. The pairing has a tendency to send the Heat offense into a festival of pick-and-pops. But as we can see from the final column (TmORtg) on the chart, Ilgauskas' overall effect is positive. The Heat score 111.3 points per 100 possessions with Ilgauskas on the court, compared to just 108.0 and 107.3 with Anthony and Dampier respectively.
We also find that LeBron's assist rate with Ilgauskas this season is consistent with their history in Cleveland. Take a wild guess what LeBron's assist rate with Ilgauskas was last season. Yep, 11.3 per 48 minutes, the same exact rate we're seeing in Miami.
On-court chemistry sets basketball apart from other sports. Although it masquerades as a team sport, baseball is essentially an individual sport, built upon one-on-one matchups between hitter and pitcher. Basketball is different. As we see with our eyes and with the numbers, the on-court dynamic between players cannot be ignored. LeBron transforms into a different player when he plays with an offensively capable center, and the offense appears to benefit from LeBron shedding the scoring responsibility.
The Heat's problem? Like many teams, they don't have a two-way center.