MINNEAPOLIS -- An avid video game player, LeBron James said he wishes he could hit the "advance to the playoffs" option at this point in the season.
It's not because he's bored. After a victory Friday night over the Timberwolves, the Heat are in a virtual tie with the Celtics for the No. 2 seed in the East. But it's because he's feeling the wear and tear of the season and knows there's likely no rest coming with the standings so tight.
"Sometimes you wish you could simulate these games and get right to the postseason," James said. "And let me get my rest."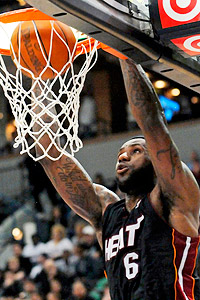 AP Photo/Jim Mone
LeBron James has been logging some serious playing time of late.
James just finished up his most taxing month of the season, logging more than 40 minutes per game during 16 games in March. With Mario Chalmers and Mike Miller out with injuries and coach Erik Spoelstra more concerned with keeping Dwyane Wade's minutes down, the demand for James' playing time has surged.
He's logged 43 minutes in three consecutive games and more than 40 minutes in seven consecutive games, the longest stretch of the season.
"I turned to the bench and looked for someone to put in there and we were out of perimeter players," Spolestra said, explaining his decision to play James 43 minutes in a 19-point win over Minnesota.
Over the last two seasons, James has been able to rest heading into the playoffs because the Cavs had clinched the No. 1 seed. Last year he got nearly two weeks off before the postseason, mostly because he was nursing a sore elbow as well as general fatigue.
This season, a break doesn't look likely and, instead of easing off, he's ramping up his workload. James has done this in the past. In fact, during the season in which he led the led the Cavs to the Finals, the team's seed wasn't decided until the last game and James kept his foot on the gas the whole way.
"It does make a difference whether you can get some rest before the playoffs -- I'm not going to lie and say it doesn't," James said. "You want to be as rested as possible, you're not going to be injury free."
Spoelstra likely isn't happy to be needing to use James so much, but still is attempting to cover for it.
"He may deny it right now, but he did not look fatigued," Spoelstra said. "It is what you do the days in between and he's had a little bit of rest this week."
Now in his eighth season, James said the 75-game mark of the season feels different than before. But he's also not making an issue of the minutes as he did earlier this season when he declared after a November loss that "42 minutes are too much and Spo knows that."
James is willing to extend himself and perhaps it won't have any effect on him in the playoffs. But there's no denying the minutes are up.
"I know we're down two guards so I'm going to have to play a few more minutes, we don't have many options," James said. "It's a lot of wear and tear. As the years go up, you feel different at this time of the season."