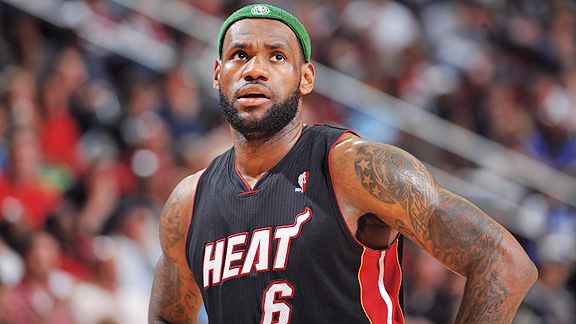 Jesse D. Garrabrant/NBAE/Getty Images
LeBron asked us whether this is his most efficient season of his career. Here's our answer.
After the Heat's win over the Timberwolves on Friday night, LeBron James discussed his season-long development in Miami during a postgame interview with the media.
"I feel like I've had my most efficient season," James said.
Once the scrum of reporters had cleared, James pondered the assertion some more before asking the lingering reporters and members of the Heat staff whether they believed this was, in fact, the most efficient season of his eight-year career.
For James, it's a good time to be asking the question. Since his 19-point dud in a loss to the Oklahoma City Thunder on March 16, James has taken his game to a whole new level. Just look at what he's doing these days in the scoring column. Or, more to the point, look at the efficiency by which he fills that column.
Two days after falling to Kevin Durant and the Thunder, James scored 43 points on just 21 shots from the floor in a blowout win over Atlanta. His field goal percentage in that game? A sky-high 76 percent -- so high, in fact, that it marked the first time in his entire career that he shot above 75 percent in a game. Considering that five of his buckets were from beyond the arc, he effectively shot 97.7 percent if we weight the 3-point shot appropriately.
But James didn't stop there. In the next game against the new, stingier Denver Nuggets defense, James lit up the scoreboard again, shooting 15-for-25 (60 percent) on his way to 33 points. As efficient as that may be, that night merely ranks as his fifth-best shooting performance -- in terms of field goal percentage -- in his past eight games. He shot 12-for-16 (75 percent) against Washington last week and then delivered another prolific shooting display, 13-for-18 (72 percent), in his most recent game against the New Jersey Nets.
How good is this run? James had entered the month of March having shot 70 percent or higher in a game just five times in his career. Now, he's done it nine times in his career.
Simply put, James is on fire, and it makes sense why he wants to talk efficiency now.
Back to the big question: Is James having his most efficient season?
Even considering his efficiency binge lately, this season just doesn't match up with his MVP campaigns. That's not a knock on the 2010-11 version of LeBron. It just goes to show how off-the-charts he has been in his eight-year career.
First: How exactly do we measure efficiency? John Hollinger's Player Efficiency Rating (PER) is a good place to start. It's not a perfect measure by any means -- Hollinger will readily admit that -- but it takes all the numbers a player accumulates in the box score and bottles it up into one tidy figure that describes a player's per-minute productivity. For point of reference, my general rule of thumb for PER: 11 is barely a rotation player; 15 is average; 20 is All-Star caliber; 25 is MVP-candidate caliber; 30 warrants a page in the history books -- U.S. history, that is.
In a season when James averages 26.6 points, 7.5 rebounds and 7.0 assists per game on 51 percent shooting, there's little doubt that his PER should be impressive after putting those numbers through the sausage maker. And, of course, it is. James' PER currently stands at 27.1, a figure that is unmatched by any player in the NBA this season. But he's done better. Let's take a look at his efficiency résumé.
LeBron James' most efficient seasons by PER
What we see here is that James' season is, at this point, his fifth-most-efficient of his career by PER. (Note: I've included his per-game averages here to show his traditional numbers, but as a reminder, PER is a per-minute stat that doesn't specifically look at per-game averages.)
What's setting him back this season? His scoring and turnover rates. James' 26.6 points per game average is the second-lowest of his career, but don't blame his field goal percentage, which is a career-high 51 percent. One of the products of playing next to two ball-dominant scorers like Dwyane Wade and Chris Bosh is that James doesn't have to shoulder an enormous scoring burden as he did in Cleveland. He can weed out the baseline turnaround jumper and the occasional step-back 3 now that he has some other options on his team. No, he hasn't completely sanitized his shot selection this season, but he's definitely cut down on ill-advised jumpers with teammates who hold him more accountable.
But in the realm of personal statistics, the presence of star power is a blessing and a curse. James doesn't see the same number of touches that he enjoyed in his former life in Cleveland, but his shooting percentages have risen as a result. True shooting percentage is another measure of efficiency that strictly looks at how efficient a player is with his shots -- rebounds, assists and turnovers need not apply. And under this lens, James looks a lot better in the mirror. In fact, his true shooting percentage of 59.4 is the second-highest of his career, behind his 60.4 rate last season in Cleveland when he shot better from downtown and at the free throw line.
When we look at his ability to make shots, James is right up there with his very best. But as all basketball nuts know, efficiency isn't restricted to just shooting. Turnovers are eating up James' possessions. In fact, James has turned the ball over 3.6 times per game, or an estimated 13.7 percent of his possessions, rates he hasn't seen since he stumbled around in his rookie season. Where are the miscues coming from? In transition. When James barrels down the court like a bowling ball, an increasing number of brave souls are willing to be the bowling pin and step in front of his path for the charge. Synergy Sports, a data-tracking warehouse, tells us that 15 percent of James' plays in transition end in a turnover, up from 11.4 percent last season in Cleveland.
At the end of the day, James is right about his efficiency -- if we look only at field goal percentage. But beyond that, he has some work to do if he wants to make this season his best. Judging by his recent shooting tear, he's aiming to make that happen.
James may be a little optimistic about his season, but the fact that the two-time MVP is talking about efficiency should make us a little more optimistic about his basketball IQ.