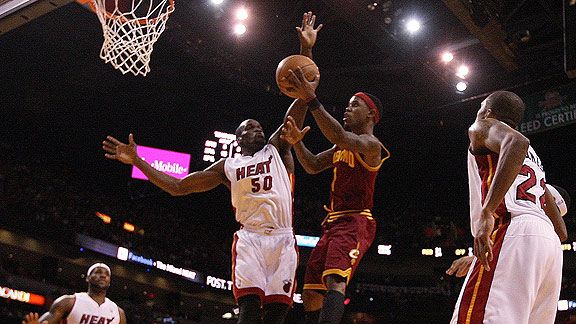 Mike Ehrmann/Getty Images
Through hard work and dedication, the high-flying Joel Anthony deserves your full attention.
MIAMI -- Some players in the NBA seem as though they're on the court for our amusement. These players' flaws elicit more entertainment value than their talents. Their imperfections make us cringe in our seats.
Joel Anthony could be considered one of those guys.
The Heat's offensively challenged center trended on Twitter one November night after he awkwardly air-balled a dunk. There was also that time when he made the Internet rounds for passing the ball directly into the courtside seats. In the age of instant snark and video proliferation, Anthony has become a punching bag of sorts.
But after watching him this season, there's a growing feeling that we have him all wrong.
Sunday's romp over the Celtics was the tipping point. Anthony, one of the NBA's best shot-blockers at 6-foot-9, came off the bench and instantly took over one of the biggest regular-season games in Heat history. He tallied seven points and 10 rebounds while posting a plus/minus of plus-21 for the game.
"Anthony killed us today by himself," Kevin Garnett said after the Heat's 100-77 victory over Boston.
Garnett, the baddest man in basketball, called Anthony a murderer on the basketball court. Yes, Kevin Garnett.
No, Anthony is not an on-the-court clown. The fourth-year player has earned the respect of Garnett, not to mention every teammate or coach he's ever played with.
And considering where he's come from and where he is now, he may demand your respect as well.
The 2,500 kilometers between Montreal and Miami
If Anthony doesn't come across as player who was classically trained, that's because he wasn't. He learned the game of basketball not by watching Michael Jordan as a kid or by shooting hoops with his dad on a blacktop. (He grew up with a single mother.)
No, Joel Anthony learned the game of basketball by studying a book.
Anthony was 16 years old and had recently grown six inches over the course of a summer. Anthony was at the Big & Tall clothing store -- an unofficial hotbed for scouts searching for the next basketball prospect -- because, at 6-6, he had outgrown his clothes. An inquisitive shopper saw Anthony there and invited the teenager to go to the local rec center he ran and play ball. Anthony took him up on the offer.
That's when Anthony, who had only played football in organized fashion up to that point, became serious about the sport of basketball.
"Then, everything was about basketball," Anthony said. "I wanted to try and get better."
But there was a problem. Anthony had no coach to practice with him. All he had was a paperback he had picked up at school.
Why this particular book? Because there was a picture of Alonzo Mourning on the cover. To the young Anthony, the shot-blocking Heat center seemed like a player he could model his game after. So Anthony flipped through the pages of "NBA Power Conditioning" and worked tirelessly every day, trying his best to learn 122 drills with the company of no one.
"I've never had anyone teach me the game," Anthony said. "I was working out on my own."
Without any tutelage, it's no surprise that Anthony was cut from his the first college team he tried out for at Montreal's Dawson College. But Anthony made the cut on an AAU team, and while he was traveling through a circuit in Florida, a basketball coach at Pensacola Junior College noticed a human pogo stick altering every shot in sight.
Just a couple of years after stumbling upon "NBA Power Conditioning," Anthony had earned a college scholarship to play basketball.
After two years honing his skills in the Florida Panhandle, Anthony transferred to UNLV to play for then-coach Lon Kruger. In his senior year, Anthony reached the Sweet 16 of the NCAA tournament and won the Mountain West Conference Defensive Player of the Year.
But no one drafted Anthony, and he barely managed to earn a workout.
Anthony did receive an invitation from the Miami Heat to play for their summer league team. He impressed the coaching staff enough to warrant another invitation, this time to the team's training camp in South Florida.
There, Anthony walked proudly into the Heat's weight room alongside Bill Foran, the Heat's strength and conditioning coach. But Anthony was taken aback by a poster hanging up on the wall. It was a poster of Alonzo Mourning on the cover of a book titled, "NBA Power Conditioning."
"That's the book," Anthony blurted out, looking up at Mourning's photo. "That's the book that got me into basketball."
Anthony soon found out that Foran wrote the book's introduction. A couple of weeks later, Anthony survived the notorious Pat Riley training camp, and the Heat liked what they saw, rewarding Anthony with an NBA contract.
The kid from Montreal made it somehow.
Banned from basketball
Ever since that day at Big & Tall, Anthony has been a gym rat. Being one himself, Heat coach Erik Spoelstra holds the utmost respect for Anthony's work ethic. The big man's diligence is the stuff of legend. Although his Heat teammates reside in oceanfront properties in Coconut Grove and Coral Gables, Anthony chose a downtown Miami apartment. Why? It was within walking distance to the Heat's practice facility at AmericanAirlines Arena.
He would live at the gym if he could.
"He's the hardest worker we've had in 30 years," Kruger said. "The first to the floor, the last to leave."
On one occasion, Spoelstra actually banned his center from entering the premises. That's right, banned.
It was the summer of 2008, and Anthony had just returned from playing with the Canadian national team for six weeks, grinding away in tournaments and doing two-a-days with his fellow countrymen. But before he left for international ball, Anthony trained for the competition every day for six weeks -- beginning the day after the NBA regular season ended.
"He didn't take time off from the season. It was literally the next day," Spoelstra recalled, shaking his head.
Spoelstra knew Anthony would be there, trying to fit in more work. But Anthony was a shell of himself, having lost 10 pounds in a little more than a month. Upon seeing Anthony's emaciated body that morning, Spoelstra called Anthony into his office as though Spoelstra played principal and Anthony a delinquent child. The coach demanded that Anthony take some time off, even suggesting a cruise vacation from the nearby port only a stone's throw from the arena.
Knowing Anthony wouldn't agree to the terms, Spoelstra put on the full-court press. The coach threatened to put up Anthony's photo on the walls and instruct security guards to keep him out if they saw him anywhere near the building. Spoelstra was serious. Two weeks was all the coach asked for. Anthony agreed and left his coach's office.
"Sure enough," Spoelstra said. "Four days into it, I'm coming back late in the afternoon to get something from my office, and there he was. In the gym."
Hands of stone ... heart of gold
There's a reason Anthony works so hard. Even after playing several years of collegiate ball, Anthony arrived at the 2007 summer league as offensively raw as any player Spoelstra had ever seen in an NBA uniform.
To be more specific: His hands were a problem.
"He could barely catch," Spoelstra said. "He couldn't score in the gym by himself at that time."
Catching a basketball remains the simplest and most fundamental of basketball tasks usually mastered at a young age. But with Anthony, it's different. Whether it's catching a postentry pass, gripping a rebound or securing a loose ball, Anthony often looks as though he's trying to grab hold of an airborne water balloon covered in Crisco.
But just like everything else, Anthony works at it. And works at it some more. He knows no other way.
Still today, if Anthony flubs passes in a game, you can catch him in the next Heat practice going through his various hand drills. Kruger tried using tennis balls at UNLV. Anthony said he likes to use the Heat's automatic toss-back passing machine. Spoelstra and Heat assistant coach Keith Askins have worked countless hours with Anthony before and after practice to strengthen his hands and sharpen his reaction time.
To simulate an in-game setting, Spoelstra would pretend he's the ball handler in a pick-and-roll situation and dribble off a high ball screen from Anthony at the top of the key. Anthony would have to turn his back and roll to the rim. At that moment, Spoelstra has already fired off a pass in Anthony's direction.
But there's a catch. Spoelstra has set up multiple human-sized dummy pads in Anthony's path, the same dummies one would find on a football field. Anthony has to turn, circumvent or plow through the pads on the fly and absorb a bullet pass from his coach. And then repeat it dozens of times over.
"I had to do it every day," Anthony said. "There's still a lot more I feel I have to improve on. Just from them working with me all the time has helped me get better as a player. It's definitely been a work in progress."
Anthony relayed the drill he's least fond of -- a simple peek-a-boo passing exercise he did with Askins. Standing about 10 feet away from a turned-around Anthony, Askins rifles a pass toward Anthony and then says, 'Go.' Anthony turns and attempts to catch the ball. In that order.
"And he'd throw it so hard," Anthony said, putting emphasis on the last two words with a laugh.
These drills sound painfully rudimentary, but Anthony maintains that he enjoys every drill he encounters. With notorious jump-passers LeBron James and Dwyane Wade as teammates, Anthony has to be ready at every moment.
James has become Anthony's biggest believer. After passing the ball numerous times to Anthony in the Heat's rout over the Celtics on Sunday, James said he simply refuses to stop feeding him the ball.
"I just try to stay in Joel's ear," James said. "When comes out on the floor, he's always thinking defense. And rightfully so, because he's really good.
"But he has to be aggressive on the offensive end, too. I got on him today. D-Wade made a pass to him right under the rim, and he threw it back out. Then he got it back, and it was a turnover. So I'm staying on him. D-Wade stays on him. We can't ever have a player out there that's not confident in his ability.
"He's getting better every day."
The 'no-stats' regular
The one thing you learn from watching Anthony every day is that he's actually a very productive basketball player -- just not through the lens of the box score.
Point guards can't turn the corner on a pick-and-roll because of him. Post players can't get around him on the block. Penetrators can't get a good look at the rim.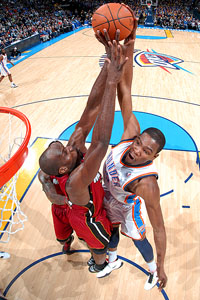 Garrett W. Ellwood/NBAE/Getty Images
Joel Anthony isn't just a shot-blocker. He's one of the best all-around defenders the Heat have ever seen.
These effects are all important. But in the age of the box score, Anthony's contributions are often left in the dark.
But the Heat employ their own version of the box score, and it's extraordinarily comprehensive. Years ago, Pat Riley devised the method, Stan van Gundy implemented it and Erik Spoelstra used to chart it. Brian Hecker, one of the team's scouts, currently does the dirty work, grading every player on every possession based on 56 criteria. Yes, fifty-six.
It's a system of pluses and minuses. If a defender successfully thwarts a pick-and-roll out in front, that's a plus. If he contains a player in the post, that's another plus. If he player fails to box out his man, that's a minus. Those are three of the 56 categories. Big men can tally as many as six pluses on a single possession.
And wouldn't you know it, Anthony is an absolute monster by this measure.
"He grades out as well as any big player as we've ever had," Spoelstra said. "He's quick and leaps about as well as any center in this league."
Anthony calls these "effort points." He remembers in his rookie year the Heat posted a chart in the locker room after every game showing the rankings of each player on the team by his initials. Of course, Anthony came out on top.
"If you think about it, on most scoreboards, all you have are points and fouls," Anthony said. "There's only certain things that people look at. It is what it is."
It's funny that Anthony made note of those particular stats. He's about to become just the eighth player in NBA history to record more personal fouls than points in a season with at least 1,400 minutes of playing time. But he doesn't care. Nor do the Heat.
Spoelstra knows plenty of players who "bring energy" into a game, but Anthony is unique in that he turns intangible qualities into tangible plays.
"There's not many players who can do that effectively," Spoelstra said. "Even if it doesn't show up in the box score, it helps you win."
So … is he worth it?
When the Heat signed Joel Anthony to a five-year, $18 million contract this past summer, it sent shock waves throughout the league. But no one was more floored than Anthony.
He was watching TV on his couch in his downtown apartment when he got the call from his agent. Anthony was hopeful for two years. He got five.
"I was in a state of shock," Anthony said. "You know how people say, 'I have some news for you, you may want to sit down'? You could not sit me down."
Before this season, I didn't watch Anthony every day, and I'll admit that I thought the Heat vastly overpaid their homegrown guy. Now? I'm not so sure it's a bad deal.
I'm fully aware of what the statistics say. His player efficiency rating (PER) stands at a paltry 7.43, one of the worst rates in the league. But as we know, a box score metric like PER tends to undervalue players like Anthony, defensive stalwarts who make big-time plays besides steals and blocks.
I also know that the Heat play far better with Anthony alongside the Big Three compared to their other centers. The Heat blow out their opponent by 19.4 points every 100 possessions when Anthony plays with the Big Three. How about with Erick Dampier? The Heat win by 13.3 points. With Ilgauskas? "Just" 12.2 points. Of those three centers, the Heat have their best defense with Anthony on the floor. Oh, and their best offense as well. He allows the Big Three to do what they do best: attack.
Except for the occasional fumble, Anthony passes the eye test as well. Watch him on defense. Anthony plays like a jumping spider, seemingly able to exist in two places at once while showing mobility in all directions. His arms are always outstretched, and his hands are hyperactive. After Sunday's dominant performance, Spoelstra called him "The Matrix," citing his omnipresence.
Call Anthony what you want, but he is certainly not out there for your amusement.
He is out there because he works.