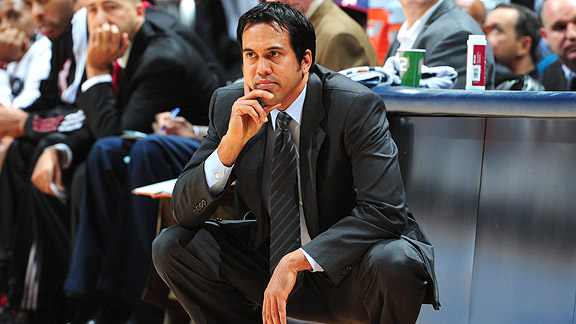 Scott Cunningham/NBAE/Getty Images
Rotations typically tighten in the playoffs, but will Erik Spoelstra be able to shrink the Heat's?
MIAMI -- Rotations tend to shrink in the playoffs. More playing time is given to the team's best players, and the periphery players get weaned off the precious minutes they enjoyed during the regular season.
Take Dwyane Wade and LeBron James, for example. LeBron has played in the playoffs the past five seasons and has seen his minutes increase from 39.9 minutes per game in the regular season to 43.5 minutes per game in the playoffs. Wade has experienced a similar surge in minutes (37.5 per game to 40.9). If their time continues to increase as it has in the past, the rest of the rotation will be squeezed out of seven minutes a night.
So who will feel the squeeze? It's tough to say with this team because the supporting cast is extremely specialized. Coach Erik Spoelstra has repeatedly likened his collection of centers to a baseball bullpen of relievers. If he needs a floor-spacer, he goes with Zydrunas Ilgauskas. If he needs a defensively focused sparkplug, he'll call in Joel Anthony. If he needs a space-eater, he'll tab Erick Dampier. Spoelstra's centers are not two-way players. Ilgauskas can score but he can't defend. On the other hand, Anthony and Dampier can defend but they can't score.
Spoelstra has a specialized point guard position, too.
Mike Bibby brings stability to the offense with discipline and stellar 3-point shooting, but he can't defend. Mario Chalmers can defend, but his influence on the other end of the floor is anything but steady. Like the center slot, Spoelstra just doesn't have any two-way players to count on.
Consider these numbers. When their big three play together, the Heat score 113.8 points per 100 possessions and allow 98.5 points per 100 possessions for a efficiency differential of 15.3 points. Those three run the show, so we would assume that whoever plays the point guard position would have an effect on the team's effectiveness, but only slightly.
But watch what happens when Bibby steps on the floor. With the defenseless point guard on the court next to the big three, the Heat's offense goes from good to extremely good, increasing their efficiency from 113.8 points per 100 possessions to 120.1 points per possessions, an increase of 6.3 points every 100 possessions. That makes them almost impossible to stop on that end. What's more fascinating? Take a look at what happens on the other end. The defense suddenly becomes as porous as a colander, allowing 105.8 points per 100 possessions, 7.3 points worse than before. The offense improves significantly, but the defense worsens just as much.
Bibby is the Heat's scoring specialist. On the other hand, Chalmers is their defensive specialist.
The Heat's polarizing PG
Chalmers is quicker and longer, and covers more ground than Bibby on that end. And as much of a headache as Chalmers is on offense, he helps to amp up the defense, causing turnovers with his activity. With Chalmers complementing the big three, the Heat's defense gets stingier, allowing 96.5 points per 100 possessions, which is two points fewer than they normally allow. The offense? It gets worse, allowing 110.5 points per 100 possessions, down from their typical rate of 113.8 points. The offenses declines, but the defense sharpens just about as much.
With Bibby and Chalmers bringing two different brands of basketball, one would suspect Spoelstra would have two bullpens that he would have to manage, at the point guard position and at the center slot. To continue the baseball analogy, baseball managers like to "platoon" a position if one hitter can hit only left-handers and another player can hit only right-handers. In this situation, the manager will start the player based on the throwing hand of the opposing starter.
Will Spoelstra employ a platoon at the point guard position, like he does at the center position, based on the effectiveness of the opposing point guard? When I asked Spoelstra this question, he said he's satisfied -- for now.
"I don't feel the need to do that right now," Spoelstra said. "But I would not stress out if I needed to make a change there. I like the dynamic that Mike gives us and Mario, what he can bring off the bench, too."
The Heat potentially will face some lightning-quick point guards ahead. Jrue Holiday isn't the caliber of Derrick Rose and Rajon Rondo in that category, but he can slice up Bibby if he feels so inclined. Spoelstra's words suggest that he's confident that the Heat can hide Bibby enough to keep him out there against Holiday. But if he needs the defense, he has Chalmers there waiting.
However, the collection of specialists means the rotation probably won't shrink as much as other teams' rotations. Aside from the big three, the Heat have Chalmers, Bibby, Ilgauskas, Anthony, Dampier, Mike Miller and James Jones. That's a 10-man rotation, and I don't see it slimming down to eight unless Spoelstra somehow builds an Ilgauskas/Anthony hybrid who can shoot and move laterally.
Will the longer rotation matter? Only if you believe that players need consistency and long minutes to get in rhythm. For the aging centers and spot-up shooters, that might come into play. But expect Spoelstra to mix and match all 10 players depending on the other team, and that's especially true with the depth of the Sixers. With all the one-dimensional role players at Spoelstra's disposal, he might not have a choice.