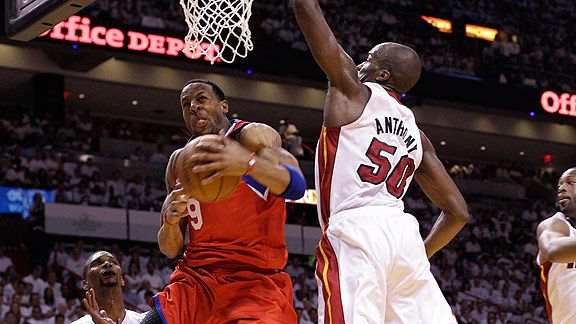 AP Photo/J Pat Carter
All five guys in the Heat's defense work on a string ... and Joel Anthony is one of its puppet-masters.
MIAMI -- "The defense is all about being on a string," Dwyane Wade said after Miami shut down a Philadelphia offense that managed only 73 points on 88 possessions in Game 2.
Being on a string.
It's an expression Wade and LeBron James have used before, usually after the Heat have tightened the vise defensively on an opponent. The Heat's whiteboard and public statements are rife with battle cries, metaphors and motivational themes, and we heard "on a string" a fair amount earlier in the regular season when the Heat were routinely locking down opponents. But it had been a while since anyone brandished it in the interview room at AmericanAirlines Arena.
"On a string" strongly suggests teamwork, coordination and synchronicity. Yet catch phrases -- especially those uttered by athletes and coaches from a podium in a postgame press conference -- can gradually lose their definition if we don't fully understand their meaning.
In 2004, we had a certain familiarity with what it meant to "play the right way," but the cliché has been used so frequently since the Pistons won the title that season, that it's become gauzy.
So what does "being on a string" mean exactly?
"It's all guys moving together," Wade explained. "Our principles are protecting the paint. If the ball skips over the top, and I have to close out on the 3-point shooter, then that opens up the drive because I have to close and chase him off the 3-point line. So 'being on a string' as in, the bottom man -- the next man -- has to come over to be in his position. It's not about one person. It's about all five doing their jobs. If the bottom man comes over, that means he's leaving his man. So now the opposite man has to sink down on that man."
On a night when the NBA handed out its Defensive Player of the Year award, Wade's description was apt. We tend to regard defense as an individual skill in basketball. NBA rosters are stocked with stoppers and sieves, guys who can guard the ball or the post and guys who can't. It's hard to deny there are players more fluent than others at man-to-man defense. Containing a penetrator demands lateral movement and agility. Bodying up a power forward down on the block requires some brawn and resolve.
But the more NBA basketball you watch, the more evident it becomes that every defender is, first and foremost, a team defender.
There's a reason Ray Allen can go from leading one of the worst defensive teams in history in minutes played to presiding as the shooting guard in a championship defense. And why the guy who played the second-most minutes on that wretched team can become the starting power forward on the stingiest squad in basketball a couple of years later.
Are Ray Allen and Rashard Lewis good defenders or are they the product of sound defensive systems?
How about Chris Bosh? He didn't arrive in Miami with a strong defensive reputation. His 2009-10 team couldn't defend anyone. But somehow, he has served as the primary big man on one of the league's best pick-and-roll defenses this season.
Did Bosh find religion, or did he learn to play on a string?
For some insight, watch the Heat's string at the 10-minute mark of the 2nd quarter on Monday night as Philadelphia brings the ball up trailing 24-15.
The Sixers have been struggling in the half court since the first quarter of Game 1, and here they try to jump start their offense with a high pick-and-roll with Andre Iguodala and Elton Brand. James covers Iguodala, while Joel Anthony works on Brand.
Iguodala moves left, as is his tendency, and Anthony has already anticipated this. In fact, Iguodala has lost money on this transaction -- he's further away from the basket than when Brand set the screen!
"We just try to get out on pick-and-rolls and show and try to get the ball handler going uphill instead of downhill," James Jones said of the Heat's pick-and-roll coverage. " We try to make them retreat a little bit."
James positions himself to Iguodala's right, which means the Heat are essentially in a soft trap. Iguodala has nowhere to go, yet James has relinquished responsibility for Brand, who has made a hard dive to the basket.
It's here where the string comes into play.
Bosh immediately picks up Brand the instant the Philly power forward enters the paint. Remember what Wade said? Protecting the paint is principle No. 1 for Miami.
But if Bosh picks up Brand, then who's going to cover Thaddeus Young, whom Bosh has left? You don't want that guy running around without a body on him! The Heat got their fill of that on Saturday night in Game 1, when Young scored 20 points -- all of them inside of 10 feet -- and collected eight offensive rebounds.
This is where Anthony excels at this job. Iguodala has nowhere to go, so he passes the ball to Evan Turner on his left, still miles away from the hoop. Before the ball even reaches Turner's fingertips, Anthony has already sprinted to find Young or Brand -- whoever needs a body on him.
Consider this for a minute: Anthony's back has been turned to the play as he's pressured Iguodala. He can't have any idea where Young or Brand is on the floor at that moment, but he knows he better find whichever of the two is open -- and fast. After all, Anthony is aware that Brand dropped low while LeBron stayed high, which means Bosh invariably picked up Brand.
That's one of the primary jobs on the string of any big man pressuring a ball handler on a high pick-and-roll: Once your business is done and the guard is contained, you must run and find the opposing player who was left when one of your teammates picked up your original assignment.
You have to return that favor. That's how the string works.
"It's just like a bike chain," James said. "If one of the chains gets just a little bit off, then it snaps. Now you can't ride it anymore ... It all works together."
James was pleased with his metaphor and even recounted how he used to fix a broken chain by turning the bicycle upside down on its handlebars. The grease would get on his fingers and that was no fun.
Nobody gets his hands dirtier than Anthony when the Heat have their defensive rhythm humming. He and Bosh work beautifully together on rotations, and the numbers bear that out. The five most common lineups with those two guys in the frontcourt give up only 96.7 points per 100 possessions. That's a measurably better rating than Chicago's top-ranked defense, which yields 97.4 points per 100 possessions.
Back to the second-quarter play, where we left Anthony just as he was sprinting to the paint. He finds Brand, who is just a couple of feet away from Young. Bosh is watching carefully. He doesn't want to leave Brand too early, otherwise Turner could just fire a bullet pass for an easy dunk. But Bosh also realizes that he needs to be poised to slide back to Young the instant Anthony arrives back onto the scene.
Anthony does something else really smart. As he races back to the paint, he keeps his arms high in the air, making it tougher for Turner to fire an entry pass inside to either Brand or Young.
Is that gesture a difference-maker in the possession? It's hard to say, but we can be certain of one thing: It didn't make life any easier for Turner or his intended receivers. And if bought just a half-second of time, it might have been the difference between Young catching the ball before Bosh can reposition himself between Young and the basket, or after Bosh could set himself in prime defensive position -- feet spread apart, knees bent, hands up, fully prepared to wall off the paint.
Young takes a couple of dribbles against Bosh, then rushes a contested, turnaround flip which -- go figure -- Anthony almost gets a piece of. Jones gobbles up the rebound and the Heat go the other way.
An interesting commentary on Game 2 is that, having listened to Wade's full explanation, I went looking for a half-court possession from Monday night where the Sixers moved the ball enough to force all those actions Wade mentioned -- the Sixers' making the Heat guard the paint, then the ball goes from one side to the other to a 3-point shooter, which forces a paint defender to close out, which, in turn, means a another player needs to sink low, etc.
Know what?
Of the 55 half-court possessions in which the Sixers came away with no points, I couldn't find one where they truly made all five Miami players defend.
So the tautness of the Heat's string is twofold. Miami's cooperative effort on defense has been impressive, but the Sixers should be taking a pair of industrial scissors to that string, but are working instead with a dull nail file.