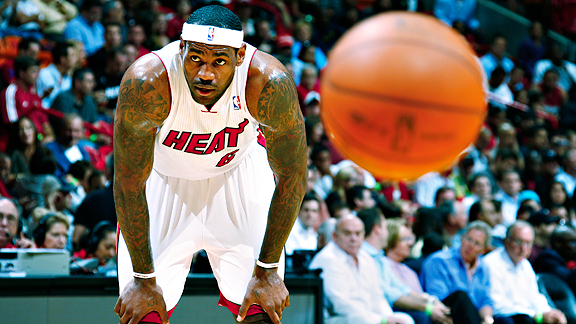 Issac Baldizon/NBAE/Getty Images
Will the ball bounce LeBron James' way enough for him to average a triple-double?
In Tuesday night's rout of the Minnesota Timberwolves, LeBron James failed to pull down a single rebound. That hasn't happened to the King since his rookie season more than six years ago.
Hey, anyone still aboard that "LeBron averaging a triple-double" bandwagon?
Perhaps it's better to back up and ask a separate question: Why was there a bandwagon in the first place?
Here's three reasons why it won't happen.
1. Oscar Robertson's greatness came at the right time
Before we discuss LeBron's qualifications of averaging at least 10 points, 10 rebounds and 10 assists for a full season, let's run through a quick history lesson. Oscar Robertson is the only player in NBA history to achieve the league's version of the triple crown, scoring 30.8 points, piling up 11.4 assists and grabbing 12.5 rebounds per game in 1962. Eye-popping numbers. Also eye-popping? How many missed shots there were to collect.
As a result of breakneck pace and horrid shooting proficiency, the average team in 1962 missed 61.8 shots per game, which means that there were approximately 120 missed field goal attempts available to be hauled in.
The modern game is dramatically slower and more efficient, leading to far fewer rebounding opportunities for today's basketball player. Just looking strictly at field goal attempts, there are, on average, about 40 fewer live balls to be collected now compared to Robertson's era. And that's before we get into missed free throws. That's a lot of missed rebounding opportunities.
Robertson's record still stands for primarily two reasons: (A) not many players with Robertson's extraordinary skill set have come around, and (B) when they do, they don't play in a climate that breeds triple-doubles. While LeBron may qualify for the first criterion, he has never played on a fast-paced team and he's never played in a league chock-full of 35 percent shooters.
This is a big reason why LeBron has a better shot at winning the next mayoral election in Cleveland than averaging a triple-double in today's game. It's about opportunity as much as it is skill.
2. Rebounds are static
For some reason, James' triple-double hype failed to address how he was going to suddenly average several more rebounds a game. The logic went something like this: James, who averaged 7.3 rebounds a game last season, will get more boards because the Heat don't have good rebounders. And then the rationale quickly trails off into the wind.
Here are the facts: No player in the modern era to average 7.3 or fewer rebounds has surpassed the 10-rebound threshold in the next season without being fueled by an enormous increase in minutes. A leap of that degree is unprecedented.
Now, just last season Gerald Wallace added a remarkable 2.2 boards to his 7.8 rebounding pace in the previous season, but the 3.4 extra minutes he enjoyed per game had a big influence. There's a strange assumption that LeBron will magically add about 40 percent more rebounds to his average to reach double-digits, but that's uncharted territory.
And judging by his performance so far this season, if anything LeBron will take a step back in rebounding. James has yet to grab an offensive rebound in any of the five games he's played this season -- an empty streak he's accomplished only twice in his career. But it's not just his side of the ball that's hurting: James' current rate of 4.6 defensive rebounds per game is his lowest since his rookie season.
If LeBron has any shot of even approaching double-digits in rebounds, he'll have to attack the boards far more aggressively than he's demonstrated in a Heat uniform. Or ask head coach Erik Spoelstra to guard the opposing 5's.
3. Less playing time, not more
There's a certain paradox for LeBron to record a triple-double in Miami. With a stacked squad like Miami's, there's a very good chance the game's a blowout. And blowouts aren't fertile ground for triple-doubles.
With nightly 20-point routs for the Heat, LeBron's minutes are down to career-low levels. Through five games, he has played 34.4 minutes per game, which would easily sink lower than his last season in Cleveland (2008-09), when he averaged 37.7 minutes a night. Spoelstra has wisely kept his stars off the floor during garbage time and don't expect him to risk an injury to one of the big three when the game's out of hand.
The only way LeBron earns enough playing time to inflate his numbers is if a serious injury sidelines Dwyane Wade and Chris Bosh for a considerable amount of time. Even then, he'll find himself in a situation similar to Cleveland and he didn't threaten the triple-double mark there.
In the end, a triple-double is basically an arbitrary achievement. A line of 38 points, 17 rebounds and 9 assists is far more valuable than a 10-10-10 line. No matter how gaudy LeBron's stats are this season, he's still the best basketball player on the planet. We don't need a trio of round statistical benchmarks to appreciate his greatness.