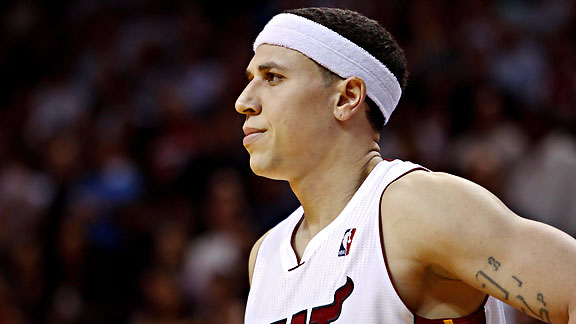 Derick E. Hingle-US PRESSWIRE
Heat coach Erik Spoelstra has stuck with Mike Bibby despite the point guard's woeful shooting and general ineffectiveness.
MIAMI -- Mike Bibby's playoff slump has reached historic proportions.
Acquired for his 3-point shooting abilities, Bibby has shot just 7-of-31 (22.6 percent) from downtown in the postseason and not much better within the arc (27.8 percent). This is a player who shot 44.5 percent in the regular season for the Heat and 38.1 percent over his 12-year career.
Of course, a point guard can influence the game in other ways. Shooting 3s is just merely one bullet on his job description. Bibby was signed to facilitate the offense and find scorers where they need the ball. But he's lacked in that department as well. Amazingly, Bibby has tallied just nine assists in the entire playoffs, and most recently playing 21 minutes in Game 4 without notching one.
Put it all together, and you have one of the least productive postseasons of all time. How bad is it? We can call on John Hollinger's player efficiency rating (PER), a measure of productivity on a per-minute basis, to lend us a hand. For reference, a 15.0 PER is average and a 11.0 PER marks the productivity of a borderline rotation player. Dwyane Wade has a 28.2 PER, which is tops for all remaining players in the playoffs.
Bibby's playoff PER?
1.1.
In 186 minutes of playing time.
Of the 3,105 times that a player has logged at least 180 minutes in a postseason, where does Bibby's 1.1 PER rank?
Dead last.
(Click here for the full list on basketball-reference.com)
And the worst part is that since PER uses box score statistics that are skewed to the offensive side of the ball, that measure can't fully capture Bibby's defensive liabilities. If Bibby isn't contributing offensively, he's a black hole on the court.
When asked about Bibby's slump, Erik Spoelstra said he wants to see his starting point guard be more assertive.
"I want him to be an aggressor," Spoelstra said. "I want him to be looking at the rim. I don't want him to defer as much. When he's aggressive, I think that will change the energy of the ball going in. I think he's almost unselfish to a fault, because he wants to make it work."
As one of the most perimeter-oriented players in the NBA, Bibby has taken just three shots inside 10 feet in the playoffs. If he's not hitting from beyond the arc, there's little else that he brings to the table.
It's always dangerous to make too much of a 3-point drought since shooters are streaky by nature. As a 3-point shooter in his playing days, Spoelstra understands this better than anybody.
"I've been around this long enough to know it can change like that," Spoelstra said as he snapped his fingers. "He can make two or three in a row and that could lead to a four or five 3-pointer game. I'm a glass half-full guy and that could be tonight, right when we need it."
It could be.