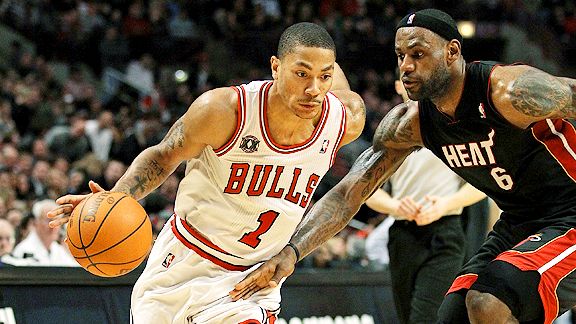 Jonathan Daniel/Getty Images
LeBron James says Derrick Rose is quicker, so he'll rely on length and athleticism.
The No. 1 question for any team facing the Chicago Bulls is: Who will guard No. 1, Derrick Rose?
In the Eastern Conference finals, the answer for the Heat will be: A small army, including Mike Bibby, Dwyane Wade, Mario Chalmers and ... LeBron James.
Heat coach Erik Spoelstra says, "I will not be giving away an incredible secret by saying that there will be some times when LeBron will be on him."
James has no expectation of shutting out the MVP.
"He's quicker than me," says James, who finished third to Rose in this year's MVP voting, and points out that Rose can "go around anyone in this league. Jeff Teague is one of the quickest guys we have in this league and D-Rose can get around him at times.
"I use my athleticism. I use my length to give him space. If he takes 24, 25 shots a game, he's going to make a few. He's going to get into the paint. He's going to make a few there. He shoots six 3s a game, he's going to make a couple. You just have to make it tough on him.
"Myself, D-Wade. Bibby's going to start on him, 'Rio. Guys are going to check him. He'll see different bodies, different guys, different speeds, different lengths, and just try to keep him honest."
As Rose's primary defender, James makes a lot of sense for several reasons. James is correct -- he isn't the most laterally quick defender in the league. But let's say James gives Rose a step or two and drops back. Can Rose map out a route to the rim that goes above, around or through James?
What happens when Rose's speed meets James' size at the point of attack?
Keeping centers busy
All season long -- before every game against Rajon Rondo, Derrick Rose, Chris Paul, Deron Williams -- Erik Spoelstra has fielded questions asked how his team plans to deal with quick point guards. When you fill the name of Carlos Arroyo or Mike Bibby as your starting point guard, this tends to happen.
Spoelstra is quick to point out that, in the modern NBA, the primary defender against a speedy point guard like Rose isn't necessarily -- and certainly not exclusively -- the Heat's point guard. This is one reason why we've seen Spoelstra increasingly rely on Joel Anthony in crucial spots.
Spoelstra explains that as much as it may matter who starts the play on Rose, the Heat big man charged with protecting the rim is also, essentially, assigned to guard the slashing Rose, too. With that in mind, Heat centers looking for minutes while Rose is in the game will have to be up to the task of keeping Rose from waltzing to the bucket.
"Who can slide, who can contain, can keep the ball in front of them," says the coach, "will be a major key. ... If he gets to his launching pad, and you don't get to him early, he's going to finish over the top or get your bigs in foul trouble."
Also on Spoelstra's mind is the reality that when Rose attacks the paint, he's followed by big men eager for put-backs. "If it's an absolute assault to the rim and you don't have bodies in front of him early," says Spoelstra, "[Jaokim] Noah, [Carlos] Boozer and [Taj] Gibson are just lining up for those offensive rebounds. So you have to get to him early."
Similarly, just as Heat big men will be forced to cut off Rose before he gets close to the hoop, Spoelstra says the Heat guards, in defending the pick-and-roll, should be ready to spend plenty of time guarding Joakim Noah, and the other Bull big men setting picks.
"[Rose] doesn't let you make it a one-on-one matchup," says Spoelstra. "Our guards and perimeters will be matched up against Noah more often than our centers, quite frankly, because when the ball gets broken down, Rose is going to draw our bigs and one of our perimeters will have to get to Noah."
"One thing you can't do with D-Rose," says Dwyane Wade, who is also scheduled to guard the MVP, "you can't take everything away from him. He has so many counters. You just have to play him as solid as possible and trust that you have teammates behind you that are going to help."
And now, with a jumper
The book on Rose has long been to play him like Rajon Rondo or other non-shooters: concede the jumper and play him for the drive, normally by having his defender go under the pick. The Hawks, however, changed the game in the last round, now honoring Rose's improved jumper by having defenders Jeff Teague and Joe Johnson fight over high screens and trail Rose while the big man corralled, to mixed results.
The Heat acknowledge Rose's improved stroke has changed the game. "He's a good shooter," says James, "but you have to pick your poison. Would you rather him continue to penetrate your defense in the paint or take contested 3s? It's the same thing with us. The days of going under LeBron and D-Wade are over too, but guys still do it. Because they'd rather keep us out on the perimeter than have us in the paint."
Spoelstra sounds more worried about 3s than long 2s: "He's shooting it pretty well now. He's a streaky shooter, but when he gets it going from 3, you have to be aggressive with him and meet him at the 3-point line."
Most important, though, says the coach, is to go all out, which means he will give no thought to conserving his stars -- James and Wade -- by keeping them away from Rose. "Not at this point in the playoffs, in the Eastern Conference finals," he says. "And not after what we had to do in the Boston series. On every single possession, Dwyane and LeBron had to be two-way players. We have to remain true to who we are and that's an aggressive defensive team."