CHICAGO -- Erik Spoelstra slowly worked the room before the Miami Heat's practice Monday, pulling aside players and assistant coaches for stone-faced chats and strategy sessions.
Idling for days on the road during the playoffs, when social agendas are routinely abandoned, can be unsettling. Doing so with a series deficit and a plate full of hard decisions can be maddening.
That's where Spoelstra is after the Heat's eye-opening 103-82 Game 1 loss to the Chicago Bulls. Ultimately, the players will probably decide who moves on to the NBA Finals -- they almost always do -- but right now the Heat are badly in need of some coaching. How Miami's coach does his job over the next few days, during the Oprah Winfrey-created hiatus, could end up being a pivotal point in how the series unfolds.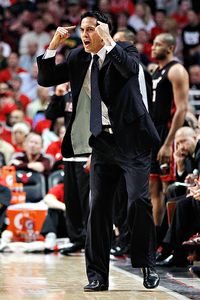 Gregory Shamus/Getty
Erik Spoelstra has some difficult decisions to make ahead of Game 2.
Spoelstra has a simple problem with only complex and uncertain answers that will require him to stick his neck out.
In short, he's got to figure out how his team is going to rebound.
"We have 48 hours to get back to our identity," Spoelstra said. "We're a good rebounding team."
They were, indeed, the league's third-best rebounding team during the regular season, according to rebounding differential, the best judge of the craft. The Bulls, though, are a great rebounding them. They were first in the league and by a huge margin. Against Chicago, Miami is not a good rebounding team and they haven't been throughout the season.
The teams have played four times. The Bulls have won four times. Four times the Heat have lost the rebounding battle, which isn't always the most important event but certainly seems like it when the Bulls are involved. Three times, including Sunday's Game 1, it was lopsided.
This is Spoelstra's burden.
He started with the basics. His support staff set up a makeshift classroom on the floor in a practice gym at a Chicago college -- appropriate since it was about to be used for "Rebounding 101." The game film was going to be painful to watch and there was going to be plenty of talk about plain old boxing out, then some more inside basketball stuff such as weakside coverage.
Spoelstra came to the meeting armed with stats to bring home the point, as if the players needed it. The Heat allowed the Bulls to shoot less than 38 percent on their first shots, a range that would usually guarantee a win. Of the Bulls' 31 second-chance points -- a number that still boggled the mind even after a night to let it sink in -- 15 of them came when the Heat allowed five 3-pointers following offensive rebounds. This underscored the need to "finish possessions," as Spoelstra put it.
Addressing these areas is handled with film, drills and repetition, something a practice or two can work wonders for even at the NBA level. Then there's the more sensitive areas, such as which individual players will Spoelstra use to try to turn the tide.
All season long Spoelstra has wrestled with how to best deploy his big men. He's changed their minutes and their roles endlessly. He changed his starting center in the last week of the regular season. Then he changed it again in the middle of the conference semifinals. Now, the lineup that he was finally at ease with seems like it could be a miserable option against the Bulls.
Playing small, which means LeBron James at power forward and Chris Bosh and Joel Anthony, natural power forwards, spending time at center, was working. Against the Bulls and their versatile and athletic big men -- Joakim Noah, Carlos Boozer and Omer Asik -- well, it might be a death trap.
Spoelstra has to decide whether he may have to reactivate one of the 7-footers he's put on the shelf, Zydrunas Ilgauskas and Erick Dampier, and play a more traditional style with a true center on the floor for stretches.
The Heat thrive in transition, with James and Dwyane Wade on the run before the defense can set itself against them. Wade and James like to leak out when they see a shot go up, which is how they've been able to assemble a season's worth of highlights of one of them playing quarterback and the other playing wide receiver. This is a style that has demoralized so many opponents.
Spoelstra has to decide whether to take this threat completely out and instruct all five players to go to the defensive glass. This will conform to the Bulls' preference for a slower tempo.
And the Heat have two players who potentially could be their best rebounders on ice because of injury. Mike Miller is one of the better rebounding guards in the NBA because of his size and willingness to throw his body around. Udonis Haslem is one of the best reserve rebounders of this generation. But neither is even at 75 percent healthy and Spoelstra has, up to this point, decided they're too limited by injuries to be effective.
It may seem as though Spoelstra's position is easy: just make the changes and expect it to work. But he's got a team that he has tinkered with for months to get into a rhythm for these vital games. It's a team that's lost just six times in the last 29 games.
The line between being proactive and reactive is so narrow, it's almost invisible this time of year. So is the area between faith and desperation.
This is what Spoelstra must wrestle with and discuss and seek opinions on before Wednesday night. It just might be some of the toughest decisions he makes all season.
"This whole series will be about enduring, not just the physical grind but the mental grind," Spoelstra said. "It could be 48 minutes of hell to do it and maybe win by half a point, it doesn't matter."