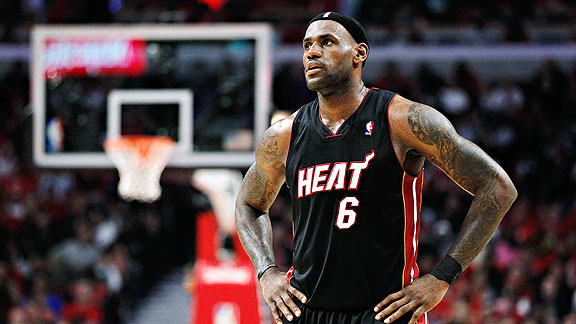 Getty Images
With 82 playoff games under his belt, LeBron James is still looking for his first championship despite outstanding personal numbers.
Sunday's Game 1 marked LeBron James' 82nd playoff game, which is the equivalent of a full slate of games during a regular season. His performance on Sunday was forgetful, as he tallied just 15 points, 6 rebounds and 6 assists on 5-for-15 shooting from the field.
But the statistical record won't forget it; it never forgets. Now that James has a full "season" of playoffs under his belt, we can draw a comparison between Regular LeBron and Playoffs LeBron.
Does he play better when the postseason -- the real NBA season -- starts? Does he shoulder more offense? Does he shoot better from the floor? Let's take a look.
LeBron James' career (per game)
Looking at the numbers, it appears that LeBron is LeBron is LeBron, no matter how bright the stage. His free throw percentage is the same right down to the tenth decimal point. The accuracy of his 3-point shot is essentially unchanged. His assists per game in the regular season is identical to his average in the postseason. His player efficiency rating (PER) is just a shade higher in the playoffs (26.9 to 27.0).
There are differences, however. For one, he gets more burn in the playoffs than he does in the regular season. With higher stakes, there's more incentive to keep James in the game longer and his replacement on the bench. Former Cleveland coach Mike Brown took this to the extreme in James' first playoffs in 2006, when the 21-year-old played 46.5 minutes per game, the second-highest we've seen in the modern-era playoffs next to Allen Iverson's 2003 (minimum 10 games).
Looking at James' career, the extra three minutes per game in the playoffs actually inflate his per-game numbers a tad, but even if we account for playing time, his numbers are essentially carbon copies of one another -- except for the rebounding column. James raises his board game when the playoffs come around, something the Heat could really use now against the NBA's best rebounding team, the Chicago Bulls. James has tallied 14 or more rebounds in a playoff game seven times in his career, and three of them have actually come in this postseason. His best rebounding game? Game 6 against Boston last season, when he pulled down 19 rebounds as part of his triple-double. People maintain that he quit somewhere in Game 5. Considering that rebounding is generally considered an effort play, that doesn't jibe with the narrative.
The usage rate (USG%) column may be a new statistic for some of you. It tells us the percentage of team possessions that James used while he was on the floor via field goal attempt, free throw attempt or turnover. Basically, it gives us a handy measure of his scoring load. If he was hogging the ball in the playoffs, we'd see a considerable uptick in his usage rate. Although 32.2 percent is larger than 31.8 percent, it's not enough to raise eyebrows.
You'll also notice that James' 2-point shooting suffers in the playoffs. If his 3-point shooting is unchanged but his field goal percentage is down, that tells us his accuracy inside the arc has fallen off. This could be a product of tougher defenses in the postseason and a greater emphasis on packing the paint to impede his penetration. Also interesting: James' free throw rate (free throw attempts per field goal attempts) is down in the playoffs from 41.0 percent to 33.3 percent, meaning that he doesn't get to the line as often as he does in the regular season.
The combination of a lower 2-point field goal percentage and a lower free throw rate suggests three things: He's settling for midrange jumpers more often or isn't drawing as much contact in the paint, or the refs are swallowing their whistles on high-contact plays in the playoffs. It's difficult to know which is the case, but it's interesting nonetheless.
James joins Dirk Nowitzki and Tim Duncan as one of the few stars whose playoff PER is better (if barely) in the playoffs than in the regular season. Kobe Bryant, Shaquille O'Neal, Dwyane Wade, Paul Pierce and Kevin Garnett all have lower PERs in the postseason. James' 27.0 playoffs PER is tops for all active players.
Of course, there's an elephant in the room. James trails most stars in one playoff stat: number of rings. Until he wins the big one, he'll be considered a underachiever in the postseason even if his statistical résumé suggests otherwise. Although we all understand that a title is a team achievement, not an individual one, he won't be considered a playoff great until he raises that elusive Larry O'Brien Trophy.
After a dud on Sunday, the pressure is greater than ever.