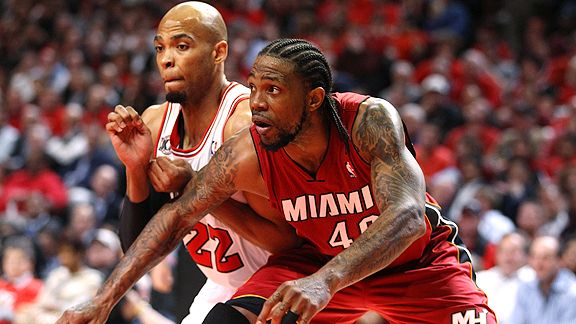 Jonathan Daniel/Getty Images
Udonis Haslem gave the Heat the energy in Game 2 that Taj Gibson provided the Bulls in Game 1.
CHICAGO -- It was obvious from the end of the national anthem.
At that moment in the United Center before the Miami Heat and the Chicago Bulls met for Game 2 of the Eastern Conference finals, it was easy to see that there would be something different, something special, about Udonis Haslem's night.
Haslem was still standing at his pregame spot near the free-throw line, with his head bowed and eyes closed, long after players from both teams had retreated back to their respective benches following the conclusion of the anthem.
More than 23,000 people had crammed into the building. But in that instance, Haslem was all alone.
"That was a moment for my mother," Haslem would reveal hours later about his late mother, Debra Haslem, who died last summer after a lengthy battle with cancer. "If she could be here, she wouldn't miss this for the world. So I was just talking to her. I always do it before games, but this one was definitely a little more emotional for me. I was thinking about my mother. I was just praying."
Eventually, Haslem would jog back to his team's huddle -- one that was already in progress with coach Erik Spoelstra offering his final instructions before what turned out to be the Heat's 85-75 victory over the Bulls to even the series at 1-1.
Haslem didn't know it at the time. But he would end up essentially being the answer to the Heat's prayers as they seized home-court advantage, with the best-of-seven series shifting to Miami for the next two games. After the Heat got pummeled on the boards, outworked for loose balls and overwhelmed throughout their 103-82 loss in Game 1, Spoelstra called out his players and demanded that they individually -- and collectively -- step up and provide better energy and effort on Wednesday.
But Spoelstra was dead wrong about one thing he mentioned repeatedly in the days that followed that embarrassing performance by the Heat in the series opener. Amid relentless questions about the adjustments he may have needed to make for Game 2, Spoelstra kept saying that it wasn't about personnel. He believed it was about performance.
"It's not about who," Spoelstra said. "It's about what."
Actually, it was about "who."
It was about turning to Haslem and giving him a real and extended opportunity to provide the things he's been know to give this franchise for eight seasons before a foot injury in November wiped out most of this season for him. It was a season that meant so much to him in the wake of the free-agency makeover the team had that landed LeBron James, Chris Bosh, Mike Miller and brought back Dwyane Wade.
It was also a season the entire team dedicated to the memory of Debra Haslem during an emotional team meeting in October. Between mourning the loss of his mother and also missing nearly five months to recover from the surgery to repair torn ligaments in his foot, Haslem had battled depression, frustration and feelings of helplessness most of the season.
And then his number was called Wednesday, with the Heat's entire front line in foul trouble and the Bulls looking like they were setting the tone for a potential victory that would have dumped Haslem's team into a 2-0 series deficit.
But then things changed because Haslem changed them. Never has a 13-point, five-rebound, 23-minute stint of basketball been so meaningful for the Heat this season.
James will get most of the national attention, as he stepped up and scored nine of his game-high 29 points in the fourth quarter to close out the Bulls. Wade will also get plenty of credit for his superb play on both ends of the court to finish with 24 points, nine rebounds, two blocks, a steal and some of the best defense Bulls guard Derrick Rose will ever face.
Yes, it's been that way all season for the Heat after most victories.
LeBron and D-Wade get the glory.
But Haslem was certainly the story behind what could prove to be the most pivotal win of the season.
"He's the player of this game," Wade said of Haslem. "We don't win this game without him. That's our warrior, our heartbeat of the team. And he showed it today."
When the Heat needed an offensive boost in the first half, they got it from Haslem. He was dunking -- exploding off that same foot that required surgery and a long, grueling rehab. He was knocking down that familiar 15-foot jumper, the one that brings back memories of those big shots he hit the last time the Heat went this deep into the playoffs in 2006, and would win a championship. He was lifting a team that badly needed a boost off the bench.
When Miami needed defense, effort and energy, Haslem was the human one-stop shop who supplied each of those needs, too. He was rebounding on both ends. He was aggressively rotating to the right spots to provide help. He was igniting a Heat defense that badly needed a spark.
In other words, Haslem gave Miami in Game 2 exactly what Taj Gibson offered the Bulls in Game 1.
"He's an absolute championship warrior," Spoelstra said of Haslem. "Really, what he did tonight was remarkable. He hasn't really been in a game, and now, I question myself for not trying him earlier."
Before Wednesday night, Haslem's only playoff action came in garbage time at the end of that blowout loss in Game 1 on Sunday. He also had a brief, two-minute stint the last series in Boston, where he picked up some quick fouls and was assessed a technical foul for arguing with an official.
Haslem wanted to come back so badly from the Nov. 20 injury and participate that he could hardly contain his emotions at times. The target dates kept getting pushed back for his return. There would be sure signs of progress some days followed by a few painful setbacks on others.
Through it all, Haslem never lost two things: His faith. His focus.
"It's kind of hard to be patient when you've worked so hard to be back," Haslem said of waiting to be a consistent member of the Heat's rotation. "It's been difficult, not knowing when my number would be called. I just had to keep stressing that I'm ready, that I can do this, that I'm here."
Spoelstra said he met with Haslem at practice on Monday, right on the heels of Sunday's loss in Game 1, and asked his rugged power forward if he was ready for a bigger role. Not just ready. Really ready.
"And there was something," Spoelstra said. "A look in his eye, that I knew it was time. Players will always tell you they're ready and they can help. But I've been through a lot of battles with that warrior. I knew that it was time to plug him in."
The opportunity didn't officially come until Chris Bosh, Joel Anthony, Jamaal Magloire and Juwan Howard were either in foul trouble or rendered ineffective against the Bulls.
Haslem came in and made five of his first eight shots, knocked down all three of his free throws, snagged three offensive rebounds to extend possessions and was the defensive anchor on the unit that helped the Heat build as much as an 11-point lead in the second half.
"I just have to thank the man upstairs," Haslem said Wednesday night. "It's been a long road. If we didn't get this victory, my contributions mean nothing."
Haslem admitted that he had no gas late in the fourth quarter, when he was replaced by Anthony for the final six minutes, just as James and Wade had shaken off a sluggish start to the fourth quarter.
Yet Haslem still had enough to deliver a key message to his team during a bloody, physical finish to the game.
"No rebounds, no rings," Haslem told his teammates during a huddle late in the game. "We gotta hit guys. We have to make them feel us when we're out there."
The Bulls are feeling the heat right now, thanks to Haslem.
After helping the Heat regain their balance in this series, Haslem left the United Center late Wednesday night with a slight limp, favoring his surgically repaired left foot.
He's still at the stage in his recovery where there's pain involved with the progress.
But he privately ran off a list of all the things for which he was thankful.
"Thankful that my mom was here with me in spirit," Haslem said.
"Thankful that I was finally able to really help my team get a big win," Haslem continued.
"And even thankful that the league gave us a three-day break before the next game," he said, sort of half-jokingly, of the time off before Game 3 on Sunday. "I'm going to get treatment [on Thursday] and we'll see how it feels. But right now, I'm feeling pretty good."
After Wednesday's big boost from Haslem, so is his team.