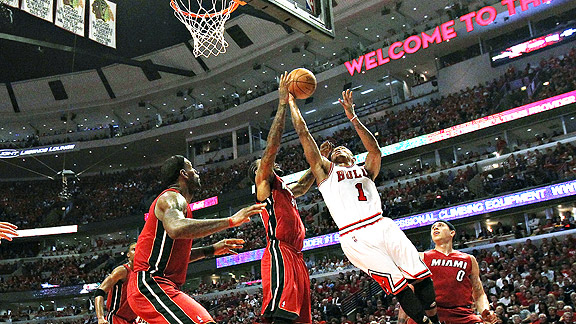 Jonathan Daniel/Getty Images
As good as Derrick Rose is, this series against the Heat will be a valuable learning experience.
In 2006, LeBron James was eliminated from the playoffs when the Pistons held him to 44.2 percent shooting in the series.
In 2007, the Cavaliers were swept out of the Finals when the Spurs held James to just 35.6 percent shooting in the series.
In 2008, the Celtics beat the Cavaliers by holding James to 35.5 percent shooting in the series.
In 2010 (LeBron was fantastic in the 2009 Eastern Conference finals), the Celtics eliminated the Cavaliers as James shot 44.7 percent in the series and a combined 11-for-34 in Games 5 and 6.
In each series, weaknesses in LeBron's game were revealed. He was the most-hyped prospect in the history of the game, the best 18-year-old rookie of all time, and had an easier time getting to the basket and converting or setting up his teammates than perhaps any player in the history of basketball; last season, he won his second straight league MVP award. But when he faced a capable defensive team that walled off the paint and forced him to rely on his ancillary skills to win, he was exposed and ultimately sent packing.
At 22, Derrick Rose may be the most exciting and complete young player since LeBron himself, and was actually a younger recipient of the league's MVP award than James was. At an age when some players are still finishing up their college careers, Rose has already established himself as one of the five best players in the league, and that may be a conservative statement.
Even though Rose's shots weren't falling on Wednesday night, his impact was evident. He put constant pressure on the Heat defense by getting to the rim and forcing them to rotate out of position. While the Bulls didn't get any second-chance points directly off of Rose's misses, the scrambles he forces have been a major cause of the Heat's rebounding struggles.
Rose's passing was also on target. He pushed the break effectively, and made 5 of the 11 jump shots he took, some of which stopped Heat runs. Rose, like LeBron, is so good that he's capable of making a big impact on a game even when his shot isn't falling.
That said, the MVP and phenom has been going through some growing pains this postseason, and he had some especially sharp ones against the Heat's defense on Wednesday night. The Heat trapped Rose effectively when the Bulls tried to set ball screens for him, and Miami was there to contest Rose when he did get to the rim. Rose shot 2-of-12 from the paint in Game 2, and had more of his attempts blocked (3) than he had made layups (2).
This game wasn't an isolated incident, either: Rose has shot only 42 percent from the field in the playoffs, and this is the fourth game out of 13 in which he has finished with more field goal attempts than points. Rose's point totals have been high, but the truth is that his per-possession numbers have more closely resembled Jordan Crawford's than Michael Jordan's throughout the playoffs.
Rose is clearly an incandescent talent, and the skill, energy and depth of his supporting cast are the envy of every other superstar in (or out) of the playoffs. He could easily win a ring at 22, something neither James nor Jordan was able to accomplish. And as LeBron's 5-for-15 night in Game 1 showed, no NBA player is every truly a finished product, no matter how talented or skilled.
Still, it does appear that James and Wade, players with Rose's level of talent and nearly half a decade more experience to draw on, have endured the lessons the Heat defense is currently teaching Rose.
Wade's pull-up jump shot has been cash. He's been splitting traps like they're made of smoke, and he has snaked around the rim defenders (with Omer Asik being a notable exception) that stymied Rose on Wednesday.
As for LeBron, he's demonstrated an improved post game and jump shot to deal with the lack of space that San Antonio, Detroit and Boston utilized to destroy him during his younger years, and the last three Heat victories have been the product of some clutch LeBron jumpers.
Rose is showing how much impact one special talent can have on a playoff series, but James and Wade are giving Rose a glimpse of what he could look like if he learns to hone that talent and use it to defeat top defenses as he matures and adds new facets to his game.
James and Wade are further along on their learning curve than Rose, but that may turn out to be a moot point. Rose is hungry; he can absolutely be the best player on the floor despite his lack of experience, and the Bulls have shown that they're more than capable of getting through the Heat and going to the NBA Finals whether or not Rose trusts his jumper.
The better news is that series like this one, and contests like Game 2 against defenses like Miami's D, will force Rose to progress in the next few years. He'll become more comfortable in his all-around game than he can possibly imagine being now.
As great as Rose's MVP season was, it might only be the first chapter in a truly legendary career. All the Heat can really do is hope their defense can keep Rose contained well enough to make that first chapter an unhappy one.