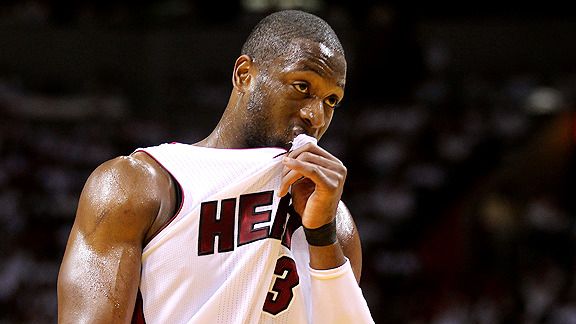 Mike Ehrmann/Getty Images
Dwyane Wade struggled for much of Game 4 before coming to life in the closing minutes of overtime.
MIAMI -- If you're a believer in the hot hand, then you may also believe in the cold hand.
After sitting for the first five minutes of the fourth quarter of a close game, you could say Dwyane Wade was cold.
He hadn't played since he checked out with 1:55 remaining in the third quarter. He hadn't scored since the 1:50 mark in the second quarter. In fact, he hadn't made a shot from the floor since four minutes before that.
On the Heat's second possession upon re-entering the game, Wade lost the ball on a routine dribble-crossover, recovered it just before crossing half court, drove left and took a fadeaway 15-foot jumper. The ball careened off the backboard, completely missing iron.
"He missed a lot of shots he usually makes," Chris Bosh said after the game. "You could tell his rhythm was kind of off tonight."
At the end of regulation, Wade had tallied eight points on 3-for-12 shooting. Of the 79 playoff games under his belt, he has finished in single digits only once -- and it was during his rookie season.
But he would get a chance to redeem himself, as the game was tied up at 85 headed to an extra frame.
"I think I was the only person in the arena that was happy we were in overtime," Wade said after the Game 4 win. "I knew I had another five minutes to make up for the first 48."
He looked sluggish and disengaged in the Heat offense. Since coach Erik Spoelstra curiously sat him for an entire five minutes in the fourth quarter, injury seemed like a plausible explanation. But there was no limp, no gimpy hands. Just a lot of miscues.
Even with the clean slate of overtime, he still didn't fare any better. During the first possession, Wade clanked a floater in the lane. Next Heat possession, Wade let Boozer poke the ball out of his hands. Turnover. A few possessions later, Wade drove baseline and got blocked by Ronnie Brewer from behind.
This was as cold as cold gets. Irreversibly so.
If you subscribe to the cold hand theory, what happened next would test your faith.
After missing his previous seven shots from the floor and the Heat up just one point with two minutes left, Wade took Brewer off the dribble on the left wing, stepped back and created just enough space to launch an off-balance 19-footer from the left corner.
It went in, against all odds.
After hitting his first shot in nearly two full hours, Wade gave a charged fist pump to the crowd before running back on defense. According to Elias Sports Bureau, the 32:35 in Tuesday's game was Wade's longest field goal drought in any playoff game of his career. He had one longer streak during the past regular season: 36:47 against Milwaukee on Jan. 7.
And just like that, Wade was back to being Wade again.
When Derrick Rose lost control of the ball with just over a minute left, Wade picked up the loose ball, dribbled down the full length of the court and managed to lay the ball in with his left hand, somehow evading the contesting hands of Luol Deng, Joakim Noah and Rose.
Heat up six, a minute to go in overtime.
But Wade's resurrection wasn't complete just yet.
As Rose blew by LeBron James with 30 seconds left, it looked like Rose would have a clear look at the basket -- but there was Wade, coming to help from the weakside. As Rose soared to the rim with an underhanded layup, Wade jumped off two feet, rose up and swatted the Most Valuable Player's last-ditch attempt.
"He made huge plays down the stretch," Bosh said. "Once he hit a step-back jumper, he started to get into it. He made huge defensive plays, got rebounds, got blocked shots, and he was the Dwyane Wade we need him to be."
As we saw in Game 4, there's a subtle flip side to the hot hand theory that we don't talk about enough. The cold hand. When a player isn't hitting shots, we tend to chalk it up to the player "just not having it," with "it" being that shooter's touch that we all grew up accepting as part of the game. Through the turnovers and errant shots, Wade could have resigned himself to the fact that he didn't have it on this night.
But he didn't.
"I was struggling offensively," Wade said. "A lot of my teammates kept telling me, 'You're going to make plays. You're going to make plays.' Kept believing me. I believe it myself. I said 'I'm going to make something happen.'"
He did, of course. Basketball players sometimes have the power to make the play happen and reverse the momentum. Sometimes the ball goes in, sometimes it doesn't. Wade was going through a rough patch, but that's how it goes. This is a game in which each shot is likely to miss. And Wade happened to be in one of those ruts that tests a player's confidence.
That's what makes basketball so compelling -- the improbable occurs all the time. And nothing seemed more improbable than Wade taking over late in the game.
Despite shooting 5-for-16 on the night, he notched 14 points, five rebounds, four blocks and two steals. He is the rare shooting guard who can still be the best player on the court even when he's not shooting well. For that stretch in the overtime, that's who he was.
Did Wade's teammates ever doubt that he could shed the cold streak and step it up?
Udonis Haslem has your answer.
"No," Haslem responded. "I knew he would. I've been around him too long. I know when the going gets tough, he's always stepped up for us in the end and it was no different tonight."
Despite questions about his health after the game, Wade denied that he was injured. And when he rose up to block Rose's shot at the end, he left little doubt that he still had his legs after playing 40 minutes of grueling basketball.
"It's as physical a series as I've been around," Spoelstra said. "But he always bounces back."