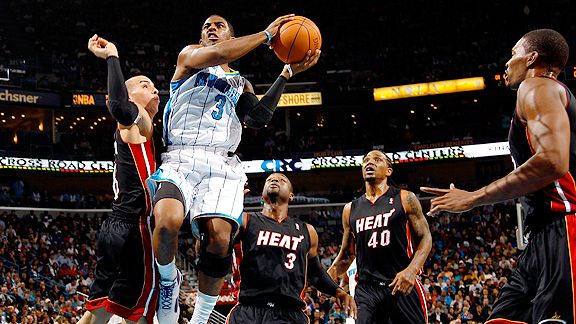 Chris Graythen/NBAE/Getty Images Sport
The Heat did a lot of watching as Chris Paul and the Hornets racked up 50 points in the paint.
NEW ORLEANS -- The New Orleans Hornets did the rest of the NBA a favor Friday night. And, in a way, the Miami Heat can be grateful as well.
The streaking Hornets, off to a franchise-best 5-0 start, unveiled a road map to beating the Heat with their 96-93 win. Hornets head coach Monty Williams and his already impressive coaching staff cooked up a formula -- one that will probably be recycled by upcoming Heat opponents.
No, it wasn't the first time the Heat have been beaten; the Boston Celtics handled them on opening night. But that was a throat-clearing loss by a team still searching for cohesion following a choppy preseason.
The big three had no legitimate excuses on this night. Dwyane Wade, LeBron James and Chris Bosh combined for 63 points, 18 rebounds, 13 assists and five steals -- though Bosh's performance did not deserve praise; more on that in a moment.
The Heat were defeated by a quality opponent and a well-crafted game plan that featured several distinct facets. The Heat could learn just as much by studying the areas where they were exposed.
Attack and be physical with Bosh
There is no doubt the Hornets reviewed what happened last Sunday when the Heat played in New Jersey in their game preparation. New Orleans likely saw that Bosh did not react well to the physical play of Brook Lopez and Derrick Favors.
The Heat beat the Nets easily, but Favors and Lopez were able to shove Bosh around, especially on loose balls as the Heat power forward managed just one rebound. Emeka Okafor, David West and Jason Smith were relentlessly physical and aggressive with Bosh on Friday, muscling him out of the way for rebound after rebound from the opening tip.
Okafor, who was 12-for-13 shooting and finished with 26 points and 13 rebounds, was sensational. Frankly, it will take performances like that from any upset-minded opponent to beat the Heat. But Okafor often excelled at the expense of Bosh, particularly on the glass.
West and Smith combined for 27 points and 13 rebounds. To be fair, Joel Anthony, Udonis Haslem and Zydrunas Ilgauskas were out there, too. But it was Bosh who seemed to be the Hornets' biggest target.
Already, league advance scouts are noticing that Bosh does not yet appear very comfortable with the Heat. He's far less assertive than in previous seasons, something that's showing up in his rebound numbers.
Bosh played 34 minutes and scored 15 points, making an array of midrange jumpers. But he again had only one rebound. After six games, Bosh is averaging only 5.5 rebounds in 32 minutes per game.
Limit transition chances and transition fouling
It is always a good idea to keep turnovers to a minimum against an athletic team like the Heat -- no secret there. But the Heat have thrived by forcing fouls in transition. In fact they were second in the NBA in drawing shooting fouls off rebounds and turnovers.
The Hornets made it a priority not to foul after turnovers and did so with success. Until late in the fourth quarter, when Wade and James were able to force some fouls by pushing the tempo, New Orleans successfully executed this strategy. For the game, the Hornets gave up only 14 points off turnovers and just 12 transition points.
Get into the paint on the dribble
The Heat have put together some amazing defensive performances already. They generally have excellent perimeter protection and, when working together, provide strong help defense. It is easy to see that they have a weakness in their post defense against certain opponents, but they have shown they can overcome it with their sound principles.
One area where they haven't been as sturdy, however, is keeping the ball out of the paint off the dribble. The Hornets, armed with one of the most dynamic point guards in the league in Chris Paul, exploited that weakness and racked up a stunning 50 points in the paint on Friday.
Part of the Heat's vulnerability to dribble penetration can be attributed to matchups. Most notably, the Heat don't have a strong point guard defender. Carlos Arroyo played only 16 minutes and Mario Chalmers, who was drafted primarily to contain opposing point guards, never left the bench. Wade spent time guarding Paul, but there were times when James Jones and Eddie House were on the floor and neither thrive at preventing dribble drives.
The Heat were so overwhelmed by Paul off pick-and-rolls that the Hornets' point guard was able to repeatedly set up his teammates for easy shots near the rim. In all, New Orleans attempted 36 shots in the paint.
But there's another area the Hornets targeted to get some of those paint points. James and Wade habitually gamble in the passing lanes. New Orleans made a point of using ball fakes and head fakes to lure the Heat's best wing defenders out of position and then drove past them.
Play the law of averages
The Heat aren't going to lose many games when Jones nails five 3-pointers, which he's done on several occasions already. The reason Jones, House and eventually Mike Miller are on the team is to take advantage of open shots.
On Friday, though, Jones and House combined to shoot just 2-of-13 on 3-pointers. House missed a 3 at the buzzer that would've forced overtime. Coming into the game, Jones was hitting 53 percent of his 3s and House was shooting 63 percent from beyond the arc.
The Hornets played well -- they wouldn't have won if they didn't. But they got their biggest win of the season by following their plan and ambushing a Heat team playing average basketball.
The Heat will be just average a lot this season, but they'll have to improve in several of these areas if they want to avoid more losses like the one they suffered at the hands of a well-prepped Hornets squad.