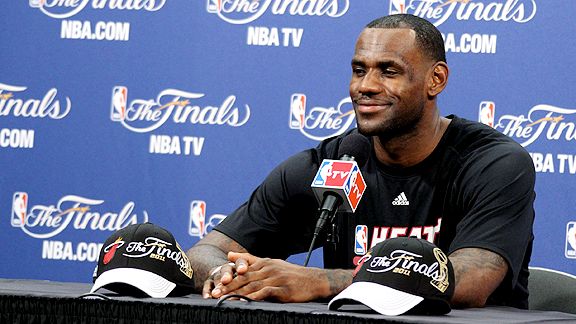 Nathaniel S. Butler/NBAE via Getty Images
LeBron James has been outstanding in the clutch this postseason. How does he measure up?
MIAMI -- Speaking at Wednesday's news conference, LeBron James asked himself a question many of us are wondering ourselves.
"Am I going to make every shot or close every game out from now on?"
The way he's been shooting lately, that seems like a legitimate question.
"I hope so," James answered. "I don't know."
James is on a tear. With jumpers, dunks and drives, James has almost single-handedly shut the door on every opponent he's faced this season. Heading into the playoffs, clutch shooting remained one of the few perceived stains on his résumé, and in a month's time, he's done everything in his power to wipe that clean.
Here are the numbers:
In clutch time (final five minutes of the game, score margin within five points) during the 2010-11 playoffs, James has shot 15-for-31 (48.2 percent) from the floor and 5-for-10 from downtown. How good is that? Consider that the average field goal percentage in clutch time stands at a lowly 39.2 percent during the playoffs and the conversion rate from beyond the arc checks out at just 25.8 percent.
The combination of opposing defenses sharpening with the game on the line and the pressure of time expiring drags league-wide shooting percentages in the clutch far below what we normally observe. We can see this effect with the degree of difficulty on James' shots. He's not just hitting the easy shots, but he's drilling the video game shots. He's falling out of bounds, he's getting fouled on the way to the rack and he has a hand in his face as he releases his shot. He's making the hard look easy.
So I decided to look up where his clutch shooting display ranks in history. Unfortunately, the StatsCube database contains clutch numbers for only the past four seasons. So we'll have to make do.
For shooting efficiency from the floor, the statistic to use is effective field goal percentage, which places more weight on 3-pointers (correctly accounting for the value of the extra point). When a player shoots 2-for-6 from downtown, it's the same as shooting 3-for-6 on 2s from a value perspective. Shooting 48.4 percent from the floor is impressive as it is, but we should account for the extra boost on the scoreboard for hitting five of his 10 shots from downtown.
Over the past four playoffs, a total of 20 players have played at least 10 games and shot 15 field goal attempts in clutch. And James' effective field goal percentage this postseason, 56.5, comes out on top. For reference, the average effective field goal percentage is 42.8 percent in clutch situations.
Here's the top 10 of that list:
Playoff clutch shooting since 2007-08 (eFG%)
Not bad.
This isn't to say James will continue shooting lights out in the clutch, but he's certainly outdoing anything we've seen in recent times.
Thanks to NBA StatsCube for the data