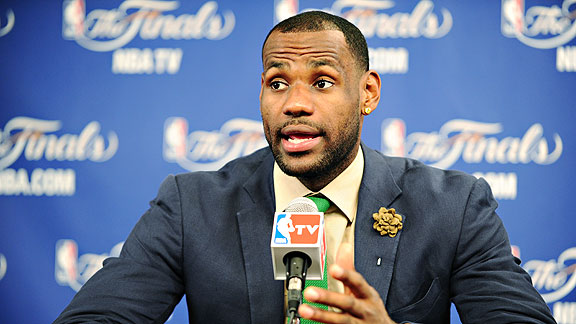 Garrett Ellwood/NBAE/Getty Images
Two wins away from a title, LeBron James isn't concerned with public perception of his performances.
DALLAS -- If life were a movie script, LeBron James might prefer to win this NBA Finals while riding a white horse galloping over rose petals into the sunset with a Pat Riley-conducted orchestra playing the soundtrack.
It doesn't work that way, of course, and no one knows about the unrelenting reality of the playoffs more than James. Eight years into a career spent under the microscope and on the verge, he's two wins away from a championship. In the middle of the fray against a strong opponent that's making things hard that are usually easy for him, he simply cannot be bothered with aesthetics.
Plenty of people have an idea of what this potential title should look like, and this wasn't it. But this deep into it, James simply couldn't care less. He doesn't care who takes the last shot, he doesn't care about his shooting percentage, and he doesn't care what an opponent might say about how he reacts to a non-foul call.
"We don't care about it," James said. "It's all about winning."
Three games in, it's plain to see that James is not having a dominating Finals. In fact, he's averaging the fewest points (20.3) ever in a playoff series. After making such an impact in the fourth quarters to close out the Boston Celtics and then the Chicago Bulls, James has largely taken a complementary role behind Dwyane Wade so far.
James' thoughts on these matters can be summed up in two words: So what?
"My résumé will speak for itself after I'm done," James said. "What me and my teammates are trying to accomplish now is the only thing I'm worried about. When I'm done, I'll let [the media] figure where I should be placed."
This may seem flippant, but it's actually a sign of polish, something James has been building toward for months. This season of angst with critics and fans have hardened him and he's now entered a new mental state when it comes to the neverending debate that envelops him. James just flat-out does not care. Under these unique circumstances, that might qualify as personal progress.
The road here has been complex.
In October when he was cutting interviews short and fleeing the locker room when reporters were present, James hung a Theodore Roosevelt quote from his locker that started with "It's not the critic who counts" and ends with "his place shall never be with those cold and timid souls who know neither victory nor defeat." It was right next to where James hung a personalized fighter's robe -- some heavy-handed symbolism, to be sure.
In November, James complained about getting booed in Memphis because "some of the fans that had nothing to do with what I did still boo like was I sitting their living room saying I was coming to Memphis."
In December, James returned to Cleveland to an atmosphere filled with such collective scorn that it almost seemed visible in the air. Just a few weeks after talking about how the boos were getting on his nerves, he appeared unaffected and scored 38 points in his best game of the season to that point.
"It can't get any worse than that," James said of that night. "I know that for a fact."
In January, in the middle of an especially heavy series of boos in Portland, James started mocking the fans. After making a 3-pointer late in the game, he began to slap his backside. Then after a 3-point play on overtime that helped seal the victory in which he scored 44 points, James motioned to the crowd to keep booing him.
"I've kind of accepted this villain role everyone has placed on me," he said. "I'm OK with it. I accept it."
Since then it's been a constant series of baby steps with James growing ever more desensitized to outside opinions. By the time the playoffs arrived, he'd become downright defiant.
Too much celebration after he finally beat the Celtics? He gave that one the brushoff. Premature celebration in a Game 2 when the Dallas Mavericks rallied back to win? James denied the meaning of the word "celebration" like Bill Clinton debating the definition of the word "is."
Shrinking from the challenge in the fourth quarter of Game 3 when he scored just two points but had four assists and held Jason Terry scoreless? James batted away the notion like a chase-down block.
"All you're looking at is the stat sheet," James fired back. "You should watch the film again and see what I did defensively. You'll ask a better question tomorrow."
Feeling like he can't win in the court of public opinion because even though the Heat are up 2-1 in the series, his stats and fourth-quarter impact is down? He's got a retort for that one, too.
"No, I did win," he said. "We won; that's all it is about."
Nope, this version of James has no such concerns. He left those behind thousands of boos and hundreds of columns ago.
He once lost a series, the 2009 conference finals, in which he averaged 38.5 points, nine rebounds and nine assists. He owns two of the highest individual awards you can win in the NBA. He's got a scoring title. His signature shoe and replica jersey are bestsellers. All of it has no championship currency, and it's numbed him from engaging in semantics any longer. For now, talking about stats and last shots and how a superstar should play are conversations he's not interested in having.
Two wins from a ring, James just doesn't care what you think.
"I know I get a lot of headlines, bad headlines," James said. "We have to play together to win. It's not just about me."