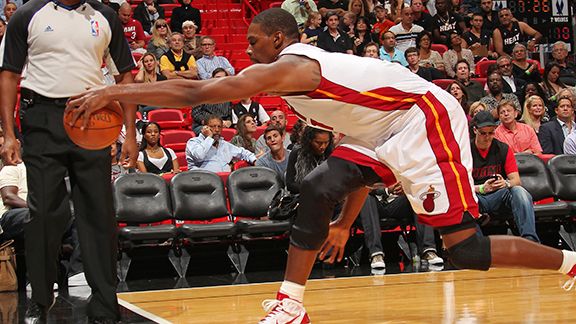 Victor Baldizon/NBAE/Getty Images Sport
Chris Bosh: Still trying to grasp his role in the Miami offense.
When LeBron James, Dwyane Wade and Chris Bosh teamed up this summer, naysayers claimed that the Big 3 label was a misnomer. It's the Big 2 ... and then Chris Bosh, they said. With seven games in the books, here's what they're saying now:
Told ya so.
It's true, the Bosh we're seeing in Miami is not the same Bosh we watched in Toronto. But what exactly has changed?
Bosh's scoring average has fallen nearly 10 points from a career-high 24.0 points in 2009-10 to 14.4 thus far in Miami. Point totals are generally influenced by four factors: playing time, shot volume, efficiency and offensive role. For Bosh, the confluence of these effects tells the story.
He's logging fewer minutes in Miami, not because he's getting in foul trouble -- a common minute deterrent for bigs-- but primarily because his team is just too good. The Heat have turned each of their five victories into a bloodbath just after halftime. So when we look at Bosh's numbers on a per-minute basis, the drop-off isn't quite as substantial. The five-time All-Star is averaging 16.2 points per 36 minutes.
To further complicate matters, Bosh has to share the ball with not one, but two of the most ball-heavy perimeter players in the league. This is new territory for him. Since the Raptors didn't have elite scorers on the perimeter, the Toronto offense usually revolved around Bosh getting the ball on the block. That's not the case in Miami, with Wade and James lurking on the perimeter.
When looking at ball-sharing, the stat of choice is usage rate -- the percentage of a team's possessions used by a player either through a field goal attempt, trip to the free throw line or a turnover. The average player posts a 20.0 usage rate, which is an equal share of the pie for five players. In a contract year with average-at-best wings, Bosh shouldered most of the scoring responsibility and posted a career-high 28.7 usage rate last season, good for 9th highest in the NBA.
Bosh in Miami? 20.9 percent.
There's no doubt that the presence of LeBron and Wade have eaten into Bosh's scoring opportunities. But the types of opportunities Bosh has seen have also changed. The pick-and-roll game has been a challenge for Bosh. He's struggled, in particular, with the speed and quickness of James and Wade. The sheer velocity that everyone thought would terrorize opponents? It's perplexing to Bosh as well.
"It's going to take some more time," Bosh said about his new pick-and-roll game. "Just getting my feet established, getting the footwork right, being ready. Because it's different when [James and Wade] attack, they attack so quick and so fast that if they do pass back, then I'm out of position to shoot the ball quickly. So it just takes some getting used to. After a while, we'll be on the same page."
When we look at the numbers, there's a noticeable difference in how Bosh gets his shots off the pick-and-roll in Miami compared to his old digs. In Toronto, his split between "pops" and "rolls to the basket" was almost perfectly balanced at 50-50. But with Miami, he has taken just three shot attempts on rolls to the basket in his seven games thus far, according to Synergy data. Three in seven games. And how many pick-and-pop jumpers? 11, or nearly four times as often.
Watching the film, Bosh tends to side-step or backpedal to the open space on the perimeter as opposed to making a strong dive to the rim. Teams are giving him that shot, even though he's about as automatic from 18 feet as any big in the game.
When asked about Bosh as a new pick-and-roll partner, James immediately likened the power forward to Zydrunas Ilgauskas, a center who has made a healthy living off pick-and-pop opportunities with James. The comparison to Ilgauskas was almost reflexive, as if the two players functioned under the same capacity for LeBron.
But to ensure that it didn't come off like a slight to his multi-dimensional All-Star teammate, James elaborated: "Not saying Chris is Z because they're totally different players. Chris also has the ability to also get to the rim and finish. But I've always had a guy who can stretch the floor."
It's an important distinction. While Bosh can step out for a midrange jumper, he's also one of the league's best finishers off of the pick-and-roll. Only Dwight Howard bested Bosh's staggering 81.4 percent conversion rate on field goals resulting from rolls to the rim last season.
Bosh's ability to draw fouls on dives to the rim account for much of his effectiveness after the screen. Bosh has that rare Amare Stoudemire-like airborne control near the rim, but we haven't seen much of it thus far. As a result, Bosh's ratio of free throw attempts to field goal attempts has dropped in Miami -- down from 0.51 which led regular power forwards last season to a more pedestrian 0.42 -- and it's not a coincidence that jumpers have become a bigger part of his offensive arsenal. There's a reason why Troy Murphy and Rashard Lewis rarely visit the charity stripe. Spot-up shooters don't get fouled.
For Bosh to re-establish himself as one of the great bigs in the game, it's imperative that he gets back to attacking the basket. Listen to him speak and you get the sense that he understands his success is predicated on his aggressiveness, but that he also hasn't felt comfortable enough to unleash his fiercer side. Bosh will admit this much: the process doesn't happen overnight. With 75 games left, there's still plenty of time for Bosh pacify his doubters.