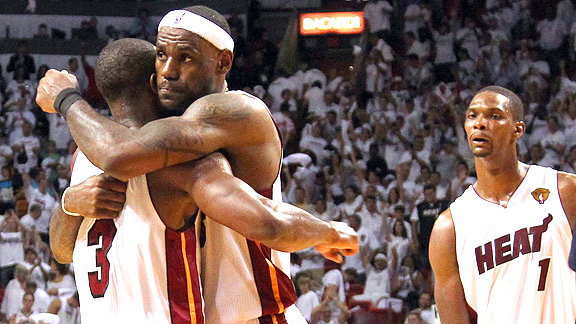 Mike Ehrmann/Getty Images
The Heat's Big Three put up some big numbers this season, including the best plus-minus in the NBA.
Now that the smoke has cleared and the dust has settled, it's time to look back on the Heat's 2010-11 season. Some may prefer a retrospective photo album or a series of articles that captures the ups-and-downs of the season.
But if you're like me, numbers can do the trick. Here are 10 statistics that defined the Heat's season, which ended just two wins shy of a title.
8.9 points
After scoring 26.7 points per game in the regular season, LeBron James tanked during the NBA Finals, scoring just 17.8 points per game against the Mavericks. According to ESPN Stats and Info, the difference of 8.9 points ranks as the largest dropoff in NBA Finals history among players who scored at least 25 points per game during the regular season. Wilt Chamberlain was the previous record-holder with a 7.7-point dropoff in the 1963-64 Finals, which he lost.
You can dissect the NBA Finals a hundred different ways to figure out why the Heat lost, but if LeBron just met his average in the scoring column, it's hard to imagine a scenario where the Heat don't win the title. Instead, LeBron broke all the wrong records.
+575
The Heat boasted not just the Big Three, but the Biggest Three in the NBA. When James, Dwyane Wade and Chris Bosh were on the court this season, the Heat outscored opponents by 575 points, the highest plus-minus in the league. The Celtics trio of Kevin Garnett, Ray Allen and Paul Pierce came in second with a plus-517 figure. A passing of the torch?
Interestingly enough, the Heat's Big Three posted only a plus-27 in the playoffs, ranking outside the top-50 among postseason trios in the Eastern Conference.
3.6 Player Efficiency Rating
Mike Bibby put forth one of the worst postseason runs in NBA history. How can we tell? Of the 1,166 times in NBA history that a player logged 400 minutes in a postseason, Bibby's 3.6 player efficiency rating (PER) ranks dead-last.
Along the Heat's trip to the Finals, Bibby shot 28.1 percent from the floor (just 25.8 percent from beyond the arc), while averaging a measly 3.7 points and 1.2 assists per game. Most players who tank that badly don't stick around very long, but Heat coach Erik Spoelstra trotted him out 20 minutes per game.
221-226
What happens when you put Dwyane Wade and LeBron James on the court together? You lose -- or at least that's what happened this season.
The Heat were outscored 221-226 (minus-5) when Wade and LeBron were on the floor without Bosh this season, according to game tracking by Elias Sports Bureau. Wade and LeBron are widely considered two of the top five players in the NBA, and yet, when flanked by three other role players, the Heat posted a negative score differential.
If you need any more evidence that basketball is a team sport, look no further.
16 rebounds, 0 field goal attempts
In a Jan. 18 loss to the Atlanta Hawks, Joel Anthony went berserk on the boards, pulling down 16 rebounds in a season-high 43 minutes of action. But he didn't even take a shot from the floor. According to Elias Sports Bureau, only two other players since 1967 have pulled down 16 rebounds without shooting in a game: Dennis Rodman and Wilt Chamberlain.
Anthony finds himself in the company of Hall of Famers, but his lopsided performance underlines a larger theme of the season: Heat centers were one-dimensional. Anthony couldn't score, but he could defend. Zydrunas Ilgauskas could shoot and tip some putbacks, but little else. Erick Dampier's greatest attribute was his ability to take up space.
2 layups
Heat sharpshooter James Jones played over 1,500 minutes in the regular season and tallied just two shots at the rim all season. All season!
According to Hoopdata.com, Jones is the only player since 2006-07 to play more than 500 minutes and take fewer than four shots at the rim. Jones went 1-for-2 there if you must ask.
In all in all, Jones shot 287 of his 346 shots from beyond the arc this past season, making him one of the most specialized shooters in the game. Despite winning the 3-point contest at All-Star weekend, Jones didn't even play in the Finals, which may have something to do with his limited skill set.
23.5 percent usage rate
Of the Big Three, Bosh sacrificed the most touches by joining Miami. In Toronto in 2009-10, Bosh used 28.7 percent of the Raptors' possessions while he was on floor (including field goal attempts, free throw attempts, and turnovers).
However, his usage rate in Miami plummeted 5.2 percent (to 23.5 percent), which ranks as the largest dropoff in the NBA among players who averaged 30 minutes in each of the past two seasons. As a result, Bosh's points per game numbers were underwhelming. Wade and LeBron both saw their usage rates drop this season, but only slightly.
6.4 rebounds, 1.1 blocks per game
Who needs a center when you have Wade? Wade may stand just 6-foot-4, but he put up the numbers of a big man this season. In fact, Wade became the first player in NBA history to average six rebounds and a block per game while standing just 6-foot-4 according to Basketball-Reference.
Wade's versatility allowed the Heat to deploy unconventional lineups and not worry about the lack of size underneath. In the playoffs, Wade managed to play even bigger, snagging 7.1 rebounds and blocking 1.3 shots per game.
60 minutes
Carlos Arroyo started 42 games for the Heat before losing his started job on Jan. 22 against Toronto. Over the next 17 games, he played just 56 minutes before getting the ax. Dampier started 22 games for the Heat and then never played another minute after he lost his starting gig on April 8. Ilgauskas started the Heat's eight playoff games, then got demoted to the reserve role and played just four minutes thereafter.
To see how dispensable some of the Heat's role players were, consider that Arroyo, Ilgauskas and Dampier started 113 games for the Heat and played a total of only 60 minutes after losing their starting gigs. For whatever reason, Spoelstra made a habit of starting a player for weeks at time before deciding to put him out to pasture. You could also include Bibby here after he was benched for Game 6 of the Finals.
$5.7 million
Mike Miller and Udonis Haslem were paid a sum of $8.5 million in 2010-11, but played in only 54 of the possible 164 regular season games. The Heat's fourth and fifth highest played players missed 67 percent of the regular season, which equates to about $5.7 million of lost salary for the Miami organization.
Of course, Miller and Haslem came back in the postseason, but they were clearly damaged goods. Haslem shot 39.7 percent from the floor upon returning and Miller shot 29.7 percent from downtown in the postseason. Would the Heat have won the title if they Haslem and Miller were healthy? We'll never know.