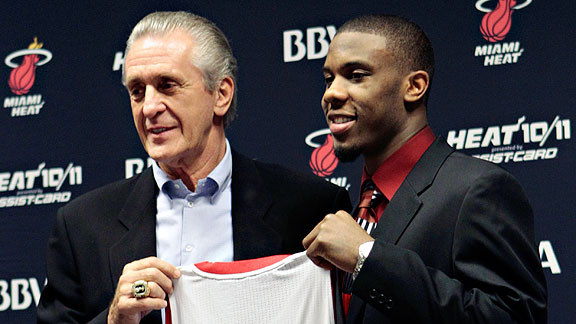 AP Photo/Alan Diaz
After making his first public appearance as a member of the Heat, Miami's first-round pick Norris Cole now goes to work at camp.
The Heat introduced first-round pick Norris Cole to the media on Monday. Now, the Heat can watch him play against other NBA hopefuls.
Pat Riley announced on Saturday that the Heat will be hosting a three-day camp this week working out a fleet of free agents. By rule, teams are prohibited from working out free agents who played in the league last season. Naturally, the names of those attending the camp aren't household names, unless you happen to live under the roof of a Heat writer.
So who's attending the camp? Ira Winderman of South Florida Sun Sentinel has the roll call for this week's workout. Eddy Curry, recipient of a $60 million contract from the Chicago Bulls, "headlines" the list along with Heat's first-round pick Cole.
If all goes to plan, the Heat should have two or three roster spots for free agents this offseason. Will one of them be plucked from this week's camp?
Here's the list of free agents coming to Biscayne Bay, along with some info about each player (I had to do some serious digging for a couple of these):
Eddy Curry - Age: 28 - NBA experience: 9 years. Height: 7-feet. Curry's ESPN player page lists him at 295 pounds but many reports suggest he weighed as much as 350 pounds a couple years ago. Curry was a former top-5 pick in the 2001 draft, and has played over 500 games in the NBA. He has averaged 13.3 points, 5.3 rebounds and 0.7 blocks per game in the league. Despite his gargantuan size, Curry has been a notoriously poor rebounding big man. For perspective, Mike Miller had a better rebound rate last season for the Heat than Curry's career figure. The former Knickerbocker has worked out with the Heat several times over the past year, but has yet to receive a contract with the organization.

Norris Cole - Age: 22 - NBA experience: Rookie. Height: 6-2. Cole is the Heat's first-round pick (No. 28) in the 2011 NBA draft. The Cleveland State product was the Horizon League's Player of the Year as well as the Defensive Player of the Year during his senior season. He averaged 21.7, 5.8 rebounds and 5.3 assists while posting a 29.5 player efficiency rating (PER), which was good for 16th among qualified players in the NCAA in 2010-11. He enters the offseason as the only point guard on the Heat roster.

Chaisson Allen - Age: 22 - NBA experience: None. Height: 6-4. Allen went undrafted this year, but put up some solid numbers at Northeastern as a four-year senior. The guard averaged 16.7 points, 6.1 rebounds, 3.7 assists and 2.1 steals during his senior year. His steal percentage (3.6) ranked 87th in the nation, according to KenPom.com.

Chris Daniels - Age: 27 - NBA experience: None. Height: 7-feet. Daniels played college ball at Texas A&M-Corpus Christi and graduated in 2008. He averaged 12.4 points and 6.4 rebounds in his senior year while posting a block rate that ranked 95th nationwide according to KenPom.com. He can block shots, and that's about all that stands out statistically. He was ranked as the 20th-best center prospect in the 2008 draft according to ESPN Insider Chad Ford. A slightly concerning note from Ford's report: "Question about how tall he really is. He's listed at 7-feet, but might be several inches shorter." OK, then.

Papa Dia - Age: 24 - NBA experience: None. Height: 6-9. Dia was a star at SMU during his senior year, scoring 18.3 points and grabbing 9.6 rebounds in 2010-11. He's a little older that we'd expect coming out of this class, but he posted monster numbers for coach Matt Doherty (the same one who coached at North Carolina some years back). Dia wasn't included on Ford's prospect list but big man from Senegal was a top-50 rebounder in his senior year. Not a bad invitee.

Marquez Haynes - Age: 24 - NBA experience: None. Height: 6-3. Haynes is a year removed from college ball at Texas Arlington where he was the team's leading scorer at 22.6 points per game. He played three years at Boston College before transferring to his home state in Texas. As an elite foul-drawer combo guard, Haynes is cut from the same cloth as Dwyane Wade. He was seventh in the NCAA in foul-drawing per 40 minutes in his 2009-10 season at Texas Arlington. He averaged 14.4 points while playing pro ball in France last season. Check out his NCAA Dunk Contest video here. Haynes fits the bill as a young, speedy and athletic free agent that Riley prescribed at his presser on Saturday.

John Holland - Age: 22 - NBA experience: None. Height: 6-5. This Boston University Terrier filled up the scoring column in his senior season last year. He did it through volume -- not efficiency -- however. The St. Benedict (NY) high school product launched 34.4 percent of BU's shots last season, the 14th-highest share in the NCAA last season. (No. 1 on that list: Jimmer Fredette, 38.1 percent). Holland shot just 38.6 percent from the floor last season. That's not so good.

Matt Janning - Age: 23 - NBA experience: 1-year (D-League). Height: 6-4. A great shooter from Northeastern University, Janning spent last season in the D-League where he nailed 41.8 percent of his 3-pointers. Little known fact: I watched him (in person!) drop 22 points on William & Mary in January of 2009 on his home court in Beantown. I was impressed by him then and even more impressed to see him invited to workouts this week.

Jamine Peterson - Age: 22 - NBA experience: 1-year (D-League). Height: 6-6. This time last year, Peterson finished up a season for Providence in which he averaged 20-and-10. This year, he wrapped up a solid season playing for the New Mexico Thunderbirds where he averaged 13-and-6 after he spent one-month trying his hand in a Greek basketball league. He's undersized as a power forward, but can shoot it from downtown and bang down low. Since he's not a point guard or center, it's hard seeing him make it on the Heat's roster.

Carleton Scott - Age: 22 - NBA experience: None. Height: 6-8. Probably the third or fourth-best senior on Notre Dame this past season, but posted some big block numbers for his size. He averaged 11.2 points, 7.4 rebounds and 1.9 blocks for one of the top teams in the NCAA last season. He's a great defender and a solid role player but he's a longshot to make the Heat's roster.

Greg Smith - Age: 20 - NBA experience: None. Height: 6-10. I was actually surprised to see Smith go undrafted last Thursday. He left after his sophomore season at Fresno State and hired an agent, thereby eliminating the option of returning to college ball. From Ford's draft report, Ford called him "a physical specimen... a 6-foot-10, 250-pound power player with a 7-foot-3 wingspan and just 6.4 percent body fat. He had the biggest hands (11.25 inches) of anyone at the New Jersey workouts and recorded a 35.5-inch vertical -- a terrific number for a player his size. However, he is still pretty raw offensively." If the Heat can sharpen this kid's focus, they might have found a promising flier going forward.

Julyan Stone - Age: 22. NBA experience: None. Height: 6-7. Two NCAA players have averaged at least eight points, seven rebounds and five assists since 2008-09. One is some guy named Evan Turner and the other is Julyan Stone. A super-tall point guard, Stone is a rare commodity in the sport and if he can stay in front of other point guards in camp, don't be surprised to see the Heat take a closer look. He's the ultimate selfless point guard and few teams provide a tighter fit than the Heat.

Jarvis Varnado - Age: 23. NBA experience: None. Height: 6-9. One of the Heat's second-round selections in the 2010 NBA Draft, Varnado spent the year playing in the Italian League. A supreme shot-blocker, the Mississippi State product averaged 15.4 points, 8.9 rebounds and 3.1 blocks in his first season overseas. For what it's worth, Riley dropped his name several times during his press conference on Saturday when talking about next season's "younger and faster" roster. If the Heat strike out on signing an athletic big this offseason, seeing Varnado in a Heat uniform won't be out of the question.