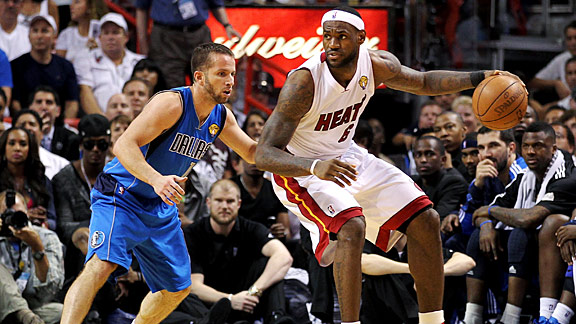 Mike Ehrmann/Getty Images
LeBron James has struggled to thrive in the post. Will a visit with Hakeem Olajuwon change that?
It appears LeBron James is finally getting serious about his post game.
While holding a charity event Monday in Ohio aimed at keeping kids in school until high school graduation, James revealed he'd been in school himself -- getting an education in how to play in the post from Hakeem Olajuwon.
During the two months since the Dallas Mavericks vanquished his Miami Heat in the Finals, James has been busy. He shot a commercial in Los Angeles, attended Chris Paul's bachelor party in Las Vegas, held a camp in San Diego, played in summer league basketball in Cleveland and Los Angeles, went to meetings at Nike headquarters in Oregon and hosted the top college and high school players at a camp in Akron, Ohio. On Tuesday night, he's being inducted into his high school's hall of fame. On Wednesday, he's flying to China.
But he did something else, something that could prove to be the most important thing James does during the lengthening lockout. Without fanfare, James had his private jet stop in Houston for some workouts with Olajuwon to tap the Hall of Famer's valuable knowledge of that old but rare skill of playing with your back to the basket.
"Just every day just trying to critique my game -- seeing ways that I can get better so I can be more of a complete basketball player on the court," James said. "I'm focusing on getting better."
James has always had respect for players that came before him, and has put in the hours of reading and watching film to learn nuances from the game's luminaries. But he has never been too interested in seeking direct advice from those veteran voices. He's always trusted his own coaches and charted his own course. He enjoys mentoring younger players but hasn't always wanted to embrace the reverse.
But now that might be changing, and it speaks to how focused James seems to be on addressing a deficiency in his game. He's just the latest star to seek Olajuwon's summer council. Kobe Bryant and Dwight Howard have worked with Olajuwon in the past.
Can a few workouts with Olajuwon make a huge difference? Probably not. But it is a sign of just how serious James has gotten about that area of his game that has been begging for attention for a decade now. That's right, a decade.
Last fall during his first training camp with the Heat, James talked about working on his post game during the summer. Heat assistant coaches discussed how they'd been working with him. Everyone was optimistic that James was headed for a breakthrough in that area of his game.
As some of his former coaches read those stories and quotes, they quietly rolled their eyes. See, every coach James has had since high school has attempted to lure him into the post. With quick feet, great length, superior passing skills and the fact that he is ambidextrous, James has all the tools to be a devastating post player. He's had them all his life, but he's never nurtured them or come to trust them. Now, at the highest level, it is holding him back.
In fairness, James spent more time working out of the low and mid-post last season than any previous year. Already altering numerous aspects of his game to fit in to his new team, James wasn't being selfish or particularly hard-headed. But his time and execution in the post were still woefully short of what was needed, especially under pressure.
Just like leading the proverbial horse to water, coach after coach has put in practice time and installed plays in the offense to encourage James to work from the post. It is simple strategy -- give opposing teams a significant mismatch plus consequences for sending double-teams. But James quite often just won't do it.
It's not a fatal error. James was raised in the game as a perimeter player. He feels more comfortable in that capacity and he's been a two-time Most Valuable Player and scoring champ playing out there. Usually, it goes without saying, he's hardly the first superior athlete to prefer to see the whole floor in front of him and attack, which is why in game after game over the last five or six seasons James often would get the ball in the post -- exactly where the play called for him to get it -- only to turn around and back up to find his comfort zone.
Still, evolution has been a part of James' improvement. When James first came into the NBA, he was a below-average defender. His coaches knew he had all the skills to be a great defender but it would take him a while to understand how to apply them. It's all part of the "process" that so many professional coaches talk about all the time with young players. As predicted, James has since developed into one of the best perimeter defenders in the league.
The same has always been believed about that post game -- that he would start to use it when he needed it and understood it better. Like when his athleticism started to fade later in his career.
That's what Michael Jordan and Bryant did. They didn't become effective post scorers when they were in their mid-20s like James is now. James' trajectory appeared similar -- he'd be getting to developing a post game when he felt one was needed to maintain his place as one of basketball's premier individual talents.
That timeline, though, has changed. There's no time for a gradual progression. This last season showed that James and the Heat need a seasoned and post-playing James immediately. If they'd had it in the Finals, there's a strong chance the outcome would've been different. When the Mavericks cut James off from his favorite spots and denied his preferred driving lanes, James disappeared offensively. If he had a post position or move or two that he trusted there would've been a legitimate countermeasure.
Broader than that, James and Dwyane Wade were not a perfect fit playing together. It wasn't like it plagued the Heat's season. They were in the Finals, after all, but it didn't take Hubie Brown's analysis to realize that there was redundancy and inefficiency there. Despite featuring two of the top scorers in the league, the Heat were quite often easier to defend than was expected. While James and Wade's stats were nearly identical during the season it wasn't because they fit together as much as they did an admirable job of taking turns.
Despite some inconsistency, Chris Bosh emerged as a vital cog in the team's offense because, as the only significant post option, he was badly needed to balance out the attack. And Bosh most often played in the high post, not the low post where James has all the potential to thrive and apply the most stress to defenses while playing with Wade.
With a more stringent salary cap and likely more limited free-agency spending coming whenever the owners and players work out a collective bargaining agreement, the Heat are faced with a reality that they may not be able to improve their roster much. With a majority of their draft picks dealt away and limited trade assets at the moment, they don't appear to have much maneuverability. They may be able to add a veteran or two looking to contribute on a contender but landing a serious post doesn't seem to be realistic.
What is both realistic and possible is James developing that untapped area of his game. It's not certain it can happen over one summer and a session or two with Olajuwon.
James has, after all, said all the right things about it before. Seeing Olajuwon, though, sends a new message about his intensity on the matter.
The Heat are forbidden from communicating with him because of the lockout, but we can assume that the Heat, when they learned of James' plans, were quite pleased. Saying he's not interested in overseas offers, James is probably going to have a lot of time to make a difference until the lockout ends.
If a different and more dedicated post player shows up when it's over, there's a better chance next season will have a different end than the last.