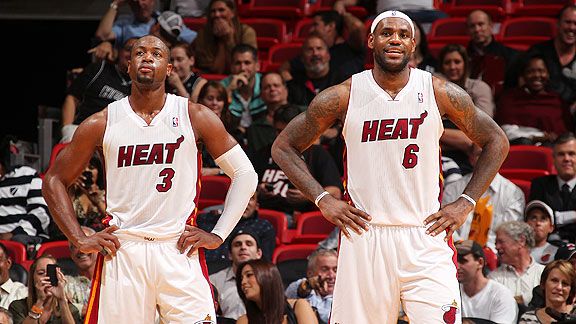 Victor Baldizon/NBAE/Getty Images Sport
Neither Dwyane Wade and LeBron James had an explanation for what went down on Tuesday.
MIAMI -- How mind-boggling was the Heat's second-half collapse in Tuesday's 116-114 overtime loss to the Utah Jazz at AmericanAirlines Arena? Just ask Dwyane Wade.
"We do have a great team in Boston coming in Friday," Wade said. "We've got to be prepared for it."
The Heat's next game is against the Celtics. Only, it's Thursday. Yes, Miami's players and coaches were still reeling after being rocked by the Jazz in the second half. Wade's calendar slip-up was just another sign of how discombobulated the Heat were after squandering a 22-point lead, despite 39 points from Wade, LeBron James' triple-double and as smooth a first half as they've played this season.
If there's a reasonable explanation for how this game got away from Miami, we're as open for suggestions as Paul Millsap was on those three 3-pointers that completed Utah's improbable comeback. If anyone can make sense of how the Heat's defense could transition from proud and prosperous to porous and putrid in the time it takes Deron Williams to split a double team, the floor is yours.
Logical answers certainly weren't flowing from the Heat's locker room after this latest setback dropped Miami to 5-3. Only one of those victories was against a team that currently has a winning record. Suddenly, a Heat squad that was made to produce magical moments this season is now stumbling through a stretch of early-season mediocrity.
Some losses make sense. Others, particularly after examining the box score from the crime scene on Tuesday, make for migraines. Depending on the players' perspectives, this was either a Utah robbery or an overwhelming display of Heat charity.
And that's what made the postgame diagnosis from the Heat almost as inexplicable as the manner in which they snatched defeat from those proverbial jaws of victory.
"For whatever reason, I don't think we had that sense of urgency," said Heat guard Eddie House, who missed a 3-pointer with 0.4 seconds that would have won the game in overtime. "I think we got up 20 (points) and might have just gotten bored with that process of how we got up 20."
Huh? So among the reasons the Heat lost was because they simply got bored of winning. James, who notched the first triple-double by a Heat player since Shaquille O'Neal did it four years ago, pinpointed Miami's demise as a stretch during the close of the third quarter, when Millsap and Williams combined for 26 of Utah's 30 points and made 11 of 15 shots in the period.
The Heat had been dismantling teams in the third quarter this season, outscored opponents by an average of 12.4 points in the period. The Jazz bested Miami 30-24 in the third to start their rally, which marked the first time the Heat were outscored in that quarter this season.
"I think D-Will got them going, Millsap carried them and the rest of them followed," James said. "I don't know what Paul Millsap's career 3-point percentage is, but I know it's not 100 percent."
It was on Thursday ... errr ... Tuesday. Asked why Millsap was able to torch the Heat for a career-high 46 points on 19 of 28 shooting from the field – and drill just about every shot he threw up against the Heat's defense -- Chris Bosh's response didn't exactly get to the root of the problem.
"Because they needed them," Bosh said. "I've never seen (Millsap) hit a three before. In my mind, when he's shooting it, I'm thinking, 'Box out' because it's probably coming off."
They didn't. And there might be no rebounding from this for the Heat.
"Can you take anything away from blowing a 20-point lead?" House rhetorically asked while sitting in his locker with a dazed look in his eyes. "Nah. Ain't nothing positive."
Again, it depends on the perspective.
"We'll learn from it and move on," Wade said of what the Heat might grasp from Wednesday film session in advance of practice. "It's always great to watch film and see. Whether the players want to hear it or not, it'll be right on target."
But it might not make much sense.
The Heat lost the game, despite that triple-double from James, those 39 points from Wade, a solid game from Bosh and shooting 33 more free throws than the Jazz. It adds up to an outcome that didn't make a lot of sense from Miami's perspective.
Somewhere, there's a teaching point in this for coach Erik Spoelstra.
"At some point in the year, we have to go through something like this," Spoelstra said. "It's just painful as you go through it. There is a lesson there and we will respond to it."
The Heat won't have much time to clear the cobwebs. There's a big game against Boston coming up at some point this week.