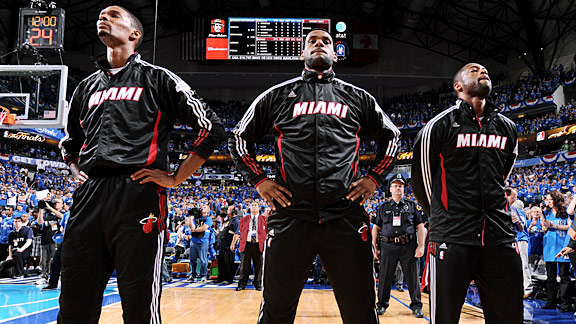 Andrew D. Bernstein/NBAE/Getty Images
An amnesty clause in the new CBA could help the Heat keep their Big Three together.
It's no secret the Heat potentially have the most to lose if owners get their way with a new collective bargaining agreement.
But they also may be a benefactor in another area if/when the players and owners find a deal. It's a benefit that could significantly affect and improve the talent on their roster whenever NBA basketball starts again.
The amnesty clause.
It's well known that the owners' desire is to install a hard salary cap and virtually freeze overall spending on player salaries, a move that could obliterate free agency as the league knows it. The players, of course, are firmly against both.
No one knows how this will play out but the specter endangers the Heat's plan to keep LeBron James, Dwyane Wade and Chris Bosh together for the next three seasons plus sign free agents to support them. With limited draft picks and trade assets, the Heat are depending on free agency to help them get over the hump to reach the type of dynasty they started envisioning in 2010.
However, there's another facet that's likely going to be in the new CBA that could help the Heat in the short run. That's the aforementioned amnesty clause. It's a provision that would allow teams to waive players under contract and have money owed to them removed from their salary cap. The players would still get their guaranteed money but they would become unrestricted free agents.
For months there has been speculation that a new CBA would contain such a clause, which was first used as part of the last CBA deal in 2005. It's a mechanism to help phase in new rules and create a bridge for teams who are stuck with bad contracts. Six years ago it was used to help teams avoid a more penal luxury tax. The highest profile player to be released was Michael Finley, who the Mavericks waived to save more than $30 million in luxury-tax payments at the time.
This week the Portland (Ore.) Oregonian reported that there's a consensus among owners to include another amnesty clause in the new CBA that would help clear space in what are expected to be more restrictive salary caps. Of course no one can predict the future but the signs continue to indicate the new deal will have some sort of amnesty option in it.
That's where the Heat would come in. They would be an attractive destination for players who might be released under such a clause. Because of the free agents they signed last summer, the Heat probably are out of any bidding wars for free agents for the near future. But players who are "amnestied" are likely to sign cheaply, probably at whatever the veteran minimum would be, as they would not have lost any money from their previous contracts.
The Heat need a big man, a point guard and always could use shooters. They can make calls and recruit all they want but signing big-ticket free agents like Nene, Tyson Chandler or J.J. Barea is a pipe dream. But what about getting Rashard Lewis, Baron Davis or maybe even Brandon Roy for cheap? These are all instant candidates to be released under a new amnesty provision and all, in their own ways, could help the Heat.
Without knowing the rules, it's hard to predict how many players might get set free. But teams are already plotting how they might use the option. Some are naturals, Gilbert Arenas in Orlando would be at the top of any speculative list for example.
But there would also certainly be surprises. Would the 76ers consider releasing Elton Brand to free up $35 million from their salary cap over the next two seasons? Go up and down the rosters of every team, many have a player that they might at the least consider releasing if they had a chance to get him off their cap. Especially if there's a new system without or with very limited salary cap exceptions that put a new premium on cap space. It's a rare opportunity that teams will take seriously, as they did in 2005, that promises to make the free agency season even more frenzied when it is finally unleashed.
The Heat are already hoping to attract some veterans at the end of their careers willing to play cheaply on a contender in a state with no income tax in nice weather. That's why Shane Battier and Grant Hill, to name a couple, are probably going to be free agent targets for Miami when free agency does come about. The amnesty provision could quickly deepen that pool and put the Heat in excellent position to add veteran depth that they needed last season without having to spend much or make a trade.
There probably won't be magic bullet player that would guarantee a title. The team still will go as far as James, Wade and Bosh will take them. But the Mavericks' depth turned out to be a big factor in the Finals as players like Barea, DeShawn Stevenson and even Brian Cardinal outplayed the Heat's role players. There were players on Dallas' bench who weren't even getting playing time at the end of the Finals – Peja Stojakovic, Corey Brewer and Roddy Beaubois – that likely could've instantly been in the Heat's rotation had they switched sides.
Upgrading players 4-9 on the roster is the Heat's biggest mandate as they look to return to the Finals. They clearly had cracks that need filling better than players like Juwan Howard, Jamaal Magloire and Mike Bibby were capable of. An amnesty clause could turn out to be a major shot in the arm in that mission.