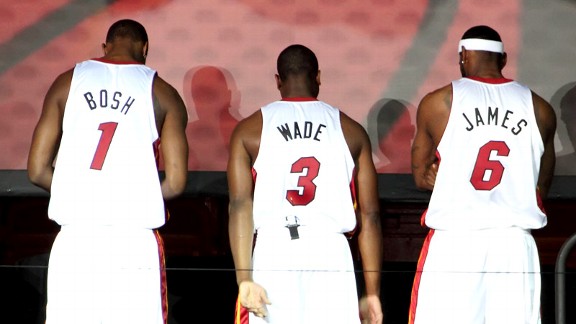 Alexander Tamargo/Getty Images
The Big Three may host Saturday's exhibition, but their union will have their backs against the wall before Monday's deadline.
MIAMI -- If you're a true NBA basketball fan and you care about the immediate future of the league, then something about this weekend should feel wrong.
Infuriating, actually.
Considering the juxtaposition between what's set to take center stage Saturday and what's possibly at stake come Monday, I'd be more open to seeing Nancy Grace and Metta World Peace get mulligans on "Dancing With the Stars" than I'd be to watching what could go down across the league over the next few days.
We've reached the intersection of greed and naivete. And the faulty GPS has somehow routed the league right into Isiah Thomas' backyard. Yes, we're in a "How in the heck did we get here?" moment when Isiah has more NBA influence, even for just one night, than NBA commissioner David Stern.
The center of the dysfunctional NBA universe shifts this weekend from a conference room in Manhattan to a college basketball arena in Miami, from the bickering and disputes of intense labor negotiations between owners and the players union to the behind-the-back passes and dunks of yet another star-studded exhibition game.
The circus this lockout has become has Miami Heat teammates LeBron James, Dwyane Wade and Chris Bosh pitching a big tent Saturday for some of the league's top stars on Florida International University's campus -- in the gym of FIU coach Thomas, the former NBA executive, coach and Hall of Fame player -- in a show of solidarity. The game was scheduled well in advance of this stage tension, but it comes, nevertheless, at a time when the foundation of the league is cracking and buckling.
Carmelo Anthony, Amare Stoudemire and Chris Paul are set to team up on one squad in a flirtatious dream scenario for the New York Knicks amid the underlying nightmare that the first few games of the regular season could be lopped off as collateral damage if there's no progress made toward a new collective bargaining agreement by Monday.
Entering what both sides agree is a critical weekend to save the start of the regular season, you've essentially got Stern drawing a line in the proverbial sand in New York. And you've got players, who defiantly defended their pride last week, collectively taking their talents to South Beach Saturday.
The charitable proceeds and good intentions generated by Saturday's game are admirable. And the no-nonsense urgency and desperation of Stern's ultimatum is just as appropriate, given how the preseason schedule has already been scrapped.
But if you're stuck in the middle, like I am, it's practically impossible to have a rooting interest for either side. What's going on this weekend feels like the equivalent of a set of parents taking the kids on one last family vacation Saturday before they file for divorce when the court offices open on Monday.
It feels no different than Victor Ortiz' disarming and apologetic kiss to the cheek followed by Floyd Mayweather's knockout sucker punch to the jaw. Saturday will display the best the NBA has to offer in talent. Come Monday, we could see another dose of the worst if the framework of a deal isn't in place.
There's enough material to write a Dickens sequel.
If Saturday's exhibition is anything like the previous ones in D.C., L.A., Philly, North Carolina and Baltimore, the highlights might eclipse even what's on display during an NBA All-Star Game.
But I'd rather see Round 2 of Wade going at Stern in a quest for common ground in labor negotiations than to see Wade and LeBron trade aerial exploits.
I respect the process and know that there are no shortcuts to a new CBA that will not only divide a reported $4 billion in league revenue, but also settle issues such as luxury taxes, salary caps, pension plans, player age limits and a split of the controversial basketball-related income.
At the end of the day, I'd rather see the lockout loom with both sides fighting for what they believe is a fair deal than to see either side buckle.
But it's hard to feel much sympathy for owners and team executives who handcuffed themselves to a salary structure that paid the likes of Jermaine O'Neal, Tracy McGrady and Rashard Lewis $20 million-plus annual salaries in recent seasons.
At the same time, it's difficult to defend a union that wants to protect the $5 million-a-year guaranteed average salary deals, when exhibits A, B and C are recent recipients such as Mike Miller, Drew Gooden and Darko Milicic.
I don't blame billionaire owners for wanting to essentially guarantee a profit and return on investments with a favorable BRI split. You don't open any business to break even or sustain losses. Those are called nonprofit charities. And I don't fault players for refusing to give back all of the advances and spoils they've earned in a game that has reached an all-time high in its global appeal.
Somewhere, there's gotta be a middle ground. There's a place where Stern can get through to the most defiant group of star players he's ever encountered in labor talks. He's learning the hard way it's a lot more difficult to threaten and bully the AAU generation, players who have been free agents and free thinkers since the eighth grade. They've called their shots, hand-picked coaches, had prep and college programs built around them.
Michael Jordan, Patrick Ewing and Isiah Thomas were as talented and tough-minded as any players the union has ever produced. But they also were the products of Dean Smith, John Thompson and Bobby Knight. Dealing with dictator/authority figures wasn't a foreign concept by the time those stars stumbled into and out of the last labor dispute with Stern in advance of the 1999 league lockout.
This AAU generation is different. They're a bit more accustomed to being catered to and accommodated by coaches and authority figures.
Wade's heated exchange with Stern placed him in the center of the labor storm last week. One league official in the room that day said a leader among the players finally emerged who, after months, was bold, brilliant and big enough to bring this AAU generation of players and NBA owners to the brink.
But when you're dealing with players this defiant and owners seemingly this disjointed, the NBA could just as easily be at the brink of an abyss rather than approaching a breakthrough.
The players will certainly showcase their talent Saturday at FIU. Come Monday amid Stern's threat, we'll learn a lot more about their other FIU: Faith in their union.