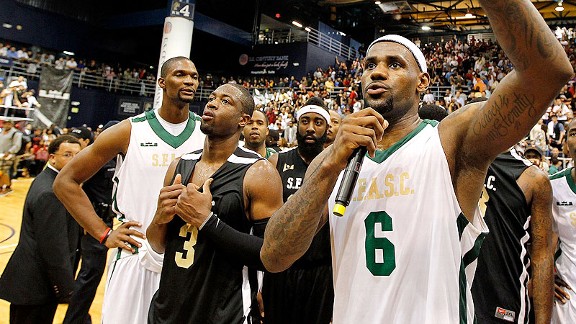 Mike Ehrmann/Getty Images
LeBron James gave a hearty thank you to the fans after Saturday's South Florida All-Star Classic.
MIAMI -- There was LeBron James.
The world's biggest basketball star stood inside a tight circle of the NBA's elite that had congregated at center court. LeBron grabbed a microphone and addressed an audience of 4,000 fans at Florida International University's U.S. Century Bank Arena who had just witnessed an enthralling, star-studded overtime exhibition game. Saturday marked the 100th day of a painful lockout, but the fans were there, 4,000 strong, on their feet, and listening intently to LeBron's words.
"Thank you. Thank you so much. We appreciate every last one of you," LeBron said.
As he spoke, Dwyane Wade, Chris Bosh, Amare Stoudemire, Carmelo Anthony, Kevin Durant, Chris Paul and the rest of the stars in Saturday's South Florida All-Star Classic watched LeBron, nodding their heads and clapping during the King's speech.
In the distance, a fan wearing a Heat jersey held a poster over his head as LeBron uttered his final words to the crowd. The message on the poster read: "MR. STERN, CAN WE AGREE?"
The game, hosted by the Heat's Big Three, was spectacular. If there was ever a championship of pick-up exhibitions, this was it. Still, an inescapable feeling of dread lingered beneath all the rousing cheers and standing ovations. After all, this was probably the last game of NBA-caliber basketball these fans would see live for a very long time; negotiations between the league and the union had reached an impasse that would almost certainly kill the start of the 2011-12 NBA season.
So as the thousands of fans in attendance and hundreds of thousands of online viewers watched Team Wade nip Team LeBron 141-140 in overtime, there was a certain duel of emotions. In one moment -- like when Anthony drained a game-tying 3-pointer at the end of regulation -- you couldn't help but think: "Wow, what a game!" But that feeling of exuberance was soon squashed by another thought: "Man, am I going to miss this, or what?"
Yes, the South Florida All-Star Classic was wildly entertaining. As expected, there was a fair share of jaw-dropping dunks, high-flying acrobatics and mind-bending showcases of talent. But every lockout pick-up game features those things. This one felt like something bigger was at stake. Perhaps it's because the players were fighting to keep the exasperated fans on their side.
Maybe LeBron told the fans what they wanted to hear, but it's also something they deserved to hear. The audience stood on their feet from the start of the fourth quarter until the overtime buzzer. Speaking for the players, LeBron told the fans something that the owners have yet to convey: You, the fans, matter.
It was quite the moment, but there were so many more. Here's some other scenes and notes from Saturday's extravaganza.
Let there be no doubt: Isiah Thomas has influence over these guys. You could see it in the pregame press conference as Bosh, LeBron and Wade sat next to the Hall of Famer at the podium. Thomas commanded the room, and the Heat trio genuinely looked up to the current men's basketball coach at FIU, even letting Thomas speak for them when the questions got tough. "Is there a chance that, you, the players form your own league?" The three superstars looked over to Thomas to answer. "No," Thomas replied.

Man, do the Thunder have something special with Durant, Russell Westbrook and James Harden. The Heat's Big Three will have some company soon.

At the end of the night, a popularity contest broke out. A game of Team Wade vs. Team LeBron slowly morphed into a battle of Wade vs. LeBron. Although there was always a chance that the two would square off on a couple possessions, no one could expect what went down in the closing minutes of the game. For a while there, Wade guarded LeBron and LeBron guarded Wade, fulfilling the basketball fantasy of every Heat fan in attendance. Wade received "M-V-P" chants at the foul line while LeBron drew impossibly loud cheers following each of his thunderous dunks. There was a great moment when LeBron tried to gain position on Wade on the block. LeBron backed into Wade with every ounce of his 6-foot-9 frame. It was an onslaught of power that would obliterate any normal human being but Wade would not budge. Not an inch. As this battle for position continued, the crowd's cheers grew louder and louder and everyone gradually rose to their feet to see who would win. LeBron finally got the ball, spun baseline past Wade and soared toward the rim. Stoudemire helped from the weakside and blocked his shot -- but wait, a foul was called. Sure, it seemed like an anticlimactic finish to the play, but it was almost like everyone could feel LeBron trying to overpower his Heat teammate. And Wade wouldn't let LeBron get the best of him.

That play was like a boxing match, which is fitting considering who sat on the sidelines: Floyd Mayweather. The boxer had quite the entrance too. You know when a drunken fight breaks out in the stands in the middle of a ballgame and everyone turns to watch? That's what happened when Mayweather walked into the gym during the third quarter. As he strolled to his courtside seat wearing a shirt with the name of Muhammed Ali stitched on the back, the whole audience turned their heads away from the action and let out a mixture of cheers and (mostly) jeers toward the boxing great. Of course, a "suck-er punch" chant started before quickly dying down. Why? Everyone remembered who was playing on the court.

Carmelo Anthony has a knack for hitting big shots, doesn't he?

Heat forward Udonis Haslem (who very much no longer has braids) coached Team LeBron while comedian Kevin Hart paced the sidelines for Team Wade. They jawed back and forth the entire game, playing it up for the audience and providing some much-needed comic relief. The height difference was hysterical on its own. At one point, a good-hearted disagreement brought the two coaches within an inch of each other, face-to-face -- except the face of Hart, who stands all of 5-foot-2, could only reach Haslem's belly button. Here's a video of Udonis Haslem's entrance and Damon Jones' resulting excitement.

Long day for Chris Paul. He watched his alma mater, Wake Forest, upset No. 23 Florida State earlier in the day. The game started at 12:30 p.m. ET in Winston-Salem, N.C., and Paul touched down in Miami minutes before the 7:30 tip-off.

Man, it was refreshing to watch a basketball game without cheesy songs and annoying jingles providing a soundtrack to the on-court action. The FIU crowd, filled with mostly students, was loud and engaged, giving the game even more of an evangelical feel. It seems most of the students who waited in line for hours to buy tickets actually used the tickets rather than flipping them for a profit.

Speaking of profit, according to a StubHub official, several hundred tickets were sold on their online marketplace. The most expensive ticket went for "just" $300 -- a far cry from the postings earlier in the week that asked for $1,700 a pop for a ticket that was worth $100 at face value. StubHub added, "We tend to see a very apathetic market for tickets in Miami, with the exception of the games that catch the media's eye." Although the media contingent on hand was significant, it wasn't nearly as suffocating as it was during the 2010-11 season.

Great moment when Team LeBron tried to win the game coming out of a timeout with 2.0 seconds remaining in regulation. Damon Jones, who hasn't played in an NBA game in over two years and barely played in Saturday's game, thought he was coming in for the final play. He ran out on the court, pointing to teammates and telling them he was subbing in. They disagreed and Jones subsequently found an empty seat courtside and plopped right into it. Across from the team benches.

How about Rajon Rondo's highlighter shoes? The crowd booed Rondo for his migraine-inducing footwear ... or maybe it's because he plays for the Boston Celtics. Either one.

Bosh was noticeably bigger. That was the buzz around the media. Stoudemire dwarfed the Heat power forward in size this past season but Bosh looked just as strong out there on Saturday. Well, not quite.

There was actual defense played in this exhibition game. Pick-and-roll communication. Solid rotations. Hustling back after makes. I know. I couldn't believe it either.