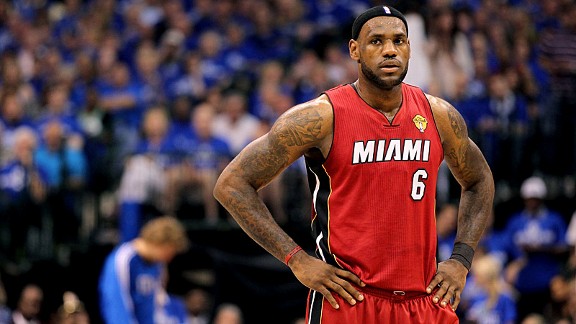 Mike Ehrmann/Getty Images
For those who are quick to write off LeBron James, Michael Jordan's career offers a lesson.
LeBron James is 26 years old.
When Michael Jordan was 26 years old, he was a failure.
This might seem impossible to some. We're talking about the greatest winner of all-time. The most clutch basketball player ever to grace the Earth. A cold-blooded killer in crunch time. The trophies, the rings, the banners. It goes on and on.
But all the golden hardware and endless accolades that Jordan earned?
They came later in his career.
Yes, it's true that Michael Jordan was once considered a me-first gunner whose team always came up short. By the time Jordan finished up his age-26 season in 1989-90, he was the game's undisputed top scorer. But despite his scoring chops, Jordan had nothing in the win column to show for it.
First, a history lesson. Of Jordan's first ten playoff games, the Bulls lost nine of them. 1-9. As a rookie, his Bulls managed to win one game against the Milwaukee Bucks by two points. In Jordan's second season, the Bulls played the Boston Celtics in the first-round. Jordan averaged 43.7 points including a jaw-dropping 63-point performance in Game 2 that caused Larry Bird to profess, "It must be God disguised as Michael Jordan." The Celtics promptly swept the Bulls in three games. The next season, the Celtics pummeled the Bulls again in the playoffs, sweeping them in three games once more.
At this point, the 24-year-old Jordan boasted a 31.7 scoring average, but carried an embarrassing postseason record. It was painfully obvious that the game of basketball was more than just a one-on-five affair, and that Jordan needed help. In 1987-88, he would get it. That was the season in which Scottie Pippen and Horace Grant made their NBA debuts. That year, Chicago's youngsters finally cracked through the first-round of the playoffs before losing to the Detroit Pistons 4-1 in the Eastern Conference Semifinals.
The following season, Jordan led Chicago all the way to the Eastern Conference Finals. But once again, the Pistons sent Jordan packing in six games. In 1989-90, Jordan came crawling back for more and the Pistons slammed the door on him yet again, upending the Bulls in seven games in a Eastern Conference Finals rematch.
When Michael Jordan was 26-years-old, he was perceived by many as a narcissistic dud and was treated as such. Don't believe it? Here's a excerpt from "The Jordan Rules" by Sam Smith that details Jordan's treatment at that point in his career:
The Pistons got their shots at Jordan. They love to taunt Jordan during games about his selfish play, his baldness (that's a specialty of John Salley), and how he enjoys being a loser.

"There's not one guy who sets the tone on our team," Salley liked to tell reporters during the 1990 playoffs. "That's what makes us a team. If one guy did everything, we wouldn't be a team. We'd be the Chicago Bulls.
Yes, the Chicago Bulls were whipping boys of the league, criticized for their dysfunctional and selfish play. And a 26-year-old bald superstar -- who had won the MVP, but not a championship -- was at the center of it all.
Selfish? Loser? Bald?
These are the piercing adjectives attached to a young Michael Jordan, but today, it echoes for LeBron James. Keep in mind, Jordan at 26 had never won a Finals game, much less played in a Finals game. But now we look back on Jordan as the most ruthless winner of all time. Back then, his sorry record spoke for itself.
Which brings us to Magic Johnson's recent comments.
The all-time great was a guest speaker at the University of Albany over the weekend and roasted LeBron James in front of a laughing audience. The former Los Angeles Lakers star, who as a player ironically battled the perception that he recoiled in crunch time, turned LeBron James into a punching bag, scoffing at the idea that the former two-time MVP could be considered in the same breath as Jordan and Kobe Bryant -- players who have won championships.
"Everybody's always asking, 'Who is better between Kobe (Bryant) and LeBron?'" Johnson said. "I'm like, Are you kidding me? I'm like you're kidding me ... Kobe, five championships; LeBron, zero."
"Come on, man, six championships for (Michael) Jordan," Johnson added. "You know that Michael averaged over 30 points every playoff series? Don't try to touch that."
And Johnson is right; the LBJ-MJ comparisons are absurd. But they are absurd because LeBron is 26 years old and somehow the ink is already drying on LeBron's legacy. There will come a time when we can rationally compare LeBron to Kobe and Jordan, but the time is not now.
Instead, we should exhibit some perspective. Why? Because a player's legacy changes with the seasons. If you doubt that, look no further than the perception of Dirk Nowitzki, who was considered flawed for 12 years and erased that legacy in a matter of days. And Jordan's career makeover makes Nowitzki's look like a facelift by comparison. When Jordan was LeBron's age, the world looked at his astonishing scoring average and tried to reconcile his eye-popping statistics with his underwhelming team record.
How can a player so good have such bad results?
If Jordan taught us anything, it's that we must be careful connecting the dots at such an early age. After failing to even reach the NBA Finals well into his career, Jordan had become an easy punchline. That loser. All those stats and no glory, everyone was quick to point out.
Six championships later, we know now that those doubters were a bit foolish. They overlooked this most important fact:
Michael Jordan was only 26 years old.