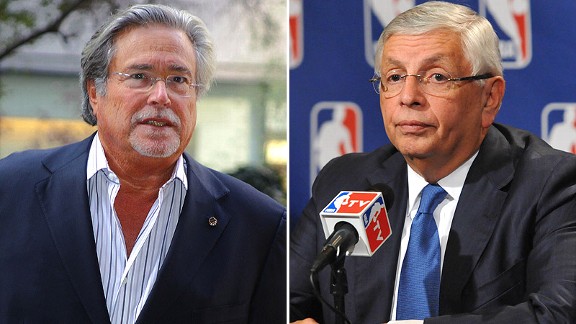 Getty Images
David Stern wants to silence Micky Arison, but the Heat owner was only speaking the truth.
Heat owner Micky Arison has made everyone believe with his words on Twitter that he doesn't like the way things are going in labor talks with players. He has given the strong impression that he's not out for every last dollar like some of his peers seem to be, that he would rather be going to New York for Heat-Knicks games and not more meetings at the Waldorf and that legislating competitive balance isn't possible despite how much some owners want to punish his franchise for their free agency jackpot.
He gave those impressions for several reasons: 1. He's ultra rich and has been the boss for a long time and he's used to doing what he wants. 2. He's frustrated by not having any influence with his fellow owners and feeling like a target and wants fans and especially NBA players to know it. 3. No, he doesn't stand totally united with all his fellow owners even if they are trying to ram home a deal that will make all of them, including him, more money. 4. It was Friday night after a long week and not everyone makes their best decisions on Friday night.
NBA Commissioner David Stern tried to clean up that mess this week by doing two things. First, he fined Arison a heavy $500,000 both as a censure and as a message to Arison's fellow owners who were incensed at his break in decorum by using Twitter to slip a little dirty laundry out the window. Then Stern gave an interview to the New York Times to publicly state that all the owners are really and truly united regardless of any unauthorized commentary on Twitter.
With his standard "I know more than you do so just trust what I have to say is correct and don't try to challenge it because I'll outwit you or simply belittle you" attitude, Stern told the Times that: "(Arison) believes his tweets were taken out of context and understands our concern about them. And he's very much on board with the other 29 owners about the deal that we want."
As for the size of the fine, Stern said it was because "It was more about his timing. We're trying very hard to get a deal done with the players, or we were, and we don't need any external distractions to that focus."
"External distractions" is a mouthful. Does Stern not want to distract NBA players who are currently fighting amongst themselves in the wake of the latest breakdown in talks and perhaps on the verge of splintering? Does Stern not want to distract the media, which has limited ability to report on owner-on-owner disputes because they don't give interviews like players and agents do? Does he not want to distract the fans, to whom he's sold the narrative that the owners are united in presenting a product in which every market has the same chance to win and that they're willing to share money with each other to make such harmony possible?
From a straight business and league-wide public relations standpoint, Arison clearly screwed up last week with those Twitter posts. His business partners were appropriately enraged with it and did not want to let it go unpunished. In some form or fashion, Stern probably told him that exactly as he signed the invoice for the 500 grand.
But lets not let the story get in the way of the truth. In this mess with so much money, so many angles, so many different markets, so many different people, so many perspectives plus a a significant amount of greed, there is no group that's truly united. It's Stern's job to keep sticking fingers in holes in the dam to hold things together long enough to make the deal. It's union executive director Billy Hunter's job to do the same, even if appears he's now resorting to using toes, too.
Arison might not have been afforded context in his 140 characters of rope but he was calling it like it is.