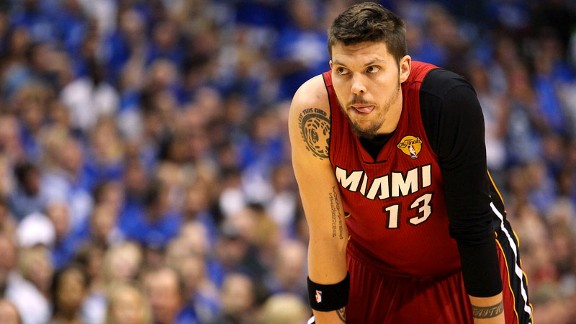 Ronald Martinez/Getty Images
Be careful connecting the dots after Mike Miller recently put his waterfront home on the market.
Mike Miller gave an interview to the South Florida Sun Sentinel this week after he'd put his Palm Beach county mansion on the market just a year into his five-year contract with the Heat. On the face, you could say Miller couldn't really be in a hurry considering he's trying to make about a $3 million profit on the place and, despite it's lovely waterside setting and pool with swim up bar, real estate hasn't recovered that much.
The move is interesting more because Miller seems to be genuinely concerned that he Heat exercise the amnesty provision – the expected clause of a new collective bargaining agreement that would allow the team to cut a player and remove his contract from the salary cap, though the player would still get the money – on him.
"If anything happens with the amnesty, this is just going to be a business decision and I can respect that," Miller told the Sun Sentinel. "Teams will only get one opportunity to use it. I can respect that part of it."
Though the amnesty is sure to be a talking point with fans because it's a transaction and fans love transactions – see trade deadline and draft interest every year – it is not an easy decision for any team. First and foremost because the player still gets the checks. It is nice to have salary cap space and you may no longer see the player on the roster but the owner has to continue to sign the checks. That should be a guiding principle when evaluating all of these amnesty candidates. In Miller's case, he is owed $24 million over the next four years.
It's not as simple as realizing that he's coming off the worst season of his career (5.6 points a game in just 41 games, woeful 36 percent on 3-pointers) and two offseason surgeries on this thumb and shoulder. Heat owner Micky Arison is worth more than $4 billion and his sitting on a massive lump of money from thousands of season ticket holders who've paid in full. Not to mention he didn't have to pay LeBron James, Dwyane Wade and Chris Bosh their July balloon payments. James, sources said, was owed a $12 million check in July as part of his contract that allowed him to get 80 percent of his annual salary up front. That cash is still sitting in the Heat's coffers. Yet the Heat's employees are all swallowing 25 percent paycuts right now because of the lockout. We infer from this exactly what Arison has proven for years: he's a businessman not just a billionaire.
So to assume that waiving Miller and seeing him do anything but play for the Heat – even if he's retired and doing MMA fights like he'd probably like to when his career is through – while getting those checks seems to be highly unsavory for the guy who has to write them. That has to be the subtext of any discussion on the matter.
With that said, the Heat are keeping a very close eye on how the final details of the CBA talks are going. Perhaps the biggest issue is whether teams in the luxury tax will be permitted to use the mid-level exception. The Heat are destined for the luxury tax. It is possible they can avoid it this year, maybe. It might come down to how much they have to give Mario Chalmers. How that rule comes down probably will ultimately determine Miller's long-term future in Miami.
The Heat have already dodged a blow when owners relented from a former position of wanting the mid-level exception abolished. You can count that Arison, who has been as deep in the talks as his peers have allowed him for the past six weeks, was part of the push to bring it back at a reduced $5 million per season. With the bulk of their salary cap tied up in three players and future drafts largely mortgaged, the Heat are going to continue to need the mid-level to compete for titles.
The Celtics and Lakers have been in this position for years now and got themselves difference-making role players like James Posey and Ron Artest (and guys who haven't been difference-making like Steve Blake and Jermaine O'Neal) by dipping into the mid-level. The Heat, with no reliable starting center or point guard and a relatively thin bench, need to do so as well. And probably several times over the next few years.
If there is no mid-level for teams in the luxury tax teams or it is a reduced mid-level – owners recently pitched a 50 percent mid-level for tax teams -- the Heat may have to bite the bullet on Miller and release him with the amnesty clause. Not because they don't think he would really help them, but because they know they may have to keep their options open in the future. Waiving Miller possibly could result in the ability to sign 2-3 players that collectively would make a bigger impact down the line. Especially with players continuing to show a willingness to play for less than market value in Miami.
Depending on where the numbers fall, however, that decision may be a year off. The amnesty clause is expended to have a multi-year window and the Miller just might, with the right management, but able to put it off.
Miller is being realistic as he looks at the Heat's payroll and what his agent tells him about the new rules. But it is also realistic to say no one knows how it is going to play out yet.