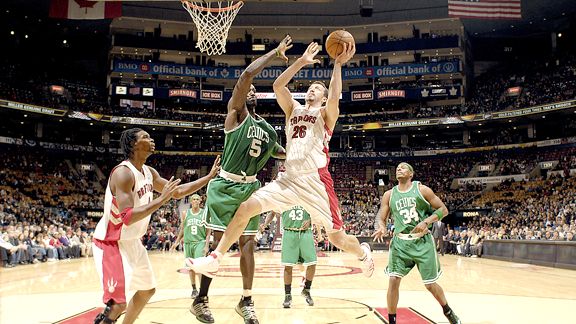 Ron Turenne/NBAE via Getty Images
Chris Bosh and Hedo Turkoglu have the Raptors scoring buckets in bunches.
The hazards of small sample size theater run rampant during the opening weeks of any sports season. Look no further than the efficiency numbers of Paul Davis and Acie Law if you want an idea of how a tiny data set can skew results.
That being the case, it's hard to look at Toronto's top-ranked offense through nine games (113.7 points per 100 possessions) and not conclude that this season's Raptors squad is doing something right.
Raptors head coach Jay Triano cites the number of versatile playmakers as the pivotal factor for that gaudy offensive rating.
"So many of our guys are unselfish," Triano said. "They don't necessarily have to make plays for themselves. They make plays for their teammates."
Though Chris Bosh is unquestionably the Raptors' go-to guy, the team's reliance on mutual playmaking starts with Hedo Turkoglu. While many coaches would prefer to have the prototypically athletic small forward, Triano sees a wing like Turkoglu as the fulcrum of an offense predicated more on faciliation than on one-on-one slashing.
...Not that we should discount the prominence of one-on-one play in the Raptors' offense. Bosh has been destroying opposing big men, both in the post and off the dribble. But that dramatic improvement isn't merely the byproduct of adding off-season muscle or, dare we suggest, being in a contract year.
"When you have a guy who's 6-10, can dribble and create, it helps a lot," Bosh said. "[Turkoglu] is very unselfish. He has a knack for passing and finding me in good spots."
The Raptors' bigs have been running a dizzying array of pick-and-rolls that has been nearly impossible to defend. Turkoglu's exploits as the ball-handler in these situations are well-known to anyone who tuned into the 2009 postseason. Pairing him with forward-center Andrea Bargnani on a pick-and-pop is treacherous for the defense, because Bargnani has unlimited range along the perimeter. If you trap Turkoglu, a defender has to rotate onto Bargnani from the weak side. You can forget about sliding a defender up from the post, because Turkoglu is more than happy to find Bosh down on the block, where he's been lethal. Then there's the Turkoglu/Bosh pick-and-roll -- the kind of set that keeps defensive assistants up at night.
If this overall scheme sounds a bit familiar, that's because we've seen it before.
"It's really kind of similar to Orlando," Turkoglu said. "It's a little different because Bosh and Dwight [Howard] play different, and Andrea is bigger than Rashard, but we're getting the same kind of good offense."
It's not just the big men that enable Triano to execute his offensive plan.
"Jose [Calderon] shares the ball extremely well," Triano said. "Then when [Marco] Belinelli comes in, he does the same thing. So does Jarrett Jack."
Triano's second-favorite five-man unit includes both Calderon and Jack (both point guards), along with Turkoglu (who can be fairly characterized as a point forward). The offensive rating of that unit?
128.2 points per 100 possessions.
But herein lies the problem for the 5-4 Raptors. That same unit, offensive juggernaut that is, allows 136.8 points per 100 possessions. That's 2005-06 Seattle Supersonics bad.
After answering a question about his team's offensive prowess during his pre-game media availability Friday night in Los Angeles, Triano was then asked about his team's defensive struggles.
His tongue-in-cheek response? A repetition of his previous answer:
"We have a lot of guys who can make plays for one another," Triano joked.
Everyone had a good chuckle, but the Raps' defensive woes are no laughing matter.
"They're reading and reacting [on defense] rather than it becoming instinctive," Triano explained. "We're just a step slow right now. We've got guys holding inside a little bit and not spreading out of coverages. But it's a work in progress."
The Raptors currently rank 29th in defensive efficiency. Average those offensive and defensive ratings out and you've got a .500 ball club. But if Toronto can take a page from the old Phoenix Suns playbook and scoot that ranking up to the middle of the pack, they're likely to be a very interesting team after the All-Star break.