For fans of the Minnesota Timberwolves, exporting Kevin Garnett to Boston in 2007 came with one big consolation -- the acquisition of one the game's best young post players, Al Jefferson.
Big Al emerged as the low-block counterpoint to Paul Pierce on Boston's bad 2006-07 team. When the opportunity surfaced for Danny Ainge to acquire Garnett and Ray Allen, Jefferson was the Celtics' only real long-term asset, and away he went.
Jefferson's post game was uncommonly refined for a 22 year old. Watch some video of the Celtics late in the 2006-07 season and you'll see an aggressive big man who burled to the left side of the rim on almost every possession, then emphatically called for the ball by raising his right hand. When he collected the entry pass on the block, Jefferson would reach into his tool shed of post moves -- a deceptive up-fake to buy himself space for his hook, a drop step that gave him the deed to the baseline, among others.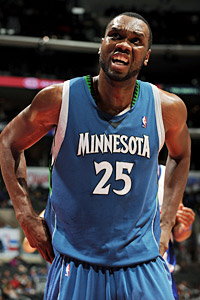 Andrew D. Bernstein/NBAE/Getty Images
Al Jefferson: Fun deficiency.
Most of all, the young Jefferson displayed poise. Fans whose teams revolve around the maturation of a young big man know that queasy feeling of watching a raw center grope around the low block. The specter of a fumble, travel, or awkward tightrope act on the baseline always lurks in the imagination. But the youthful Jefferson, at his very best, displayed sheer confidence down low and proceeded with purpose almost every time he touched the ball.
With the swirling narratives about what Minnesota is going to do at the point guard position, it's easy to forget that whomever the organization ultimately gives the rock to, that guy's primary responsibility is to get Al Jefferson the ball where he wants it. Hasn't that been the plan all along?
Even without a premium point guard, Jefferson established himself last season as a beast before going down with a tear of the ACL. His Player Efficiency Rating topped 23. He averaged 23 and 11 -- all with a minuscule turnover rate.
Whenever a player comes back from a devastating injury, whispers about the extent of his recovery can be heard from all quarters. Is Jefferson the same player that compiled those gaudy numbers last season? Has the strength of that right knee -- the one that sweeps toward the basket with brutal efficiency -- been fully restored? If not, how do the Wolves refashion themselves offensively?
These are all very tough questions. If you watched Jefferson last night against the Clippers, you saw a player who hasn't restored his game to its peak level. That's natural, and given that Minnesota is squarely in rebuilding mode, not a huge concern at the present moment. But you also saw a player drowning in frustration.
That sense of purpose which has always guided Jefferson when he has the ball down on the block? It wasn't there Monday night. Jefferson turned the ball over eight times -- five of those traveling violations. Faced up against Marcus Camby or Chris Kaman down on the left block, Jefferson preceded his patented up-fake with an extra step, sometimes in anticipation of a pending double-team, sometimes out of sheer impatience.
Whether it's because he's feeling undue pressure to carry his impoverished team or because he feels hindered by his not being at 100 percent, Jefferson's body language stood in stark contrast to those hungry calls for the ball we witness when he's healthy. When Jefferson is well and fully confident, it's as if he can't wait for the next touch, can't wait for the next opportunity to deke his defender, or simply overpower him.
But last night, Jefferson's work in the post seemed like that -- work. And to the observer, Al Jefferson doesn't look like he's enjoying his job very much.