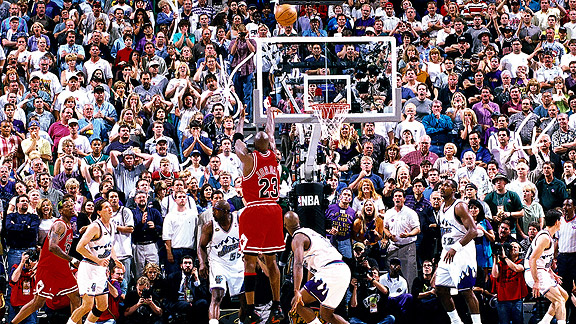 Fernando Medina/NBAE/Getty Images
Michael Jordan has already been called out of retirement once to show Bryon Russell who's boss.
By Henry Abbott
I was in Chicago in 1994 ... and at this time I had no thoughts of coming back and playing the game of basketball. Bryon Russell came over to me and said, "Why'd you quit? You know I could guard you. If I ever see you in a pair of shorts ..."
When I did come back in 1995 and we played Utah in '96, I'm at the center circle and Bryon Russell is standing next to me. I said, "You remember the [comments] you made in 1994 about, 'I think I can guard you, I can shut you down, I would love to play against you? Well, you're about to get your chance.'"
-- Michael Jordan, in his 2009 Hall of Fame induction speech
In September, when Bryon Russell heard Michael Jordan's say these words, first he nodded. "It happened just like he said it. Karl [Malone], [John] Stockton were there. We was at the gym working out," says Russell. "I was a big fan, obviously. And I walked over there and spoke those words to him. He laughed. Stockton laughed. Karl laughed. That's what got the ball rolling and got him back into basketball."
Russell was not offended. "I just thought it was him talking about the people that motivated him," he explains. "I wouldn't have done it that way, but that's Michael Jordan. When he said my name in his Hall of Fame speech, my thought was oh yeah. We've got to bring back '98. It's just going to be a one-on-one. I know I can whup his ass now. He doesn't have no referees, or Scottie [Pippen], or [Toni] Kukoc or Dennis Rodman ... it'll just be me and him."
Brandt Andersen, on the other hand, who owns the D-League's Utah Flash was offended by Jordan's remarks. "When I saw that speech ... I thought: Man. This just is not right for the people of Utah. I've got to get something out there that lets Jordan put his money where his mouth is. I don't know Michael Jordan, but that speech, to me, was unbelievable. To do what he did, in my opinion -- even though I'm glad for B-Russ that he mentioned him in his speech -- I just thought it wasn't gracious. I just thought it was so disrespectful."
That's why this coming Monday, at half-time of the Utah Flash's home opener against the Dakota Wizards, Andersen will be ready with a check for $100,000 to present to a charity selected by whoever wins a Russell-Jordan one-on-one matchup.
Russell swears he'll be there, expecting to win. What's less clear, is whether or not Jordan will show.
Andersen has handled the negotiations and isn't counting it out: "We've had some conversations, and I think there's a good possibility that he's going to be here. He'll say no he's not. If you ask him straight on he'll say no he won't. If you ask his people they'll say no he won't. You know what, I've probably said too much. But I think there's a good chance he might be here. Let's leave it at that."
If goading will motivate Jordan, and history suggests it might, Russell is more than ready to do his part, saying, for instance:
"I'll get to do things that I didn't get to do in Utah. I play one-on-one. I'm a good one-on-one player. That's what I was known for. But I can also play in a system and that's what I did in Utah. Post-up. Turnaround jumpshot. You already know I'm going to hit the 3 in his face, that's nothing new."

"I'm a defender. I can defend him anyway. We ain't going to have some little referee from the NBA. No. We're going to have somebody that's going to be fair on the whistle. Guarding him will be easy! I've done it before. People always say Michael Jordan gave you 40 in the Finals. No. Michael Jordan probably didn't give me more than eight of that 40. People gotta really understand. Go watch the film. See how many times Mike scored on Bryon Russell. I could put all that to rest. Mike killed me? No, Mike didn't. Mike got D'd up."

"I wouldn't want to play him until he's in great shape. I don't want the Michael Jordan that's got a cigar in his mouth and has put on weight. I want the Michael Jordan that's about 225. And we'll go hard in the paint. We'll put paint where it ain't."

"I hope he's preparing for what's going to happen, because I'm definitely going to call his ass out. I will be there. I'm definitely going to call him out at the halftime of the game. We'll see where he's at."

"This is something I would pay $20 to watch. We'll play something like 4 five-minute quarters. Running clock. A little halftime with a halftime show. Could have a 24 or 15-second shot clock. See what kind of work he can do in 15 seconds. 'Cause I don't plan on messing around. I'm going straight at him."
When they played previously, Russell says, Jordan got special treatment from the referees. For instance, video suggests that Jordan cleared space for his famous 1998 title-winning shot pictured above by shoving Russell in the backside. "Referees?" asks Russell? "It was Jordan rules. Nobody was going to call that. If we had different referees ... they all would have let that go. Unless they wasn't a Michael Jordan fan. And if you wasn't a Michael Jordan fan in that era, you didn't love basketball."
Despite Russell and Andersen's readiness and optimism, there are signs the game may not take place on Monday.
Asked about his conditioning for a contest scheduled in a few days' time, Russell replied: "When he's ready for me, I'll be in great shape."
Later he added: "The game doesn't have to take place right away. But this could get the ball rolling. I've got a lot of charities that I'd love to make donations to."
Andersen admits Monday could prove to be a step toward arranging a later showdown: "If for some reason [Jordan] comes but doesn't come to play ... it could be the beginning of something. Either way it's going to be very entertaining."
What's more, some of the contest's details remain yet to be determined. For instance, who will referee? Russell said he "would rather pick somebody from the NBA. Somebody that played."
"You want to make Charles Oakley the referee?" asked Andersen.
"Oh hell no! That's his boy," Russell replied. "None of that. I was thinking more like Larry Bird. Somebody that really doesn't give a s--- about Mike. Someone who'll just call a fair game. Larry or Magic [Johnson] or one of those guys who alienated him! Could even get Dr. J."
Somewhere around there the whole thing starts to get just a whiff of, say, professional wrestling. Or -- as it actually is -- halftime entertainment. Is this taking one of basketball's sacred memories and turning it into something of a circus sideshow?
Russell has no such concerns. "I wasn't the one who thought this out," he says. "He called me out. I'm just going along with what he started. ... You've got the best player that ever played the game. And you've got the person that he hit his last famous shot over. I don't think it'll be a circus. I think it'll be something that people want to see. I think me and him are going to put on a great show. People will get a great feeling out of this. I know all of Los Angeles wants to see this. All of Utah wants to see this. And I'm pretty sure all of Chicago and everybody else wants to see this. This could be bigger than the O.J. trial."