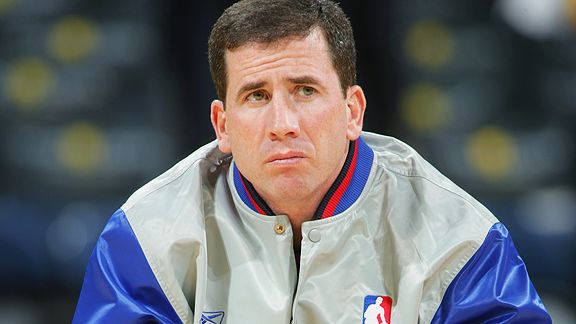 Rocky Widner/NBAE/Getty Images
Tim Donaghy, disgraced former NBA referee, speaks.
Tim Donaghy's book "Personal Foul" is a page-turner.
At the heart of the book is a gripping and sad first-hand account of a gambling addiction tearing apart a family, a career and a reputation. To the detriment of his wife, children, job, the legacy of his father and all sense, Tim Donaghy tells of growing increasingly obsessed with the highs of winning. Table games at casinos, poker games with friends, golf games, horse races, football, basketball -- he says he bet on all of it to such an extreme that the mob, the FBI, the NBA and federal prosecutors got involved. Donaghy now joins Shoeless Joe Jackson, Ben Johnson, Pete Rose and the like in the pantheon of sports infamy.
"Personal Foul" is hardly all gambling addiction, though. Anecdotes include Charles Barkley dumping a container full of Gatorade on Donaghy in the referee's locker room; Donaghy sneaking away from the media surrounding his house in a daring nighttime golf cart raid, and the story of the prisoner who almost literally "broke his kneecaps," perhaps on behalf of the mob.
The book's primary mission, however, is to promote the theory that the NBA's independent investigation by attorney Lawrence Pedowitz, the FBI and the U.S. Attorney's office have been unable to disprove Donaghy's claim that he didn't fix games, because he didn't have to.
According to Donaghy, so many referees and league officials have axes to grind with various players, coaches or owners that insider knowledge can lead to an unheard of rate of sports gambling success.
Donaghy writes that he started betting on the NBA with his friend in November 2003. They kept their bets small -- typically $2,000 per game, but won big cash: "I'm stuffing it everywhere," he says in an interview. "Suitcoat pocket, card games, golf games, luxury items for the wife and kids." Donaghy estimates he made roughly $100,000 betting on the NBA.
Seventy to eighty percent of his picks -- a rate unheard of in professional gambling -- paid off. His secret? Knowing things like which referees hated which players, coaches, or owners. (Later, according to Donaghy, federal documents, and several other accounts, Donaghy instead provided his picks to James Battista, whose involvement with the Gambino crime family led to the wiretap that ensnared Donaghy.) The U.S. Attorneys wrote in a letter to the presiding judge that Donaghy won between $10,000 and $30,000 a year betting on the NBA.
Before the mob was involved, when Donaghy was betting, he says, $2,000 or thereabouts on NBA games, the wins came easy, and so did the money. "It's euphoria. I'm making picks. I'm the go-to guy. And I'm continually winning at an unbelievable rate."
Donaghy says his picks were once correct an amazing 15 out of 16 times. That streak, he says, "scared the living daylights out of us, and almost made us think we should stop, because we were scared that we were going to be detected."
Donaghy writes:
So that's how I did it. I listened to the directives from the NBA office, I considered the vendettas and grudges referees had against certain players or coaches, and I focused in on the special relationships that routinely influenced the action on the court. Throw in some quirks and predictable tendencies of veteran referees and the recipe was complete. All I had to do was call it in and let the law of averages take over. During the regular season, I was right on the money seven out of 10 times. There was even a streak when I simply couldn't miss, picking 15 winners out of 16 games. No one on the planet could be that lucky. Of course, luck had little to do with it.
Basically, Donaghy is saying that whether or not a certain team beats the spread in a certain game depends on a lot more than the performance of the players on the court. He is an NBA insider, insisting that NBA games do not unfold on a level playing field. That stokes the fires of fans who say NBA refereeing is not on the up and up.
Although the NBA itself has consistently painted Donaghy as lacking all credibility, people with intimate knowledge of the game found his book to be loaded with claims that sounded believable.
"This," says one current NBA executive, after reading the book, "is not going to be good. This goes way beyond one guy with a grudge. Some of the things in this book, I can remember them! And then I look back at a lot of other things I have seen, and I have to wonder. I'm scared this book will change forever how I see the game."
The scuttlebutt on press row since the book came out has also included plenty of open-mindedness to Donaghy's version of events. NBA writers, editors, bloggers and the like have been repeating, for instance, that Steve Javie had it in for Allen Iverson, or that Dick Bavetta likes to keep games close.
The assertion that NBA referees are not honest brokers has profound resonance. Has David Stern ever had a more difficult task than restoring the league's credibility after the Donaghy news first broke? These new allegations are in many ways worse. Donaghy's book names names, with specific, far-reaching claims that go a long way to painting the sport as illegitimate.
In short, this book tells the story of every NBA fan's worst nightmare.
But are the claims in Donaghy's book true?
"Personal Foul" has dozens of interesting claims. A good portion of these claims are nearly impossible to verify. But there are some exceptions.
For instance, Donaghy declares Charles Barkley, as a player, stalked into the referees' locker room looking for Donaghy after an on-court dispute between the two in a Clippers vs. Rockets game.
Barkley, says Donaghy, then dumped a massive bucket of Gatorade and ice over the referee.
In a text message to ESPN's Mark Schwarz, Barkley insists he has no recollection of any such thing, yet Donaghy was as indignant as ever.
"The two refs in the locker room know it happened. I know it happened. For Charles Barkley to lie like that is troublesome to me. Maybe we both need to sit down and take a lie detector test, and maybe the loser needs to give $500,000 to charity. And I'd like to see what his response would be to that."
In another part of the book, Donaghy claims that as a young referee he called a travel on Michael Jordan. In the ensuing conversation, Donaghy writes, then-Bulls coach Phil Jackson pointed at Jordan and said "they don't want that called on him."
Shown that passage by ESPN's J.A. Adande, Jackson responded: "I never said that."
Donaghy, however, insists that he did, and added: "It's probably on video somewhere." Asked why Phil Jackson -- whom Donaghy quotes in his book as a league personality willing to talk frankly about issues with refereeing -- would deny saying such a thing, Donaghy suggests that the conversation took place a long time ago, and Jackson may have forgotten.
Another anecdote is about three referees each calling palming on Allen Iverson in the first quarter of a particular game. In fact, if you look at the play-by-play of that game, Iverson had just two such calls. Donaghy says that he thought he remembered three calls, but was unable to confirm all three because the NBA wouldn't let him keep the tape of the game.
But some of the book's central claims -- those about how Donaghy was so successful gambling on the NBA -- are, with a lot of work, researchable. For instance:
Dick Bavetta and big spreads
"From my earliest involvement with [referee Dick] Bavetta, I learned that he likes to keep games close."
Donaghy asserts there was easy money to be made counting on Bavetta to use his whistle to help a team that is trailing.
For a gambler, this strategy would be dicey in games expected to be close. The time to bust this one out is by betting on underdogs when there's a big point-spread. Donaghy says he felt confident that big underdogs would beat the spread if Bavetta was one of the three referees.
It's not hard to find examples when Donaghy was wrong. Bavetta has refereed plenty of blowouts. In January 2004, for instance, the Kings were seven-point favorites over the Suns, but won by 20. The next month, the Rockets were nine-point favorites over the Hawks, and won by 21. In January 2005, the Suns were favored by eight and won by 18. That same year, the Bulls won a Bavetta game by 40 when they were favored by nine, and the Pistons laid a 25-point beating on the Bobcats when they were favored to win by seven. A few months later, the Pistons, favored by seven, beat the Pacers by 25.
Of course, a few losses does not a bad betting strategy make. When you look at all Bavetta games from the period in question, is Donaghy right? Did Dick Bavetta keep games close during the period when Donaghy was betting? Kevin Arnovitz digs in deep with economist Joe Price, whose massive NBA database has no support for Donaghy's claim.
Steve Javie vs. Allen Iverson
Donaghy claims referee Steve Javie does not like NBA star Allen Iverson, and that betting against Iverson's teams in Javie-refereed games was good strategy.
"If Javie was on the court when Iverson was playing," writes Donaghy, "I would usually bet on the other team to win or at least cover the spread. No matter how many times Iverson hit the floor, he rarely saw the foul line."
One can dig into each and every game -- Javie refereed Iverson just 14 times while Donaghy was betting. And you know what? Iverson's teams did just about average, compared to the betting line. On November 26, 2003, when the Pistons were in Philadelphia, the Sixers were favored by one point, but won by four. So, Donaghy's rule would have lost you money that night. Javie was on the court when Iverson's Sixers played in Seattle on December 28, 2004. The Sonics were eight point favorites, but won by just seven. If he had followed his own advice, Donaghy would have lost money that night. Javie refereed when Iverson's Sixers killed the Nets, 116-96, on April 12, 2006.
All together, in the period in question, Iverson's teams beat the spread six times, and failed to beat it seven times when Javie was refereeing. Once, there was a "push" (in 2005, when the Spurs were nine point favorites, and beat the Sixers 100-91).
Win or lose, gamblers typically pay a 10 percent vig. Basically, to win $100, you have to bet $110. If someone had bet $110 on Iverson's opponents to beat the spread in each of the 14 Javie games, they would have won $700, lost $660, (and had no money change hands on the "push" game). Do the math there, and you'll see that this betting strategy would have left you with a measly $40 profit, on $1540 gambled.
You'd have to bet a ton of money to get rich that way. Of course, it's possible that Donaghy only bet some of these games, and happened on a winning streak. But the rule he describes in his book is no way to beat your bookie. And it's not true that following this rule would make you a long-term winner.
Most importantly for those who like to believe that the NBA is a pretty fair game, there's no evidence to support the notion that Allen Iverson had it particularly bad in Javie games. The specifics of which referee made which call are not available -- only the NBA has that -- but the idea that Iverson would shoot fewer free throws in games Javie referees is simply not true. Iverson averaged 8.5 free throws per 36 minutes played in those 14 Javie games, compared to 7.9 per 36 minutes played over his entire career. (A note about that statistic: TrueHoop reader Bobby points out that these were peak years for Iverson, and using his career stats might be unfair. He's right: A follow-up analysis reveals that during the four seasons in question, Iverson averaged 8.7 points per 36 minutes, meaning his rate in Javie games was a tiny percentage less than normal for that time. Nevertheless, there's still nothing to suggest betting against Iverson's teams in Javie games would help you achieve anything close to 7 out of 10 winners, nor that Javie was significantly influencing Iverson's free throw rate as Donaghy suggests. You can assess the boxscores for the 14 games Javie reffed while Donaghy says he was betting (11/26/2003 Pistons at Sixers , 2/3/2004 Raptors at Sixers , 12/28/2004 Sixers at SuperSonics , 1/12/2005 Sixers at Bulls , 2/4/2005 Hawks at Sixers, 3/2/2005 Nets at Sixers, 4/1/2005 Mavericks at Sixers, 12/3/2005 Sixers at Spurs, 12/14/2005 Hawks at Sixers, 1/16/2006 Sixers at Wizards, 3/31/2006 Sixers at Knicks, 4/12/2006 Sixers at Nets, 3/30/2007 Nuggets at Suns, 4/16/2007 Timberwolves at Nuggets).
Wayne Winston is a professor at Indiana University's Kelley School of Business, the author of the book "Mathletics" which explains intricate methods of using math to assess sports, including referee bias. In the nine years he worked for the Dallas Mavericks, Winston built a sophisticated database of NBA game information. Winston used his own methods to check into Donaghy's claim about Javie and Iverson. He looked into how Iverson's Sixers teams performed compared to expectations when Javie refereed, and similarly found nothing to confirm Donaghy's assertion. "I computed forecasts based on Sagarin ratings for each game Javie officiated against the 76ers from 2002-2006," he reports, "and found zero evidence that Javie unfavorably impacted 76ers performance in those games."
Joe Crawford and Allen Iverson
"Referee Joe Crawford had a grandson who idolized Iverson," writes Donaghy. "I once saw Crawford bring the boy out of the stands and onto the floor during warm-ups to meet the superstar. Iverson and Crawford's grandson were standing there, shaking hands, smiling, talking about all kinds of things. If Joe Crawford was on the court, I was pretty sure Iverson's team would win or at least cover the spread."
In the relevant period Iverson's teams -- the Sixers from 2003 into 2006, then the Nuggets -- were refereed by Crawford 14 times. They only beat the spread five times, and failed nine times.
The games in question are 11/5/2003 Hornets at Sixers, 2/5/2004 Lakers at Sixers, 1/22/2005 Sixers at Magic, 2/11/2005 Sixers at Raptors, 3/1/2005 Sixers at Bucks, 11/11/2005 Lakers at Sixers, 11/26/2005 Sixers at Knicks, 12/12/2005 Timberwolves at Sixers, 2/8/2006 Sixers at Bobcats, 3/9/2006 Nuggets at Sixers, 4/8/2006 Sixers at Bulls, 11/17/2006 Sixers at Suns, 2/20/2007 Nuggets at Spurs, and 4/9/2007 Lakers at Nuggets.
Betting against Iverson's team in Crawford games would have been lucrative. But Donaghy recommended betting for Iverson's team to beat the spread in these games. Let's pretend Donaghy bet $110 on Iverson's team to beat the spread in every Crawford game. Donaghy would have paid $990 for the nine losers, and won $500 on the winners, meaning he would have lost $490.
Of course, you'd be far better off just picking winners at random.
For what it's worth, there's little evidence Iverson was getting any favors in these games, as his free throw rate in Crawford games was 7.9 per 36 minutes -- the same as his career average.
Joe Forte and Mike Fratello
Donaghy writes that Fratello and Forte are close friends, and that Forte dines free at Fratello's restaurant in Atlanta, where he once even brought Donaghy as a guest.
Donaghy never says that he actually made money betting on this relationship, but Donaghy does say he once bet on a Fratello-coached Memphis team (he later switched the bet, based on a tip about injuries to the Wizards).
But what about a referee and a coach being friends? Isn't that the kind of thing that turns your stomach as a fan? Did Fratello's Grizzlies tend to do well when Forte was on the floor, as Donaghy implies?
Hardly.
Forte refereed 13 games while Fratello was coaching the Grizzlies (all fall during the period when Donaghy was betting). They beat the spread in just six of those 13 games, falling short seven times. According to BYU economist Joe Price's database, when you factor in the final scoring margin in those games -- a more refined measure of a team's performance -- Fratello's Grizzlies did not happen to do well in those 13 games.
Donaghy's retort
Confronted with all of that data at a Tampa hotel on Monday morning, Donaghy had no explanation, other than to say that his betting techniques were more subtle than simply betting on these rules, and that he did not bet on every game that met the description.
"These are some of the criteria that I used," Donaghy says. "I'm not saying I bet every game. ... You can spin the stats any way you want ... The FBI investigated thoroughly. ... To sit here and say there was a science to how I did this, with the stats you're throwing at me. ... Based on the information you're using, with your equation, it's not even in the same ballpark. There were other factors that came into play. Inside information about injuries. Home game or away game. Home crowd. Many more factors to take into consideration."
"I'm claiming that I picked 15 out of 16, and I'm also claiming that all the facts in this book are true, and it's what I used to pick games."
Again and again during the interview, Donaghy relied on the FBI to buttress his credibility.
"The FBI and the NBA did a thorough investigation," he says, "and they both concluded that I did not fix games in the NBA."
The truth is far less emphatic. U.S. Attorney Benton J. Campbell wrote, in a letter to the presiding judge, that "there is no evidence that Donaghy ever intentionally made a particular ruling during a game in order to increase the likelihood that his gambling pick would be correct." The letter adds that Donaghy has acknowledged that his gambling may have subconsciously influenced his work.
The NBA's investigation concluded, essentially, that Donaghy might not have rigged games. "It seems plausible to us that Donaghy may not have manipulated games," but admits that they have no thorough way to check. "Given the information currently in our possession, we and the League's experts are unable to contradict the government's conclusion that '[t]here is no evidence that Donaghy ever intentionally made a particular ruling during a game in order to increase the likelihood that his gambling pick would be correct.' ... Donaghy officiated close to 300 games in this period. Without knowing on which games or teams he wagered and without access to Donaghy's explanation for his calls, we believe that it would be impossible to find that the government's conclusion that he did not manipulate games is erroneous.
Meanwhile, Donaghy points to the foreword of his book, penned by former FBI agent Phil Scala. The foreword goes to some trouble to lend credence to Donaghy, but specifically does not say he did not fix games, saying the FBI's interest was the Gambino crime family, and they left employment issues and the like to others.
Did Tim Donaghy fix games? His book is emphatic that he did not, but while it has provided many claims to that effect, it has not yet delivered evidence.