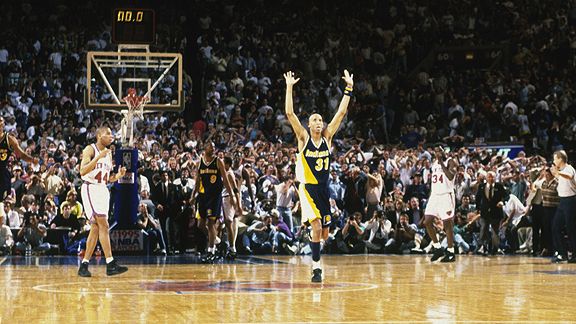 George Kalinsky
The best trash talker of all time tells his secrets.
By Henry Abbott
The outcome was set in stone. As soon as they got Reggie Miller under the lights and let him do his thing, nothing else mattered.
That was sometimes the case for the Indiana Pacers. But it was entirely the case for Dan Klores and the makers of the documentary "Winning Time," which chronicles the verbal, emotional, physical and basketball battles between Reggie Miller's Pacers and the New York Knicks.
It'll be on ESPN in March (part of the 30 for 30 documentary series), and at the Sundance Film Festival in January.
Whenever you see it, you'll be swept off your feet. When Reggie Miller is explaining the power of trash talk, it's hypnotic.
I went in with two concerns. First of all, I had been working non-stop on Tim Donaghy stuff, and was consumed with spreadsheets, referee statistics, and cold hard analysis. Comedy was the last thing on my mind. What's more, having lived in New York through this entire episode, I expected what I remembered: Bitterness. New York in the 1990s did not have a sense of humor about basketball. Reggie Miller was reviled. The Knicks were -- despite their one foray to the Finals at the end of the decade -- seen as a great gritty tragedy, stretched out over a decade or more. (As Jeff Van Gundy says in the movie, Pat Riley wasn't Hollywood. The real Pat Riley, the one that coached the Knicks, is all Schenectady.)
But Klores plays this tale as high comedy, set to opera. And it's delightful, thanks in no small part to Miller himself, plopped on the couch in some high-end hotel suite somewhere, spinning yarns for Klores' camera. He's infuriating, hilarious, crafty and more than anything really fun to watch. Among the tales:
If Miller was too eager, in life, to make himself the center of attention, his big sister Cheryl is the reason. She was older and better at basketball until adulthood. Reggie Miller might be the only NBA All-Star who not only couldn't win adulation against his sister in his own driveway, but could barely get a shot off. She beat him up physically and emotionally. He's a legend now, but even in high school he could not get out of her shadow even for a night. He tells the story of the night he had his best high school game. He scored 40 something, and his team won. His dad and sister gave him a ride home, and asked how things went. He bragged a little. They were just grinning. Reggie was confused. What? Why weren't they saying anything? What were they holding back? Did she score 60 or something? Turned out she had scored 105 that night. If had hair left to tear out, he would have done so in the re-telling, when he declared "you can't win!" growing up in a house like that.

Cheryl Miller could not be more clear that part of the reason she loved to stick it to her brother Reggie was because he was unbelievably annoying. Reggie Miller is equally clear that he treasures getting under peoples' skin, for sport. (This would later prove to be bad for John Starks, who was, from Miller's point of view, unbelievably susceptible.)

Donnie Walsh infuriated Indiana fans by drafting Miller over Steve Alford. You have to admire both Walsh and Miller for handling that well. It's one of two moments with the suggestion of racial tensions in Indiana. The other is when Spike Lee says that Game 6 of a playoff series, in Indiana, was "like a klan rally." Extraordinary though that claim may seem, the camera -- in this comedy's one true moment of tragedy -- indeed catches some of that sentiment.

One of the movie's great quotes comes from Starks, who missed huge free throws just after Miller scored his legendary eight points in nine seconds. Starks says the thing running through his head was not about the free throws he was shooting, but about Miller. "Man," he remembers thinking, "did this dude just did this?" That's how you get in someone's head.

As a basketball fan, I never understood the role of Spike Lee. Wasn't he just a sideshow? Did he matter to basketball at all? Why should we care? But this movie makes it delightfully clear. Miller was making Shakespeare proud with a masterful bit of storytelling, casting himself in the role of villain. And whether it was the media, life, the dictates of storytelling or something else ... Miller required a counterpart. The Knicks themselves were too serious (or too Schenectady). But Lee was ready to perform. And he did a beautiful job of backing up Miller. Yes, he really is a villain, Lee demonstrated -- even though Lee and Miller both knew it was mostly just performance.
"Winning Time" is a tightly woven 68 minutes. There are clever transitions from video, to still photographs of the same exact moment and posture. The interviews are so strong, and so numerous, that there's isn't any voiceover -- none is required. Instead there is powerful music, and testimony of dozens of people who lived those moments, from Patrick Ewing and John Starks to Donnie Walsh and Mark Jackson. (One of the showier moments is when countless on-camera sources, all in a row, say the phrase "presence of mind," one after another like machine gun fire, in telling the story of Miller's stepping back behind the 3-point line after getting the steal that made him famous in New York. You know how many interviews you have to do about one subject to get that many people to use the same exact phrase?)
The storytelling exposes the fun that is the fountation of Reggie Miller's most famous work. The final proof for me came when Klores showed us video of Michael Jordan and Reggie Miller trying to gouge each others' eyes out. On YouTube it's crass and regrettable. In "Winning Time" it's super slow motion, set to opera, with Spike Lee telling us that when he saw Miller get under Jordan's skin, he knew that Miller had to be the best trash-talker ever.
So true. Everybody in the room laughed.