One of the simple ways of experiencing basketball is by talking about it with people who share your love of the game. One of the people I enjoy rapping with is John Krolik of Cavs the Blog and SLAM Online. The best conversations are the ones that produce interesting questions, then aim to answer them. Here are some of those questions about the NBA John and I have been bouncing around in our last couple of conversations: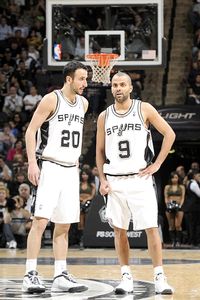 D. Clarke Evans/NBAE/Getty Images
Combo Plate: A ball-handling scorer ... and a scoring ball-handler.
As guys get freakier and more athletic, are we witnessing an end to positional orthodoxy?
JK: We're definitely seeing a lot of blurring in positional lines, particularly outside of the center position. One thing in particular I like is the rise of the true combo guard. Early in the decade, we got a lot of alleged "combo guards" who were really just superpowered bench gunners given control of teams with mixed results; Stephon Marbury, Steve Francis, et cetera. (Iverson is Iverson.)
But now we're really starting to see effective players who are a cross between the one and the two in a good way, and they're being complimented with other multi-skilled guards rather than going with a strict point guard/shooting guard backcourt. In San Antonio, they put Tony Parker, who's a great scorer for a point, next to Manu, who's a great playmaker for a shooting guard, and things went well. The double-combo backcourt of Mo Williams and Delonte West turned Cleveland's backcourt from a disaster area to a huge strength last season. Even Jason Kidd, the truest of points, is playing with JET and JJ Barea, and has even become adept at knocking down catch-and-shoot 3s off of other people's assists. Phil Jackson's won only 10 championships using an offense that doesn't require a traditional point. And so many young combo guards are coming in with tons of talent: Tyreke Evans, Russell Westbrook, Brandon Jennings and even John Wall, who should definitely be put next to a guy who can pass and shoot when he comes into the league so that he can spend some time in each game going on guilt-free scoring rampages. Wall might be the combo-guard messiah.
KA: This is a beautiful trend because it's created a much more diverse range of basketball styles. Very few teams around the league look alike, even though many of them run much of the same stuff. The fact that so many players can do so many different things on the floor creates an exponentially greater number of things a team can do schematically. On many teams, shots on the floor can be drawn up for almost any player at any spot! Part of this can be attributed to athleticism. One the things that made a power forward or a center a big men was his ability to perform big men tasks -- rebounding, shot-blocking, the ability to routinely get high-percentage shots close to the rim. Today's NBA perimeter players have the athleticism to do a lot of that -- and many of the bigger guys in the league have perimeter skills, as well.
This seems like a nice segue to ...
Do traditional big men have a future?
KA: Whether you chalk it up to the prohibition of hand-checking or the stylings of Mike D'Antoni's Phoenix Suns teams (I'd argue that former rendered the latter), the professional game has undergone a seismic shift over the past decade. Perimeter play has taken over. Today's power forwards have big guard games and two of the top three players in 3-point attempts are 6-foot-10. It's a world gone mad, but you can't complain about the product on the court. The NBA has never been more fun to watch, and we're just getting started...
...or are we?
Trends have a way of feeling permanent while they're being experienced, but they rarely last forever. At some point, laws of macroeconomics take over. Right now, there aren't more than a handful of big men in basketball who have refined post moves and can drain a running right-handed hook with consistency. Teams don't value those attributes as much as speed and 3-point shooting. But as more and more players have the ability to drain 100-200 3-pointers per season at a 40 percent clip, the demand will shift. Kids who arrive on the NBA's doorstep with the ability to dominate the game inside with uncanny efficiency will be shopping skills that few teams will be able to defend.
JK: I'd say the hand-check rules imposed an artificial set of circumstances that forced a change, so I don't think we'll see the pendulum swing all the way back to where it was. But I think guys are finding out that even though big men need to be faster and more skilled than they used to be and can't count on getting minutes just because they can score with their backs to the basket and do nothing else (i.e. Eddy Curry), the post-up game is still a valuable weapon. Look at the Lakers. Andrew Bynum, when he's engaged, defends the rim, gets rebounds and is quick enough to find room and finish off of others, but also posts up. Pau Gasol plays the high-post, runs the floor, gets rebounds, passes beautifully and can knock down the mid-range jumper, but also has a wonderful post game. And of course Kobe can and does do just about anything that's possible for a basketball player to do, but also utilizes the post game.
I'd say that the post-up specialist won't be in vogue again in the foreseeable future, but more and more bigs and wings who can do what's demanded of them in the post hand-check NBA are going to find that the actual post game is still a hugely valuable weapon, especially as fewer and fewer teams know how to defend it.
Of the current young up-and-coming teams, which ones are for real and which ones will provide an entertaining illusion of success?
KA: When sizing up a team's future prospects, the first thing I ask myself is, "Can I imagine this team ranking in the top half of the league defensively?"
Oklahoma City is the quintessential upstart squad. They're fun, charismatic, dynamic, athletic ... and not all that impressive as an offensive unit. It's the Thunder's defense that's led them to a 17-14 record this season. So long as tough, lanky defenders like Russell Westbrook and Thabo Sefolosha are patrolling the perimeter (and James Harden too), opponents are going to have a tough time scoring against them. With that Kevin Durant angle pick-and-roll as the anchor of their offense, they're a good bet to win a playoff series sometime soon.
Brandon Jennings has sparked any and all attention the Bucks have received this season, but Milwaukee's frontcourt of Andrew Bogut, Ersan Ilyasova and Luc Mbah a Moute have put up gritty defensive numbers. Mbah a Moute comes as no surprise, but I was shocked by Bogut's stats, until I looked at his figures under Scott Skiles last season -- also really, really good. Once they get a (healthy) shooting guard who can play drive-and-kick off the Jennings-Bogut pick-and-roll, the Bucks could be dangerous under a coach who was booted from his last gig in Chicago after assembling the league's top-ranked defense and the Eastern Conference's 3rd best record the previous season.
Sacramento's lousy defensive numbers don't concern me right now. They strike me as a team that's going to experience a major overhaul over the next 18 months, and a big part of that metamorphosis will be acquiring some pieces around Tyreke Evans who can defend. I have less faith in Memphis, Minnesota, Golden State and, to a slightly lesser extent, Philadelphia, who all have rosters riddled with defensive ciphers.
JK: I think Oklahoma City wins a playoff series when their backcourt clicks into place, and that's close to happening. I love Westbrook's game and think he has a ton of potential, but he just needs to be more disciplined. He pushes the ball, plays great defense, and does all these little things, but then he'll throw up a bad jumper, brick a full-speed reverse layup, or make a silly pass, and his true shooting percentage and turnover rates are way off of where they need to be because of that. It'll be interesting to see if the answer there is Harden maturing to the point where he can play 30-35 minutes a game and cover some of Westbrook's weaknesses with his shooting, playmaking and ability to create off the drive. (Combo guards!) But I think that young frontcourt is the envy of a lot of teams in the league, Sam Presti keeps getting valuable pieces without giving up much, and I'd call the future very bright there.
For Sacramento, the short-term question is how Tyreke is going to work with Kevin Martin. They might cancel each other out or become absolutely unstoppable together, although they might need to do the latter to make up for Martin's suspect defense. But Thompson, Hawes, Casspi, and even Brockman all look like keepers, and Tyreke has given every indication that he can be built around.
In Milwaukee, I think they should be having serious brainstorms on how they can hide Mbah a Moute on offense so they can keep him on the floor longer, maybe even looking for a stretch four so they can put Mbah a Moute closer to the basket offensively and use him like Detroit used Ben Wallace. He's that good defensively.
I agree with you about the rest of the teams, although I give Memphis some upside because I think it's a bit too early to completely give up on Hasheem Thabeet as an impact player defensively; if Orlando could build a defense around Howard and four perimeter guys, there's a chance Memphis can as well. (A chance, mind you.)
What is it about Stan Van Gundy that we like so much?
JK: I think we've got a pretty narrow view of how to evaluate coaches, because we don't see the vast majority of what they do and we're trained to look for their failures and not their successes. Coaches almost exist to be fired, and every time they make a mistake with their play-call or substitution, it'll get talked about the next day.
I think the biggest job of a coach isn't to call timeouts strategically or be a genius with his in game substitutions. (Although both are definitely important, especially the latter.) I think the job of an NBA coach is to set up a system that best utilizes the talents he has available to him, and that's where Stan Van Gundy comes in, especially last season. Of his five starters, he had three guys with below-average defensive reputations, Dwight Howard, and a rookie.
Instead of trying to have everyone play straight-up or stick Rashard Lewis at the three, he evaluated what he had -- the best shot-blocker in the league and more quickness on the perimeter than most other teams had. So he stuck Lewis at the 4 and never looked back, and built a defense around running other teams off threes and keeping Howard at home under the basket. What happened? The Magic gave up the second fewest made baskets at the rim, the second fewest made 3s per game, and more shots from 10-15 feet and 16-23 feet than any other team in the league. They also had one of the league's three best defenses in terms of efficiency.
Offensively, he had Dwight Howard, who can catch and finish with the best of them but isn't a great post player, more shooting and playmaking at the forward spots than most anyone, and a bunch of guys who can shoot threes. So he had Howard look for catches at the rim, ran 3/4 screen-rolls, and had his players shoot a bunch of threes rather than try to do what everyone else was doing. Van Gundy's failures last season were there for the world to see, but what he did extremely well was more subtle.
KA: I like his press conferences, too. The irony of Van Gundy is that popular perception sometimes paints him as inflexible. But as you said, no coach sculpted a more sensible system for his personnel last season than Van Gundy. He did a full appraisal of his talent, saw where he had edges over his opponents at each position (ballhanding at the 3, shooting at the 4, mobility at the 5) and designed his offense to exploit those advantages.
This isn't to say there's anything wrong with building an elite team by first implementing the system, then by populating that system with players whose talents most conform to it. Whatever works, by all means. Just win. But the ability to create a system around a disparate collection of talent that was brought together randomly is in many ways even more impressive.
Should LeBron James be playing more power forward?
KA: Despite James' size, strength and efficiency on the glass, Mike Brown has him firmly situated at the small forward slot. In fact, you have to go pretty far down the list of Cleveland's 5-man lineups to find units in which James is playing power forward. But in the six lineups that feature James surrounded by one traditional big man and three smaller players for at least 10 minutes, the Cavs outscore their opponents 96-83 (prorated for 48 minutes).
Those numbers are enough for me, but let's think about it in practical terms. We've already discussed how positional dogma is a thing of the past in an NBA that's much smaller than it was 10 years ago. When thinking about how to best maximize LeBron in the half-court, wouldn't you prefer that he drag a bigger defender out to him in order to create more space on the floor for your offense? And defensively, wouldn't a team like Cleveland, whose primary weakness has been its plodding frontcourt, be better served by having LeBron cover Rashard Lewis on Orlando's pick-and-pop or Boston's bigs on the Celtics' rotating screen-and-rolls? Doesn't it make more sense to challenge Stan Van Gundy and Doc Rivers to match up with a more athletic lineup? And wouldn't Cleveland benefit from more transition opportunities?
Would team rebounding suffer? When you look at those aforementioned six lineups with LeBron at the 4, the answer is no. Apart from the political stickiness of limiting the minutes of the Cavs' veteran big men, I have trouble seeing how making the Cavs a more athletic team around LeBron comes with much downside.
JK: The short answer is that I'm extremely confused as to why LeBron doesn't get more time at the 4 position, at least for around 10 minutes of his time on the floor. I understand some of the reasoning behind not giving him significant minutes down there. The Cavs show hard on every perimeter screen, which would require LeBron expending more energy on the defensive end than the Cavs are comfortable with, especially in the first three quarters. And of course, the Cavs don't want LeBron in foul trouble under any circumstances. And generally speaking, the Cavs' big men are better players than Jamario Moon, who typically plays the 3 in the Cavs' small-ball lineup. But LeBron getting the ball in the 10-15 foot range and making his move from down there is absolutely deadly, and that small-ball lineup should definitely be something used more often to keep opposing teams on their toes.
What confuses me more than anything is that while the Shaq/Varejao frontcourt has some offensive issues and the Shaq/Hickson frontcourt has some serious defensive issues, a Shaq/LeBron frontcourt hasn't been tried at all this season, and I mean at all. I suppose the reasoning is that LeBron would be forced to expend way too much energy on the perimeter defensively as Shaq sags to the paint on pick-and-rolls (LeBron's never gotten minutes at the four alongside Z either), but with the Cavs supposedly looking for a "stretch 4" at the deadline to make life easier for Shaq, it's odd that they haven't at least tried using LeBron in that role.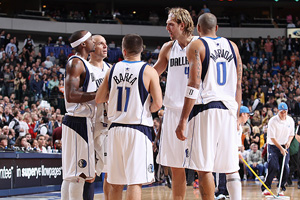 Danny Bollinger/NBAE/Getty Images
There are nights when the Mavericks look deadly serious.
How Real is Dallas?
KA: Little known fact: Of the 50 5-man units that have played together the most this season, two of the top three in overall efficiency belong to the Dallas Mavericks. Whether it's Jason Terry or J.J. Barea at the shooting guard, the Mavs' big names are absolutely crushing their opponents on both ends of the floor. Dallas is a Top 5 defensive squad and features one of the game's great shotmakers in Dirk Nowitzki. They also have tremendous flexibility to match up with opponents on either end. They can play old-school or new-school. Want to tease the Mavs with small ball? That's fine, because they're perfectly good going with three guards and moving Shawn Marion and Nowitzki into the frontcourt. Want to try to outmuscle them? Erick Dampier may have an outsized contract, but he's also one of the better basket protectors and garbage collectors in the league. Opponents shoot a measly 57.4 percent at the rim against the Mavs -- only Boston, Cleveland and San Antonio are better.
More than anything, the Mavs strike me as a team composed of professionals. These are serious basketball players led by a serious coach. Is it possible that a squad with so many thirtysomethings breaks down physically over the course of an 82-game season? Perhaps. But where some see brittleness, I see experience. In fact, I see shades of the best San Antonio Spurs squads. I see a team that truly understands its collective talents and limitations and puts a premium on execution.
Can they compete with the Lakers in late May? I'm not sure anyone in the Western Conference can, but Dallas -- with its length, smarts, and perimeter prowess -- might just be the toughest competition the Lakers encounter.
JK: Dallas has a ton of talent, Dirk is right up there with the best players in the league, and the team defends. My caveat would be that they're thinner than people think, and much more dependent on Dirk. As of December 26th, Dallas was +11.6 points per 100 possessions with Dirk on the floor and a stunning -16.5 points per 100 with Dirk on the bench. As bad as LeBron and Kobe's benches are, their teams are only -8 when they sit, to offer some perspective.
A lot of that has to do with Drew Gooden; Gooden's plus-minus is -23.1, and as someone who's watched a good deal of Gooden in his life, I can tell you that's not random noise. Drew Gooden is the anti-Battier. I'm also not a huge J.J. Barea fan. He's fun to watch and works fairly well with Kidd offensively, but I believe you were the one who said he plays defense "like a man frantically searching for his car keys," and the plus-minus numbers support the theory that Barea's somewhat of a defensive liability. Dallas can play with anyone, especially when Dirk's on the floor, and if they do something to get a better backup for Dirk than Gooden and hide Barea's defense a little better (maybe play more Beaubois, who's gone through growing pains and will probably continue to do so, but has lockdown defensive potential), I'd call them a true force to be reckoned with in the West. If not, I'd say they have a solid puncher's chance of knocking the Lakers off their Western Conference throne.
How do we begin to make sense of adjusted plus-minus?
JK: Outside of the obvious conclusion, which is "no one stat or metric, no matter how advanced or intricate, is ever going to come close to saying everything about one player," I have two thoughts on adjusted plus-minus.
The first is that I get how the basic +/- you see in box scores and 82games.com's version of plus-minus work, but I still don't totally understand how advanced plus-minus works, and that's a problem. I mean, I get the theory, that it adjusts for having good or bad teammates or playing against good and bad opponents, but how exactly does it define "good" and "bad"? Is "good" based on the other guy's adjusted plus-minus, or is the value of others derived from something like Player Efficiency Rating? Aren't both approaches problematic? Right now, adjusted plus-minus is sort of "He's good. Trust me," which I have trouble swallowing as a fan and certainly can't use to convince friends or readers of a guy's value.
The second problem is one that will get fixed over time, which is that we still don't really know how to read plus-minus type stats yet. We know with a stat like field goal percentage that a shooting guard is going to have a lower field goal percentage than a center, but we also know that the guard is probably shooting more 3s, shooting his free throws better and taking tougher shots than the center. We know how to read that stat.
But because plus-minus is one number and so nebulous, we don't know which plus-minus numbers to take with a grain of salt and which ones not to. I'll bring up the semi-infamous Durant example here. Durant had terrible +/- ratings for his first two seasons, but has been incredible in year three. Was the Durant phenomenon ever even real, or did Durant actually improve this year in ways the stats didn't see? If we want plus-minus metrics to be as legitimate as the box score ones, we have to stress-test it like we have the conventional numbers that came before them.
KA: I'm drawn to adjusted plus-minus because I'm desperate to find any metric that will approximate a player's defensive value, something we just don't have the tools to do right now. I'm more faithful than I probably should be given the lack of stress tests you talk about. Your point is well-taken and I'd add that stats like these are only valuable to the extent that they're predictive. There will always be players who make colossal jumps or experience unusual crashes in productivity, but apart from outliers, a stat must be dependable enough to offer a clear -- if general -- estimation of what that player is worth in the past, present and likely future. I've begun to spend more time examining the adjusted plus-minus numbers of 5-man units rather than individuals, in part because it seems more practical.
I suspect we'll know a lot more in three to five years than we do now. The metric's practitioners (and the people who trust them) will have a better sense of where the numbers skews, what those number might miss and the kind of noise those numbers create. In the meantime, I'll continue to watch the 2-year figures (and eventually 3-year, and 4-year). Any system that values Dwyane Wade, LeBron James, Chris Paul, Steve Nash and Kobe Bryant as the five best players in the NBA has to be on to something, right?