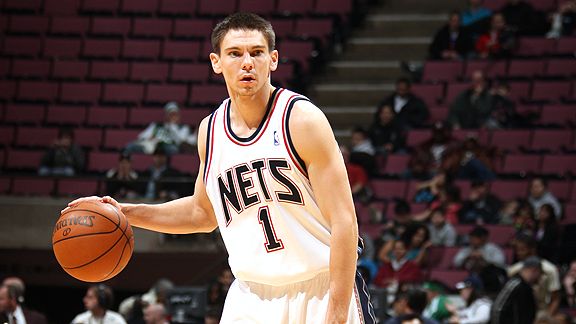 Nathaniel S. Butler/NBAE via Getty Images
Chris Quinn, living the dream.
When people want to insult New Jersey, they call it a swamp. Of course that's unfair. Much of the state isn't swampy at all.
But ... the area around the Meadowlands, where the Nets play and practice ... that really is a swamp. Some of it's paved, some of it's office parks and some of it's cattails. This time of year it's all cold, gray and barren.
Dotted here and there are stadiums, mini-malls and hotels for pragmatic people with business nearby.
I swung by one of those hotels earlier this evening to pick up David Thorpe before a Nets game. Thorpe was in the lobby, on the phone. There was also some guy waiting for a ride who looked kind of familiar.
Chris Quinn. For the last nine days, he has been the Nets third-string point guard.
Since the trade from the Heat, this random Marriott has been home for Quinn and his wife. They're very excited to move into a furnished corporate apartment ("two bedrooms," he says, "nothing fancy") tomorrow. They'll at least be able to have a home-cooked meal once in a while.
As for their stuff -- it's mostly in Miami. Soon Quinn's wife will fly to Florida, where they rented, to coordinate having everything shipped to Ohio, where Quinn grew up.
In the Nets locker room an hour later Quinn had no complaints -- he loves his job and sounds sincere about being happy to be here, and blessed to get to play in the NBA.
But he was frank that this is not a glamorous phase of life. In Miami the weather and wins were nice and plentiful. In New Jersey ... "I heard that I was traded, and packed pretty much the biggest bag I had with any kind of winter clothes I could find," he says. "And on the road trip, I bought a coat, so at least I'd have a coat when I got up here."
People assume NBA players live in penthouses, helicopters and yachts.
"It definitely hasn't been like that," Quinn says. When he's not practicing or on the road, he and his wife are typically looking for places to eat, or watching TV without Tivo, League Pass, DVDs and all that. "If there isn't something good on," he say, "well, you gotta find something else to do. The walls can close in on you pretty fast."
Quinn says his wife's part-time job allows her to cyber-commute to Miami. So sometimes she works from their room.
But it's not like Quinn's job has been a big pick-me-up. The Nets are the worst team in the NBA. Maybe ever. Just across the hall, Nets coach Kiki Vandeweghe professed optimism ("I'm very excited about the future") but admitted "we're in a dark tunnel right now."
Or, you could say, a swamp.
Quinn's not worried about it. There'll be home cooking tomorrow. And as for the basketball, he says "hopefully I be part of the solution here, instead of making the problems worse."