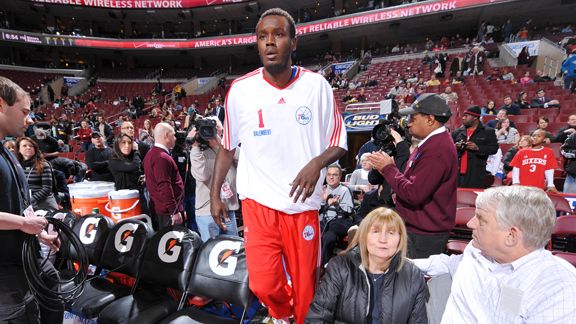 Jesse D. Garrabrant/NBAE via Getty Images
Samuel Dalembert arrives minutes before tip-off.
The game between the Sixers and the Blazers started at 7 p.m.
"I'd say he was running in here at about 6:40," says Sixers P.R. man Michael Preston.
Samuel Dalembert, starting center and -- post-earthquake -- Haiti's celebrity spokesperson, advocate and benefactor, was screaming back into town after a harried visit to his distressed home country.
The Sixers lost to the Timberwolves in overtime late Monday night. After the game, Dalembert left the team and made his way to Port-au-Prince with Project Medishare. It was a struggle to get back to Philadelphia in time for tonight's game, but that was nothing compared to the challenges he found in Haiti.
He cries talking about what he found there. For instance children without parents, wandering in desperation.
"I'm doing my best," he says. "I'll take another trip with UNICEF. So we can try to get all those children out there ... you know, we have parents who have been trying to adopt for two or three years."
At this point, tears are streaming down Dalembert's face. "You know and ... that's frustrating me ... you're asking people to help. And kids have parents over there who want to adopt them. I've got a hundred parents, and you have a bunch of guys sitting down with the freaking papers. All it takes is one hour to go over everything, you know what I'm saying?
"I saw somebody's leg amputated in front of me. Surgeries performed on a kitchen table ... I'm talking about a folding kitchen table ... I have some disturbing pictures. And it hurts. ... There was no surgery room ... You heard him screaming. ... Not enough alcohol. Things we take for granted, you know. They try to make one bottle of alcohol last.
"Problems just keep occurring. There's no machinery to move things around. It's taking a long time to locate the people. I know everybody is doing their best. ... It's crazy over there.
"One thing really touched my heart the most is all the children. A lot of homeless children."
Dalembert says he and Medishare are in the process of negotiating to get tents for "a ton" of people in Haiti.
"I had a meeting with the president," he says. "Myself and Alonzo Mourning. We were talking to see what's going on. The situation is so critical. They try to really ... I know everybody is trying to do their best. But the fact that you have planes that want to land, but are not able to land because the traffic ... things are not prioritized right now. It's too much to ask, but I will ask for all organizations out there to get together, and work together, to make this thing happen. I'll do my best here. The only thing I can do is try to raise as much money as possible, going to the right place."
Dalembert arrived in Florida early this morning, and had finally laid down in bed for the first time in ages. Three hours later, his phone started ringing like crazy -- it was his father, still in Haiti, saying there had been another earthquake -- an aftershock.
He can't remember the last time he slept well. He was asked how he can keep playing NBA basketball (he finished this game with 10 points and 15 rebounds).
"I know we are struggling. I wanted to go out there and contribute. I don't know. I've been tired man. Just dead. I don't know what's keeping me up. Just the urge to try to help. It's the urge to try to reach out to those people there. I know I'm not going to save the whole country. I know that. But I know I can save a lot of life. Making it just a little bit better.
"Maybe not having a house or a roof over your head, just the fact that you have that tent. A family of eight would be able to stay in that tent and feel good that we have something over our head and somebody looking out for us. That's why I try to go out there and do the best I can.
"I know God is watching over us. I know he's really going to get us through this.
"Sleep is ... shoo ... I keep drinking energy drinks, man. I look like a ghost, man. I can't believe it. It's mind-blowing. I'm talking to different organizations about OK, we've got this, we'll try to get this out there, we're trying to donate planes.
"And I'm going to do something in Philly. I will have a plane come in here, in Philly, and collect stuff next week ... and I will have the plane take the stuff over there. Also I will let people know that if doctors want to give their time, that plane can go over there bringing doctors over there. Hopefully we'll make huge progress. Hopefully we'll save more lives."
As for the people he met in Haiti, Dalembert says: "I salute all of them. ... All I see is they're still trying to find all the bodies. You still see people holding strong. They're still finding bodies after the first earthquake and people are still holding strong, man. That tells you a lot about us, man. We're out there holding strong.
"I know that deep inside, we need more. The [hospital] I was looking at -- you can't even fit another person. You're walking on top of people, saying excuse me. ... Flying mosquitoes. A couple of people came to me and said 'please, I haven't drunk water in X amount of days. I had to go in my bag and give them a little bottle of water and they said 'thank you so much, thank you so much.'"