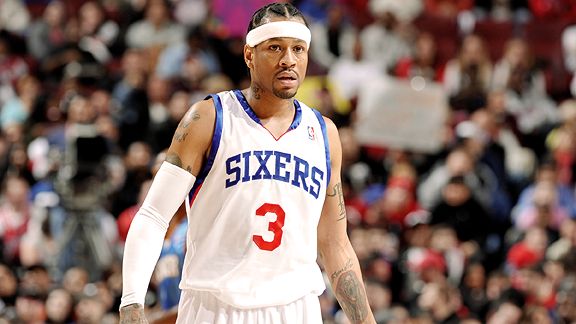 Jesse D. Garrabrant/NBAE via Getty Images
This season Allen Iverson has been both cut by the Grizzlies and voted an All-Star starter.
This afternoon, writer Sherman Alexie e-mailed me that he was aghast that Allen Iverson would actually consider playing in next month's All-Star game in Dallas. He said he was going to write a poem about it. Two hours after that, this arrived:
Brotherly Love
When Modesty gets into a bare-knuckle fight with Fame,
It's a sad, bloody thing. Modesty gets pummeled. Modesty dies.
Is Iverson really going to play in the All-Star Game?
Don't get me wrong. There has never been a small man who played
With more ferocity. He was born without brake lights!
And, no, he was never modest about his talent and fame,
But he always earned the ego. He deserved the acclaim.
But, ah, his game has said good night, good night, good night, good night.
The truth: he doesn't deserve to play in the All-Star Game.
He isn't good enough. Not anymore. There should be no shame
In growing old. But what do we do with the man who denies
His age? Whose modesty has been murdered by his fame?
Doesn't he have an honest friend? Or maybe they're all afraid
To tell him the truth. Or maybe they don't know they're telling lies.
Maybe they think Iverson belongs in the All-Star Game.
And maybe he does. Maybe he deserves a last serenade.
But, God, how can he feel good about this tattered prize?
I hope Iverson chooses modesty instead of fame,
And honors himself by not playing in the All-Star Game.