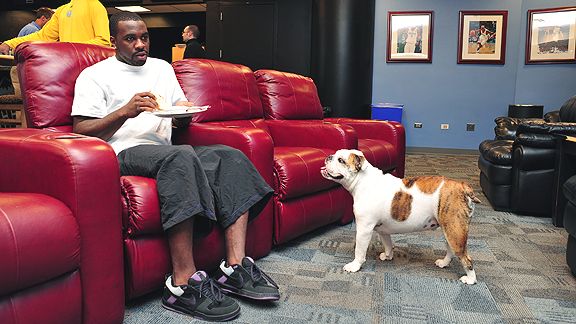 Garrett W. Ellwood/NBAE via Getty Images
When the rookies play the sophomores in Dallas, Ty Lawson will watch from afar.
I happened to be on the phone with David Thorpe when the rosters for All-Star weekend's Rookie Challenge were announced.
The sophomore team ... it's murderous. They're unimpeachable: Michael Beasley, Danilo Gallinari, Marc Gasol, Eric Gordon, Brook Lopez, Kevin Love, O.J. Mayo, Derrick Rose and Russell Westbrook.
The rookies are going to lose. But who are they? In alphabetical order: DeJuan Blair, Omri Casspi, Stephen Curry, Tyreke Evans, Jonny Flynn, Taj Gibson, James Harden, Brandon Jennings and Jonas Jerebko.
Not present in the list of rookies is Nuggets guard Ty Lawson, who Thorpe ranks today as the fourth-best rookie in the NBA (Insider). Thorpe writes:
Tell me what he can't do. Finish around the rim? He's over 50 percent. Midrange jumpers? Again, over 50 percent (though he's not great from the right baseline). How about from 3-point distance? Check his numbers from the five main spots: He's over 50 percent from two spots, over 40 percent from two others, and about 35 percent from one wing, for a total of 42 percent overall. Does he take care of the ball? Yep -- almost three times as many assists as turnovers.
Lawson has been consistently excellent since Week 1, and looks to be a leading candidate for the NBA Sixth Man Award starting next season. Rarely can a player under 6-foot-3 (he's listed at 5-foot-11, actually) impact the game in as many ways as he can: scoring, pushing the pace, creating shots for teammates, shooting from outside, hounding ball handlers and leading a team.
In particular, he's terrific at using his body to put defenders in a position of weakness as he attacks the rim, a skill that is tough to master when the player usually finishes below the rim. Not that Lawson isn't athletic, because he is (check this out). Opposing defenses have to account for him in the game plan; how many bench players can you say that about?
"That's a big story right there," says Thorpe, hearing that Lawson is not among the nine. Thorpe suggests Jerebko may have gotten the nod in part because this nine-player roster already has five guards who like the ball a lot, and is in dire need of size. (Blake Griffin, where are you?)
"Just watch," adds Thorpe, "the way he's going, in the next few weeks, Lawson could go even higher in my list."
Jerebko has been a tremendous bundle of long energy for the Pistons, and has made a bit of a difference. But even by the measure of plus/minus, which would reward Jerebko's defense and hustle, (while punishing Lawson's lack of size, if indeed it hurts the team on defense) Lawson has been better.
I also can't help but note that Flynn has put up some box-score stats, but by dribbling the ball almost all game long for one of the NBA's worst teams. If you were to switch their teams -- put Flynn on the solid Nuggets, and have Lawson play long minutes running the Timberwolves -- I can't help but think Lawson would be playing on All-Star Friday.
It seems a shame that the NBA would deny Lawson this honor simply because he was drafted far lower than he should have been, and fell to a team with a star point guard in Chauncey Billups, and an established rotation. This would seem to be a chance to correct that earlier error.
Because it's becoming increasingly clear that, despite his size (the only consistent knock against him), Lawson can play. He has proved it at every level. The good news for Lawson is that what he has lacked in adulation he makes up for in wins -- as an NCAA champion with North Carolina, and now as a key reserve for the second-best team in the West, riding a seven-game winning streak.
If you can't have the wins and the praise, take the wins.