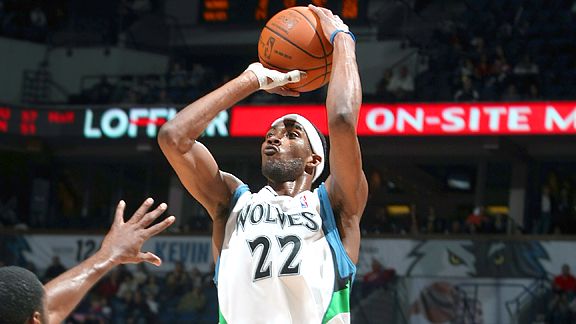 David Sherman/NBAE via Getty Images
There was a time this sight made Timberwolves fans cringe. Something changed.
The score was 100-99 -- the Timberwolves were nursing a small lead against the visiting Pacers, in one of the NBA calendar's less enthralling matchups.
Minnesota forward Ryan Gomes kicked the ball out to an open Corey Brewer, standing behind the 3-point line.
It was cold outside. January 8 in Minnesota cold.
Brewer was cold, too. To that point, in the two-and-a- half seasons of his NBA career, he had made 22.5% of the 3-pointers he had taken.
If you make 22.5% of your shots -- any kind of shots -- coaches tend to ask you to stop shooting those shots. And by and large, Brewer had. A huge percentage of those attempts were end-of-quarter heaves. A lot of NBA players won't take those, precisely because they screw up your shooting percentage. But Brewer's a gamer, a two-time NCAA champion. He's never-say-die. He'll shoot full-court. His teammates know it too. So he shoots a lot of them. Which means his shooting was not quite as bad as it seemed. But it was bad.
He caught the ball from Gomes, and fired away. And nailed it. The Timberwolves went up by four, and went on to win, despite a Brewer miss from downtown moments later.
What nobody could have known, however, was that in that little moment, evidently something changed for Corey Brewer.
Before that moment, in the first 130 games of his NBA career, Brewer had taken 102 3-pointers and made 23.
Since that moment, over ten games, Corey Brewer has made almost as many. He has taken 42 3-pointers, and hit 22 of them. That's an astounding 52%. One more make and he'll have more makes in three weeks than he had in his first two-plus years. And he's still firing prayers at buzzers.
Last night Brewer made four of five 3-pointers in a blowout loss to New York.
Is this kind of shooting an aberration, or genuine improvement?
Hard to say.
You don't often see bad shooters become good shooters. Last year in Los Angeles, Trevor Ariza went from essentially never making 3s, to nailing 48% of the 84 playoff 3-pointers he took, which played no small part in helping the Lakers to the title. Was that an aberration, or genuine improvement?
Probably some of both. This year, in Houston, Ariza is shooting more 3s than ever, but is hitting less than 30% of them.
Will Brewer keep hitting 3s for the long run? Who knows. But something's working right now, that's for sure.