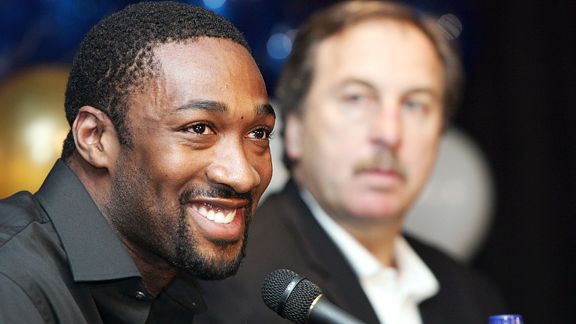 Ned Dishman/NBAE via Getty Images
Ernie Grunfeld and Gilbert Arenas will have a hard time parting ways.
That photo is from the summer of 2008, the day the Washington Wizards and Gilbert Arenas agreed to what must seem, now, like the worst contract in NBA history. It was for $111 million, of which about $80 million is still owed.
And now both sides have every reason to hate that contract. For the Wizards, Arenas has missed games with repeated major injuries, declined as a player and, of course, with his crackpot personality and his guns, has made the team an international laughingstock -- even going so far as to sully the anti-gun legacy of the recently deceased owner, Abe Pollin.
For Arenas, after the NBA's suspension has been determined he's now not getting paid at all for the remainder of this season, yet the contract weds him to a team that has distanced itself from him in every way imaginable -- right down to removing his likeness from around the arena. People close to Arenas have been saying that he does not want to play for Ernie Grunfeld any longer.
The only natural thing is to assume that the Wizards and Arenas will find a way to part ways. But can they?
Tough to trade
There has been talk about the Wizards finding a trade partner willing to take on Arenas. Front office sources say they can't imagine any team would take on his contract. Among the things working against Arenas:
He is one of the NBA's worst defenders. Synergy Sports tracks every NBA play. At the time of Arenas' original suspension, he was rated the worst defender among the 107 players with at least 300 plays as an on-ball defender.

John Hollinger has demonstrated that tall players age better than short players. Listed at 6-4, but measured at just over 6-2 in socks when he was drafted, Gilbert Arenas is in the category of smaller players who usually need athleticism to thrive. At 28, Arenas is at an age when a lot of players begin slowing down.

The health of Arenas' left knee is uncertain. In the two seasons prior to this one, he played a total of 15 games, through a series of surgeries. This season he was averaging 23 points and seven assists, which are exceptional numbers, but well below the elite level he played in 2006-2007, and even then his field goal percentage was low. Those injuries appear to have robbed him of much of the explosiveness that defined his most productive years.

The six-year, $111 million contract he signed in 2008 is one of the biggest in NBA history, and extends through the 2013-2014 season.

The economy is bad and money is tighter than it has been. And in addition, there are noises that the next collective bargaining agreement could be the most restrictive ever for salaries, which could make this indulgence more painful as time wears on.

Some superstars age gracefully into becoming role players, which may be a way for Arenas to stick around. However, thus far in his career, he has shown no such inclination.
The only glimmer of hope: Several teams are clearing cap space to get LeBron James this summer. Most or all will swing and miss. If one of those teams that misses is eager to show fans the world did not pass them by, Arenas has some star power and some statistics. And if you're far enough under the cap to sign LeBron James, you're far enough under the cap to make a lop-sided trade for Gilbert Arenas.
Who wants a buyout?
In general, people who are owed $80 million tend to do just about everything they can do keep that money. But Gilbert Arenas is a free thinker. And he's reportedly miffed at Ernie Grunfeld. Does that mean he's eager to move on? Eager enough to say goodbye to his money? The answer appears to me that Arenas might be a little nuts, but he's not crazy. The Washington Post's Michael Lee writes:
The same source said that during the meeting [Wednesday with David Stern], Arenas expressed concern about the possibility of having the remainder of his four-year, $80-million contract voided, to which Stern replied, "That would be left up to the team." He also informed Arenas that member of the Wizards organization had yet made an inquiry about voiding his contract to the NBA's legal department.
Arenas has been living his life, building expensive swimming pools and the like, planning on making $111 million over six years. Then this suspension comes along, costing him more than $7 million in lost income. If he is to accept a buyout, he would have to endure the financial pain of a second surprise income hit.
Why would he do a thing like that?
Meanwhile, consider the realities that will drive the Wizards' decision. They can:
Pay Arenas a ton of money to play basketball, which he's still does pretty well.

Do something like the Pacers did with Jamaal Tinsley last season, where they pay him that same ton, not to play basketball at all.

Pay Gilbert Arenas a slightly smaller ton of money to play for somebody else, even while he continues to tie up Washington's salary cap (per NBA rules).
That last one is the buyout, and it is far from perfect.
It seems to me that the only way Arenas would go for a buyout is if it's close to the full amount he's owed, which is in the neigborhood of $80 million even after the hit he's taking this year. Meanwhile, if I were the Wizards I would only agree to a buyout that came at a huge discount -- as Arenas' contract be tying up cap space until 2014 either way.
The Void
NBA contracts have a clause that allows teams to void the contracts if players "at any time, fail, refuse, or neglect to conform his personal conduct to standards of good citizenship, good moral character (defined here to mean not engaging in acts of moral turpitude, whether or not such acts would constitute a crime)." This would seem to be an easy way for the Wizards to part ways with Arenas, should they choose. It has also been suggested that if Arenas is imprisoned and can not honor his contract next season, there may be another legal way to void the deal.
Not so fast, say legal experts. ESPN's Lester Munson points out that the NBA's collective bargaining agreement provides specific punishments for gun crimes. Should the team face the Players' Association before an arbitrator, Munson says the arbitrator is unlikely to accept that Arenas needs some sanction beyond what the rules already call for. You can see the logic: The rules say he can be suspended and fined for this. And yet that's not nearly enough punishment?
Meanwhile, NBA salary cap expert Larry Coon explains on The New York Times' website that voiding contracts it a team strategy that could make things tricky for the League in negotiating the next collective bargaining agreement. He writes:
The current collective bargaining agreement is set to expire in 2011. Both sides are already gearing up for the negotiations, and the league will be seeking a number of concessions from the players. One of these could be altering the nebulously-worded morals clause, giving the teams a clear set of criteria for terminating a player's contract.
The league is still chagrined by the Golden State Warriors' attempt to void Latrell Sprewell's contract in 1997, after Sprewell attempted to choke Coach P.J. Carlesimo. This action was overturned by the league's arbitrator, who ruled that Sprewell did not violate the morals clause.
Given this history, the league could find itself in a no-win situation should the Wizards attempt to void Arenas' contract. It would certainly be grieved by the players' association on Arenas' behalf. Should Arenas prevail in the subsequent litigation, it would be a severe blow to the league.
But even if the league prevails in litigation, their negotiating position would be weakened. A victory would send a message that the current language in the morals clause is sufficient and not in need of revision.
The fourth option
Every one of these options is unappealing in its way, which inspires a thorough examination of the final option: Making amends.
Here's where it matters that, despite his new reputation as a gunslinging maniac, those close to Arenas see him as a decent human being who has made some mistakes. I don't think you'll find any of his colleagues at Wizards headquarters are repulsed by the idea of working alongside him. David Stern said today, after meeting with Arenas, that he believes the player is genuinely contrite, and that's before he learns about his sentence and possible incarceration.
Which means there are some seeds of reconciliation.
Gilbert Arenas mending fences with the Wizards, and Wizard fans, may seem unlikely. But it's hard to envision any scenario that's more likely.