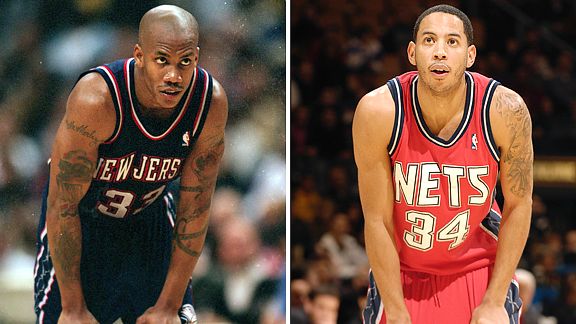 Photos by Elsa and Ron Turenne via NBAE/Getty Images.
As high-scoring leader of a bad Nets team, Devin Harris walks in Stephon Marbury's footsteps.
A decade ago, the Nets were sad, divided and disappointed.
They had an alpha-dog point guard who had arrived from a better team, ready to show what he could really do. They had a coach who was really smart and friendly but maybe a tad too soft-spoken and thoughtful to take command of the situation. They had a big man, drafted high, who went long periods without touching the ball.
Which is all true today.
Back then, the leading characters were Stephon Marbury, Don Casey and Keith Van Horn.
Now it's Devin Harris, Kiki Vandeweghe and your choice of Brook Lopez or Yi Jianlian.
I hear you Devin Harris fans. You're saying: How dare you compare this talented young player to the icon of self-centered gunners?
By now it's well accepted that Marbury was more or less a bust just about everywhere he went -- the kind of super-talent who could always get his but never cared much about the rest of his team, and as a result did a heck of a lot of losing.
Harris is a long way from that. But maybe not as far as you might think.
Did you notice that the Nets had their best game of the season on Wednesday, when Harris sat out with a sprained wrist?
That got me thinking more about the idea that Harris might have a little Marbury in him, exactly a decade later. Some things I have learned:
The Nets have been shockingly bad when Harris is on the court. When Harris plays, the team scores about 100 points per 100 possessions, and gives up more than 116 -- a devastating number. When his replacement Keyon Dooling is in, according to basketballvalue.com, the numbers are dramatically better: The Nets score about two fewer points per 100 possessions, but instead of giving up 116, they give up just 101. 15 points better on defense! Wow. (There are lots of reasons to take this analysis with a grain of salt. Harris generally plays with and against starters, while Dooling plays with and against backups. However, adjusted plus/minus, which attempts to account for those differences, ranks Harris as percentage points from being this season's worst Net.)

Dooling ran the show last night, and keyed the win. In the game-deciding fourth quarter run, Dooling had two buckets, two assists and a steal. He made all five of his shots in the fourth quarter. Notable was that not only did Dooling play well, but he also got several Nets in the mix. Terrence Williams, Brook Lopez, Kris Humphries, Chris Douglas-Roberts ... there have not been a lot of Harris-led games with so many Nets shining.

You who say Harris is not nearly as selfish as Marbury, let's compare. A decade ago, yes Marbury used more possessions than Harris does now: 28.2% compared to 24.9 for Harris. And Marbury shot more about 20% more per minute. But he also shot more accurately (53% true shooting percentage compared to 49%), and most importantly passed the ball far more. Marbury had an assist rate of .39, while Harris is just .32. Harris is 14th in usage rate among point guards, but his assist rate is way down the list at 39th. What's more, Harris has a PER of 14.9 this year, while Marbury was at 20.7 a decade ago. Also worth noting: Harris is 26. Marbury, then, was just 22.
You could keep going on with the comparisons between the teams. Harris had played with an MVP big man in Dirk Nowitzki before coming to the Nets. Marbury had played with Kevin Garnett. Kerry Kittles -- an athletic "D and 3s" guy is not dissimilar from Courtney Lee.
And there's one last similarity. Today's Nets are essentially praying for a savior from out of town who will show up, change the culture, and lead them to the Finals immediately. LeBron James, perhaps. It might seem like a crazy gambit. But stranger things have happened. Jason Kidd arrived in the summer of 2001, and that very next year those same players who had been so miserable for so long were in the Finals.