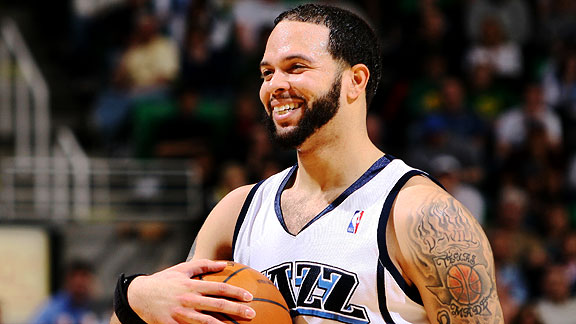 Melissa Majchzrak/NBAE via Getty Images
With Chris Paul sidelined, is any point guard playing better than Deron Williams?
There are a few things I try not to do. Among them:
I try not to wake up my wife and kids when they're sleeping.

I try not to call people who have little children late at night.

Realizing I'm a journalist, not a coach, I try not to make statements that rely strictly on my own cobbled-together basketball judgment.

I try not to curse.
Last night I came this close to breaking all those rules to dial David Thorpe (father of young twins) at midnight, screaming: "The Utah Jazz are f---ing amazing!"
For the second time in a couple of weeks, they were dispatching my Blazers in style. The game started out close. Players on both teams were making tough plays with gritty passion. It had the energy of a playoff game, but with more scoring (in the playoffs, extensive preparations help defenses more than offenses). A viewer's delight.
Through one quarter, both teams were making amazing plays. The story of the game was, in essence, that the Jazz simply never stopped, and won by 13.
Their attack was a pleasure to watch.
Of course, last night was no aberration for the Jazz, who have recently dispatched the Mavericks, Cavaliers, Spurs, Suns and Blazers twice, in winning 11 of 12. They are quickly climbing through the thicket of teams on the playoff bubble in the West, and are now just behind the Cavaliers, second overall, in John Hollinger's power rankings. (They're just ahead of the Lakers, who are 1-1 against the Jazz once this season, and are due in Salt Lake next Wednesday.)
What's remarkable about the Jazz last night was how the ball moved so quickly and delightfully to the open player, wherever he may be. High school coaches everywhere rejoice.
For instance, the Blazers have been playing without a center since before Christmas. That shortcoming has been evident now and again, but, amazingly, hardly devastating. Until last night.
The conventional recipe to beat a team without a center would be to force a smaller player to guard your best post player. But Portland's fill-in old-guy center, Juwan Howard, knows the secrets of post defense and has done a decent job spackling over that hole in the defense. The Jazz showed the better way to attack: With passing and layups. Move fast, ping the ball around, and find the dunks that a big help defender would usually frustrate. Exploiting the lack of size in the post is not nearly as effective as exploiting Portland's lack of shotblocking from the weak side.
Rumbling through the lane for dunks, layups and runners, Mehmet Okur made 11 of his 13 shots, to finish with 28 points. Andrei Kirilenko made eight of his nine shots, some of which were -- thanks to the pass-happy offense, wide open dunks. Kirilenko also finished with eight assists, six rebounds, two steals and two blocks. Filling in for Boozer, Millsap had nine rebounds, two blocks, twelve points and ... five assists. Meanwhile, had I reached Thorpe, the first player I would have mentioned would have been rookie Wesley Matthews, who didn't miss any of his six shots and was the Jazz's designated athlete on the night. If something athletic needed to be done -- a footrace, a jump, a squabble for position -- he was the man on the scene every time.
Notice the Jazz player I didn't single out for his stats in the paragraph above. Their one All-Star: Deron Williams.
Early in the game, he used his speed and strength to breeze into the paint again and again, but missed several layup attempts -- several were altered or blocked. He also threw an easy pass out of bounds on a miscommunication with Kirilenko, and missed a 3 near the end of the half. There were just 11 or so minutes left in the fourth quarter before he made his first field goal.
But Williams was brilliant.
He's an all-star point guard, with a track record of scoring in the lane and from long-range. None of the Blazer defenders could stay with him. Last night was an opportunity for him to prove that he's playing the best of any NBA point guard right now.
But he didn't make it about him. Williams had a team working nicely on offense, and he alternated between letting the machine run on its own (look how many assists his teammates had) and nudging it along when it needed help, finishing with 13 assists. At times he retreated almost to half-court, without the ball, to keep his defender from mucking with his teammates' offense. He managed the clock smartly at the end of quarters. And when the Blazers snuck within ten in the closing minutes, he calmly got to his spots and hit shots that are easy for him -- a free-throw line jumper off a screen, a catch-and-shoot 3, and ... when Portland was hanging around within nine with a minute-and-a-half left, he burned up the shot clock down to six seconds before beating Jerryd Bayless (and a helping LaMarcus Aldridge) with the layup that ended things.
A lot of point guards can score. Several can get 13 assists. A few can be All-Stars. But it takes a very special one to know it's OK sometimes to fade into the background and let your teammates do their thing. And it's something of a trend. Before New Year's, this season, Williams was taking a shot every 2.58 minutes he played. In 2010, he's going 3.13 minutes between shots, and the team is rolling.
If I had reached Thorpe, I would have told him that Williams was to the Jazz like Bill Clinton was to the economy. People will always argue about whether or not he was responsible for all that success. But one thing's certain: He could have screwed it up, and didn't.
Just like I could have done to the Thorpe and Abbott families' sleep patterns last night.