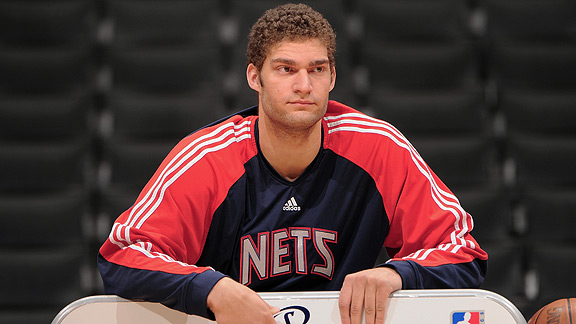 Noah Graham/NBAE via Getty Images
The only thing between Brook Lopez and Friday's rookie game in Dallas is a blizzard.
Here in New Jersey, if you look out the window ... well, you hardly can. The snow is stacked so high on the sill that half the pane is covered. Even where you can see the world beyond, it's all the same anyway. Almost no cars driving by. Hardly even any tree bark showing. A polar bear could stand anywhere she wanted and be hard to spot.
Meanwhile, just about everyone in the NBA world is due to travel to Dallas for the All-Star game. All the way through Friday, planes to DFW are booked solid. The airport will be a who's who of the NBA.
If they can get there!
Imagine what kind of NBA disruption could cause if airports are all closed.
League vice president of basketball communications Tim Frank is already in Texas, and says he's "not aware of any plans to schedule anything differently" because of the weather, even though Dallas itself is due for some snow.
Not everyone will make it on time, however. For a period on Wednesday, nearly every flight from the Northeast was canceled.
Which I discovered in trying to confirm my own seat. At that point, I was looking into Amtrak to Dallas. Philadelphia-Pittsburgh-Chicago-Dallas, anyone? It's only 24 hours. The only problem is it's sold out and massively delayed -- they can't keep the snow off the tracks. How about a train or a bus to a city with a working airport? One of the nearest that was not experiencing massive delays was in Kentucky. That's 13 hours on a good day. Meanwhile, the cars I have seen moving around this part of the world by are mostly being propelled by humans running along behind, pushing. By dumb luck, as it happens, my flight is back in business. The travel agent says that if I don't make it on that one, I'd be fortunate to get even a Saturday flight.
Which made me think: Wow. What about, for example, all those players who have to play in Friday evening's rookie game?
Many are in good shape. Michael Beasley's game tonight is in Atlanta. Eric Gordon is playing at Golden State. Omri Casspi and Tyreke Evans are in Detroit, where the airport is said to be operating normally. Dejuan Blair is in Denver, Taj Gibson is in Chicago, Jonny Flynn is in Minnesota. Those airports are reportedly working.
Brandon Jennings and his Milwaukee Bucks, however, are in New Jersey to play the Nets tonight. Ordinarily, teams fly home after the game and fly straight back home. Once in Milwaukee, reports are the airport is open. But indications are that planes may have trouble getting in and out of New York area airports tonight, as the snow promises to continue into morning.
At least Jennings can leave the Northeast on a private jet as soon as the runways are open.
Most people are stuck trying to win the lottery of finding seats on commercial flights out of the New York area, just as thousands of flights have been canceled from Washington to Boston.
The Nets' Brook Lopez, for instance, is without a private jet, hoping to leave New Jersey by commercial plane tomorrow. Does he have it all worked out?
"Not sure yet," says Nets' media guy Aaron Harris. "Trying to work out the flight schedules. Don't know what's going to happen yet. Will know more later tonight or tomorrow morning."
Harris adds his own flight to Dallas "is still on, I think. But I don't think the your readers really care about me."
Of course he's dead wrong about that though. If Lopez can't make it, Harris might have to suit up.